A VERY BRADY RENOVATION

VIDEOS
The teams wind back the clock to day one and take on four more iconic rooms. Jasmine Roth and Barry Williams team up to create Mike Brady's den out of three spaces in the original house. Then, Mina Starsiak Hawk and Karen E Laine work with Susan Olsen and Mike Lookinland on the kids' bedrooms and the Jack and Jill bathroom.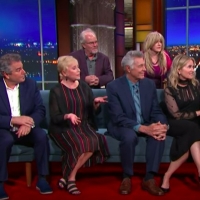 VIDEO: THE BRADY BUNCH Talks Reuniting for the HGTV Series on THE LATE SHOW WITH STEPHEN COLBERT
by TV News Desk - September 18, 2019
The original cast of 'The Brady Bunch,' who reunited for the HGTV series 'A Very Brady Renovation,' sat down on The Late Show with Stephen Colbert to talk about working on the renovation. The cast tells Colbert that they actively participated in the demolition and renovations of the iconic house tha...