What's Coming Up on GRACE AND FRANKIE Season Six!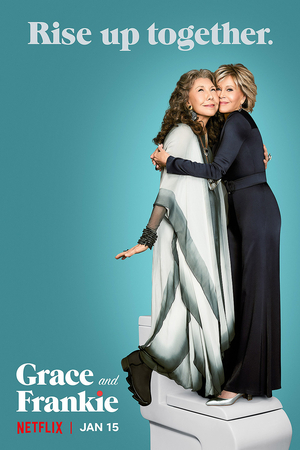 The hit show "Grace and Frankie" returns for season six on Jan. 15, and Netflix's official trailer has fans wondering the fate of two's relationship as they enter yet another chapter in their lives.
Starring Jane Fonda as Grace Hanson and Lily Tomlin as Frankie Bergstein, the show picks up after the season five finale ("The Alternative") where the two imagine their lives without each other, realize they need each other and makeup from their previous argument. After coming back together on the beach, Grace reveals she married her boyfriend Nick (Peter Gallagher), which leaves the two wondering how they will move forward.
From what has been shown of season six, the 13 episodes will follow Grace's struggle being "the new wife" of a rich, younger man and relearns how to "dazzle on the arm of a husband." On the other hand, Frankie wonders if Grace made a mistake with the marriage while having what looks like a breakdown herself. The official trailer also shows Frankie with a new man in her life, although not much about their relationship is known.
Grace and Frankie will also venture into a new business, The Rise Up. After Grace is unable to stand up in different scenarios, e.g., after going to the bathroom, getting off of the couch, Frankie presents a plan for a toilet seat that rises up. The two will go on "Shark Tank" and pitch their idea to the "sharks." This comes as their business relationship's second act, with previous seasons diving into their company Vybrant.
Also shown in a short clip is a scenario where GRACE AND FRANKIE run into law enforcement, looking as though they may be arrested.
The ex-husbands of GRACE AND FRANKIE who left their wives to marry each other, Robert Hanson (Martin Sheen) and Sam Waterston (Sol Bergstein), also have a lot in store this season, the largest issue revolving around Sol's health. He's about to undergo a surgical procedure and is afraid to tell his family, fearing his son Coyote (Ethan Embry) will spin out, his other son Bud (Baron Vaughn) will fret and Frankie will move in. This comes after Sol and Robert recently made up from a large argument after Sol's dog ran away on Robert's watch and as a result, Sol got Robert fired from "Man of La Mancha."
Bud's upcoming storylines will likely focus on his family, with him recently marrying Allison and learning to be a father to their infant daughter, Faith. Coyote, in season five, continued to get his life together - working as a music teacher at the school and starting to pay his parents back all the money they've loaned him.
Also shown in the trailer are Grace and Robert's two adult daughters, Brianna (June Diane Raphael) and Mallory (Brooklyn Decker), although not much is shown about their upcoming storylines. In season five, Brianna and her boyfriend Barry's relationship continues to flourish. Mallory, recently divorced, starts to date and begins a relationship with Dan, the principal of her kid's school.
Season six is bound to not only show these characters adjusting to major life events and changes but will continue to raise the stakes for the inevitable end of the series. It was announced in September 2019 the show created by Marta Kauffman and Howard J. Morris was renewed for a seventh and final season, which will consist of 16 episodes. By the time those episodes arriving on the streaming platform next year, it will be Netflix's longest-running show, by number of episodes, totaling 94.