Leftfield Pictures and Scooter Braun's SB Projects Partner for Facebook Watch Talk Series Hosted Lewis Howes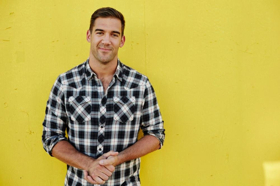 ITV America's Leftfield Pictures has teamed with Scooter Braun's SB Projects to develop and produce a new talk format for Facebook Watch, hosted by The New York Times Best-Selling author, successful entrepreneur and host of the acclaimed podcast "The School of Greatness," Lewis Howes. Breakthrough with Lewis Howes will premiere on Facebook Watch later this year.
Blending powerful human-interest pieces with expert interviews and a town hall-style interaction with its studio audience, the new series aims to inspire and empower viewers to reach their full potential, accomplish their goals and share their achievements. Each episode will dive deep into one specific topic, falling under themes such as happiness, forgiveness, financial success and social equality. Howes will connect everyday people struggling with these issues to the world's foremost experts.
"My mission is to share inspiring content that connects the world and uplifts humanity by breaking through daily challenges that hold us back from living our greatest lives," said host Lewis Howes. "We are excited to bring this to Facebook as we believe it's the perfect audience looking for this information!"
"Lewis has an incredible talent for connecting with people and inspiring them to share their struggles and triumphs," said executive producer and SB Projects founder Scooter Braun. "He is the perfect person to helm this transformative and inspiring show. We are excited to put something positive like this out into the world."
Filmed in an intimate Brooklyn loft space, each show will feature a live studio audience made up of individuals all dealing with the day's topic, and who participate in the conversation. At the end of each episode, Howes presents a call to action, with strategies, practices and tips to help guests - and Facebook Watch viewers -- navigate their challenges and RISE above them.
As part of the weekly format, there will also be a Live episode every Wednesday, where Howes addresses viewer feedback and answers Facebook community questions about the week's topic. He'll also use a dedicated Facebook Group to check guest and viewer progress throughout the week.
Breakthrough with Lewis Howes is executive produced by Shawn Witt, Gretchen Palek, Jordana Hochman and Rob Dauber for Leftfield Pictures, with Scooter Braun and Scott Manson executive producing for SB Projects. Lewis Howes will also serve as executive producer.
ABOUT LEFTFIELD PICTURES
Leftfield Pictures, an ITV America company, produces an array of projects for broadcast, cable, digital and OTT platforms, with shows including Breakthrough with Lewis Howes (Facebook Watch), Alone, COUNTING CARS and PAWN STARS (History); THE BOOK OF JOHN GRAY (OWN); 30 for 30: Year of the Scab (ESPN); TACKLE MY RIDE (NFL Network); and BETHENNY & Fredrik (Bravo), among many others. Leftfield has additional projects in development and production with Netflix, Discovery, NatGeo, History, Science, A&E, Bravo, Animal Planet, CNBC, and more.
ABOUT SB PROJECTS
SB Projects is a diversified entertainment and media company with ventures integrating music, film, television, technology and philanthropy. Guided by the vision of founder Scott "Scooter" Braun (one of Time Magazine's 100 Most Influential People In the World), SB Projects combines creativity, the ability to engage global audiences, and an understanding of "what's next" to deliver innovative ideas as a leading architect of popular culture. For more information please visit, www.scooterbraun.com.
ABOUT FACEBOOK WATCH
Facebook Watch is a place to discover and enjoy shows on Facebook. Home to a wide range of shows - from scripted comedy and drama, to competition and reality series, to individual creators and live sports - Facebook Watch is a video platform where episodic content, community and conversation come together. This is a personalized viewing experience, where you can discover new series based on what your friends are watching, and catch up on the shows you follow. Facebook Watch is available for free on mobile apps across Apple and Android, on desktop, laptop and on TV apps listed here: https://videoapp.fb.com/.
Related Articles View More TV

Stories