Hulu's OBEY GIANT Garners Webby Award Nomination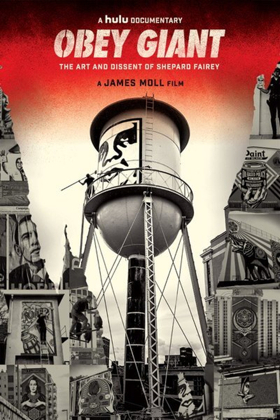 Hulu's streaming documentary, OBEY GIANT has been nominated for a Webby Award in the Documentary: Individual Episode Longform category.
OBEY GIANT was directed by Academy Award-winning filmmaker James Moll, and produced by EBS. The documentary takes viewers deep into the
UNDERGROUND
world of street art, profiling the
RISE
of artist Shepard Fairey from his roots in punk rock and skateboarding, to presidential politics-through his iconic Obama "HOPE" poster and the controversy that surrounded it. EBS Founder, Jennifer Howell said, "We are so excited to be nominated for a Webby Award. OBEY GIANT really represents everything we are striving to achieve with EBS. Shepard is the poster child for art and the mission of healing the world through art." Shepard Fairey added, "From my beginnings in the D.I.Y. culture of skateboarding and punk to my inclusion in the Smithsonian and installation at the Eiffel Tower, I've had triumphs and trials, both metaphorical and literal! The story of my art and life is not an easy one to tell, but director James Moll did an incredible job of giving an intimate look at my evolution in the film OBEY GIANT. I'm incredibly honored that OBEY GIANT is nominated for a Webby Award. Please check out the film and vote for it if you dig it!" The Webby Awards is the leading international award honoring excellence on the Internet, including Websites, Film & Video, Advertising, Media & PR, Mobile Sites & Apps, Social, Podcasts & Digital Audio, and Games. 22nd Annual #Webbys Nominees announced + People's Voice voting starts today, April 3, 2018 at webbyawards.com.