Caravan Gitane Presents Carnavale at The Brooklyn Mirage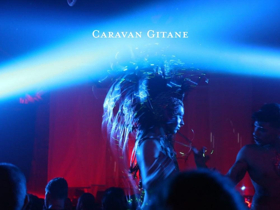 New York City's popular women-led intentional nightlife community, Caravan Gitane, is bringing the decadent and genderfluid spirit of carnaval to The Brooklyn Mirage on Friday, June 15th. Attendees of Carnavale will be treated to a tapestry of music and interactive experiences that incorporates all manner of provocateurs: stilt walkers, contortionists, aerial dancers, wizards, and a mythological a dance parade. The one-night festival will feature global names in house music, including headliners Oceanvs Orientalis, Lake People, Dauwd, Joakim, Francis Harris and Caravan Gitane's resident artist, Concret.
This will be Caravan Gitane's first event at Brooklyn Mirage, setting the tone for their city-wide influence as community catalysts and international event producers. Originally founded by Brazilian-born Juliane Rossi, the essence of Caravan Gitane is in many ways rooted in South American culture and celebration. The group's first carnaval event is a tribute to her experience of the festival in Brazil: a celebration of unbridled expression of creativity, sexuality and life's greatest pleasures. Masks are worn to remove inhibitions, allowing the true self to emerge from shame and repression.
Rooted in the ancient reverence of a universal principle of polarities, carnaval represents masters and subordinates, light and dark, masculine and feminine. Still celebrated worldwide, carnaval is a ritual of gender fluidity, in which social roles are reversed, the equality principle is PROMOTED , and norms around desirable behavior are held in abeyance. Carnavale attendees are encouraged to participate in these festival traditions.
Caravan Gitane is also thrilled to welcome their first gender neutral artist to the stage, Gam?a, who will join a stellar lineup of DJs, musicians and performing artists across two stages and two experience rooms.
The artists: Concret, Dauwd, Francis Harris, Gam?a, Joakim, Krien Jozeph & Merante Tamar with performance art and poetry, Lake People live, Oceanvs Orientalis live, and Subhaze with a live, immersive audio-visual experience).
Other performers and partners for the event include Love Medicine, who will be hosting a pre-event dinner at Brooklyn Mirage, and Salon L'Origine, who will host Tantric chill-out rooms.
Tickets can be purchased on Resident Advisor.
Founded and curated by three women (Juliane Rossi, Marina Burini, and Sheida Jafari) hailing from fashion, technology and music, Caravan Gitane combines elements of ritual and sacred theater with world-class electronic music artists. On par with the largest event producers in NY, Caravan Gitane gatherings are refreshingly feminine and provide a sophisticated space for sensuality to thrive and for freedom of expression to blossom.
For more information on The Brooklyn Mirage:
www.Avant-Gardner.com/TheBrooklynMirage
IMAGE COURTESY OF Caravan Gitane