Click Here for More Articles on TV/Movies - Blu-ray/DVD
BWW Review: BATMAN NINJA By Warner Bros. Japan, DC Comics and Warner Bros. Home Entertainment On Digital, DVD and Blue-Ray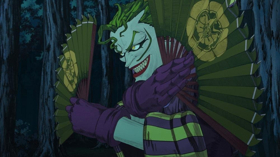 Batman, one of the most iconic and beloved heroes, and the whole Gotham gang, good and bad, finally get the Anime treatment when they are whisked away to medieval Japan in Batman Ninja, now available on Digital and out on Blu-ray Steelbook, DVD and Blu-ray Combo Pack on May 8th. Fans of both American comics and Japanese Anime genres are in for a particular treat as this is the Dark Knight in his most eye-popping, action-packed, ingenious and visually-mesmerizing adventure yet! It's a fantastic collaboration between the best of the best which results in a flawless piece of astounding cross-genre cinematic art.
The excitement and approval of this ambitious achievement between Warner Bros. Japan, DC Comics and Warner Bros. Home Entertainment was pulsating over the two-days of events to celebrate the release: On May 1st there was a special screening at the Directors Guild Theater on 57th Street and, on May 2nd, a Q&A and autograph signing was held at Kinokuniya Bookstore near Bryant Park. Both events featured the Japanese creative team (writer, director and character designer) and star vocal talents of the English-dubbed version (Batman, Joker, Catwoman and Harley Quinn).
Batman Ninja is a journey across the ages as Batman, his cohorts and most fiendish foes are transported to Feudal Japan via Gorilla Grodd's time displacement machine. When his high-tech gadgets are rendered useless within the first hyper-tense moments of his arrival after a confrontation with the Joker, Harley Quinn and their malevolent minions, Batman must tap into his intellect, intuition, and inner Ninja, and enlist his loyal friends and new allies to restore peace and order before they can return to modern-day Gotham City.
The gargantuan task of satisfying purist fans of the Batman franchise and Anime genre, whilst giving honor and cultural context to historical Japan, was accomplished by the dream team of renowned Japanese creators: director Jumpei Mizusaki (Opening animation of JoJo's Bizarre Adventure), writer Kazuki Nakashima (Gurren Lagann) and character designer Takashi "Bob" Okazaki (Afro Samurai). All are longtime, avid Batman fans and major players in the Anime industry, which added to their desire (and pressure) to make it perfect.
In my interview, the Japanese creators described their process as "a multi-patty stacked hamburger or Jenga game pile," of ideas between the three in order to build this impressive new world. "I love monkeys!" exclaimed the writer, Mr. Nakashima, enthusiastically. This film was his chance to pay homage to the Batman of his childhood memories, whom he first discovered at ten years old in a comic where Batman was injected with a monkey virus, became an ape and scaled the EMPIRE State Building. It's no surprise, therefore, that monkeys play a large, humorous and heroic part in Batman Ninja.
The writer also added plenty of "Easter eggs" into the storyline for Japanese audiences and fans of the culture alike by portraying all of the Arkham villains as real-life historical figures, Daimyo (Feudal Lords), subordinate only to the Shogun. In a similar way that Lin-Manuel Miranda's
Hamilton
breathes new life into the familiar Founding Fathers of America, so does Mr. Nakashima. The Daimyo for Poison Ivy's domain may have actually been female, and the Joker is based on one of the most important figures in Japanese history, Oda Nobunaga, who was known as a "trickster," but it was his controlled chaos that shaped Japan forever.
Character Designer, Takashi "Bob" Okazaki, whose glorious re-envisioning of Gotham favorites cannot be understated, had fun playing with the original Adam West-style Batman imagery, as well as all of the myriad representations of the Caped Crusader and crew over the years, then integrated, with painstaking detail and the help of 3D modeling, all of the authentic historical attributes --- and a lot of fun gems! --- from the Joker's samurai ponytail and facial hair to Two-Face's coin as ancient currency, and Bruce Wayne's "best haircut ever" when he tries to blend in as a monk.
Director, Jumpei Mizusaki used to high-voltage action in opening scenes of Anime features, kicked it up a notch and retained that intensity and breathtaking visuals throughout the entire feature, by using unique angles (such as rooftop diagonal) and intricate settings to tell the tale. He also took advantage of the 3D technology to enhance details and drama (especially in the combat scenes), but reverted back to exquisite, hand-drawn art (evocative of classical Japanese ink drawings) for the most poignant and heart-wrenching scene (SPOILER ALERT!) where Harley Quinn and the Joker are discovered by Red Hood as simple, humble and vulnerable peasants in an unprecedented moment in Batman lore.
The rules of the time period get bent and even broken during the epic battle when the villains' castles morph into giant robots, a tribute to old school Anime, Transformers and Voltron, which fans of robot Anime will appreciate. Robots are such an integral part of Japanese culture that, though intentionally hilarious, they strangely didn't feel so out of place in the setting. It may ruffle the feathers of some purists but is an utterly satiating geek-out delight!
Some outstanding East-meets-West highlights include: Japanese Snow Monkeys soaking with Gorilla Grodd in the hot springs, Batman's use of the samurai swordplay and ninjutsu he was able to learn, and Bane as a Sumo Wrestler. Catwoman even dons a traditional bell collar that Maneki Neko (feline dolls for good luck) and Doraemon wear. There are so many hidden treasures and fine details to discover that the film deserves frame-by-frame viewing and re-watching.
The penchant for authenticity paired with playfulness, visionary artistry and a thrilling, paradoxical clash and union of cultures is what makes Batman Ninja an extraordinary milestone.
The veteran voice actors agreed! Sultry Grey Griffin (as comfortable in the fur of Catwoman as she is as Daphne in Scooby Doo) adored the femininity granted to Celina's geisha garb and "softened" her voice as a result. The vivacious Tara Strong, responsible for Harley Quinn's high-pitched squeals, notes that this was the first feature in which the Joker was "nice to Harley and treated her as an equal." Tony Hale relished the opportunity to side-step the more "meek and neurotic" characters he plays on VEEP and ARRESTED DEVELOPMENT for the maniacal, "lascivious" Joker. And Roger Craig Smith, no stranger to the ears and cape, was delighted to take part in this unique and interesting portrayal of Gotham's guardian.
To adoring fanatics of Batman, superheroes, Japanese Anime, history and culture, and all-action thrill seekers alike - this one-of-a-kind animated experience is for you!

Screenwriter Kazuki Nakashima and character designer Takashi Okazaki with voice actors Grey Griffin, Tara Strong, Roger Craig Smith and Tony Hale at Kinokuniya.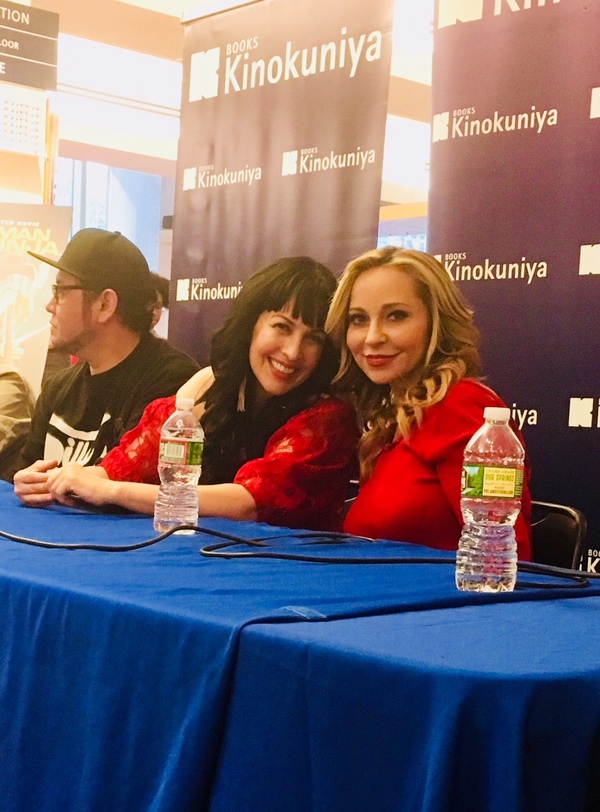 Grey Griffin and Tara Strong.

Fans getting autographs and posing for selfies at Kinokuniya. The event had one of the highest attendances in the Japanese bookstore's history.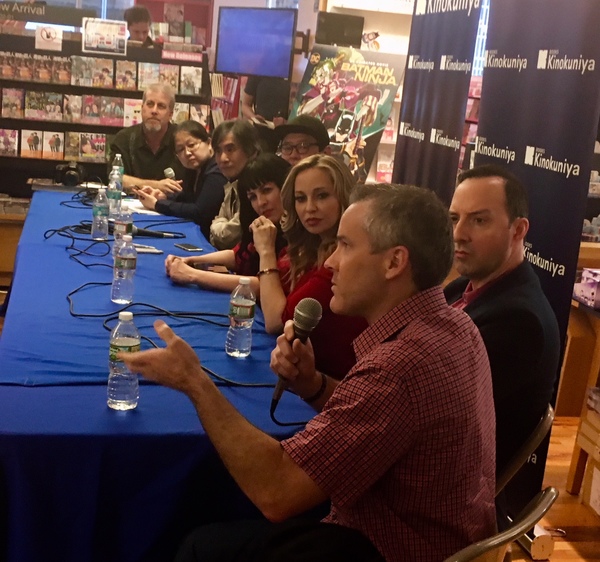 Roger Craig Smith answering fans' questions at the Q&A at Kinokuniya May 2, 2018.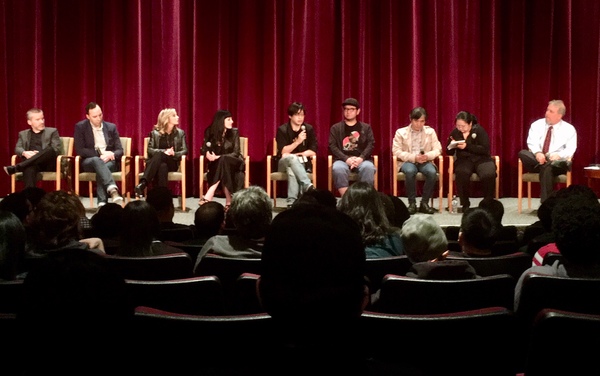 Batman Ninja screening and Q&A with Japanese creative team and key voice actors moderated by Gary Miereanu, May 1, 2018 at the Directors Guild of America Theater.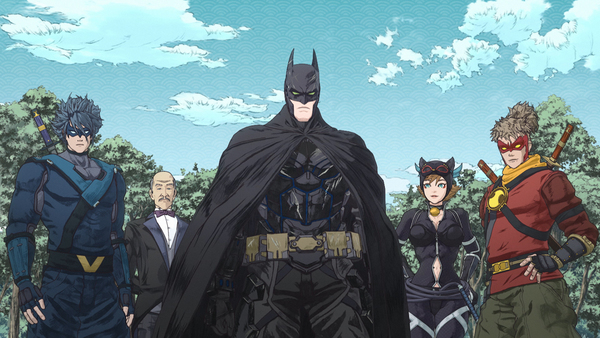 The heroes of Batman Ninja.

Gorilla Grodd in Batman Ninja.

Harley Quinn and Catwoman in Batman Ninja.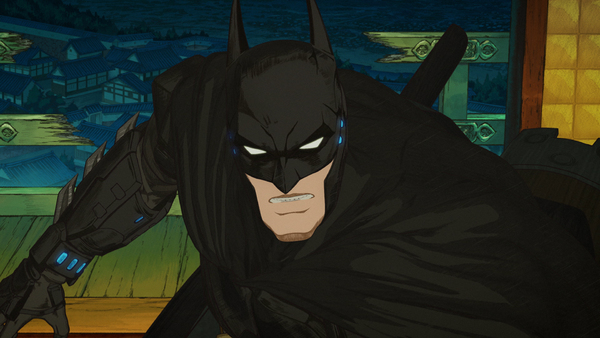 Batman Ninja.