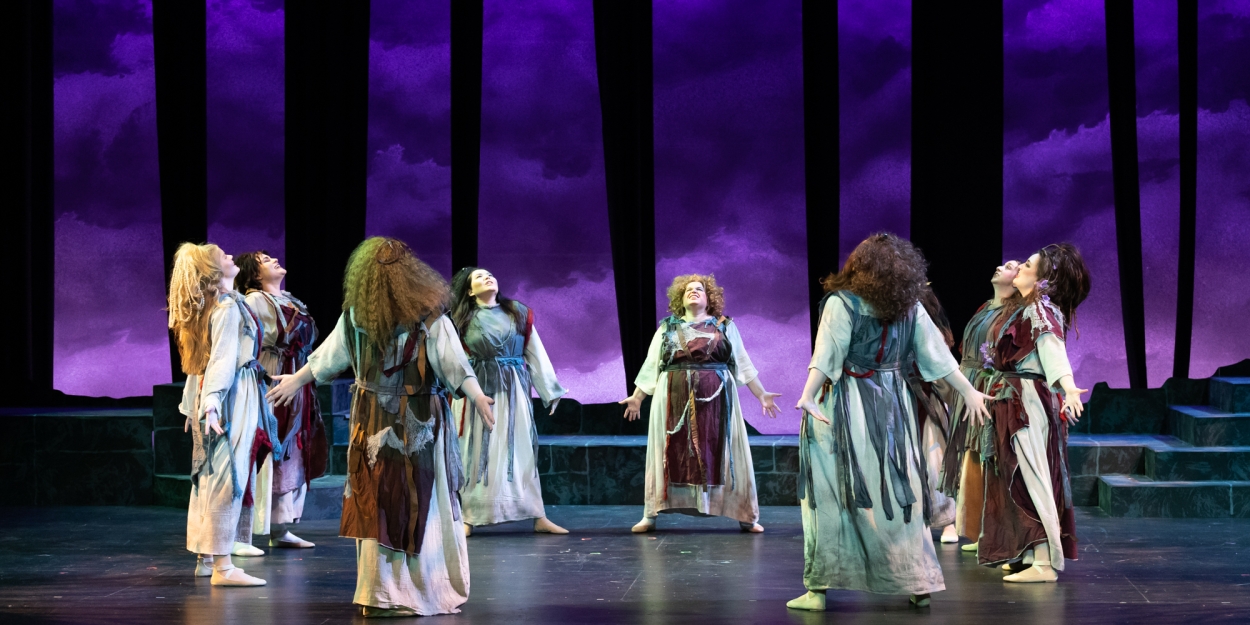 Review: VERDI'S MACBETH at Winter Opera
Michael Nansel triumphs as the Scottish king!
St. Louis' Winter Opera opened its sixteenth season with a vocally brilliant production of Verdi's Macbeth.
Verdi's opera is every bit as dark and bloody as Shakespeare's drama on which it was based. It is true to the original play in most details of plot and character, yet it differs in significant ways-ways that express the different political worlds from which the two works sprang. Verdi first addressed Shakespeare's "Scottish play" with an opera that premiered in 1847. After eighteen years he revised it-the new version opening in 1865. In that eighteen years Italy had nearly become a nation.
For hundreds of years Italy had been merely an assortment of city-states, duchies, "Papal states" and areas ruled by foreign "great powers"-from Norman and Spanish kings in the south to, more recently, the Habsburg Austrian Empire and Napoleonic France. There was barely even a common language. The great Austrian diplomat Metternich said that "'Italy' is nothing more than a geographic expression." But starting around 1815 (when Verdi was two years old) Italy experienced the Risorgimento-it's great struggle for independence and unification. This ended in a single independent state under King Victor Emmanuel. Verdi was in the middle of this fight. He was already famous when his first Macbeth appeared (one year before Italy's first war of independence). The revised Macbeth opened one year before the third war of independence. During those eighteen years Verdi's operas, his wealth and his integrity were used to support the cause of an Italian nation. His very name became a kind of popular acronymic battle cry: its letters standing for "Vittorio Emmanuele, Re D'Italia!"
So it is not surprising that in Verdi's Macbeth we find much more presence of the Scottish people than in Shakespeare. In Shakespeare Macbeth's usurpation of the crown is an outrage against the nobles; in Verdi it is an outrage against the people. Hence we find that Verdi's opera emphasizes the chorus; yes, there are gorgeous arias, but it is the choral work that most distinguishes this opera.
In this production Winter Opera, as usual, assembled a cast of superb singers, and they were presented in another of scenic designer Scott Loebl's breathtakingly beautiful settings. Against a vast dramatic cloud-scape we saw stark black stylized trees. Several simple levels of stone platform provided various acting spaces. Lighting by Michael Sullivan perfectly supported the eerie, the murderous, and the melodramatic aspects of the story. Costumers Amy Hopkins and Colleen Michelson dressed the cast in the graceful garb of ancient nobility-mostly in dark and earthy tones. Surprisingly, Lady Macbeth first appeared in white, but her bloody soul became apparent in the reds she eventually wore.
The chorus, under Chorus Master Jesse Cunningham, was a dominant feature of this evening, and they performed gloriously. The a cappella mourning of King Duncan was wonderfully moving. In Act four the Scottish refugees' bewailing for their oppressed homeland is rich in that same deep patriotism we find in Nabucco in the chorus of the Hebrew slaves. Both resonate "Risorgimento". The end of Act 1, with the stage full of some twenty-five singers, was sublime.
Michael Nansel sang the title role and he gave a towering performance. With the very first line he sang he instantly captured the house, the entire space. Such a voice! He's physically perfect for the role-handsome and powerful-quite the Scottish warrior. And when, early on, he slipped off his chain-mail hood to release that dramatic-yes operatic-shock of graying hair he seemed a Macbeth from the Realm of Ideal Forms. And he's a splendid actor.
When casting the premiere production of the opera in 1847 Verdi (oddly) preferred that Lady Macbeth be played by a soprano whose voice was not beautiful, but strong-even rough. Whitney Myers quite failed to meet this criterion; her voice is beautiful indeed. She sings with great power and clarity.
Act 2 opens with a small scene between Mr. and Mrs. Macbeth, where they plot further murders. Stage Director John Stephens placed this in a sort of niche (well, a pool of light) down-stage right below the proscenium. It was lovely! It gave us such intimacy and these two amazing voices were so close to us. The scene ended with Lady Macbeth alone, back to the wall, arms outstretched-a classic position that is so melodramatic, yet so effective.
Her aria where she invokes the night to hide her husband's crime, was wonderfully dramatic as it plumbs the depths of her range in search of darkness.
Banquo was powerfully sung by Nathan Whitson. His duet with Macbeth in Act 1 was a glory. It is a rare gift to hear two such voices-so alike in size and quality--taking the stage together. We received a similar gift in Act 4 when Malcolm (Kevin Thomas Smith) and Macduff (Jonathan Kaufman) join voices with Macbeth. It was rich and delicious! Mr. Kauffman's singing of Macduff's grief over the murder of his family was absolutely heart-wringing.
Supporting roles were solidly and beautifully sung by Angel Azzarra (Lady in Waiting), Michael Oelkers (Herald), Joel Rogier (Servant and Doctor), and Alexandra Billhartz, Janelle Pierce and Jordan Wolk (Apparitions).
And the Witches! To Verdi there were really only three roles in this opera: Macbeth, Lady Macbeth, and the Witches. The libretto raises Shakespeare's three witches to three groups of witches. Here there were nine all told. They scampered and danced with goblinish glee. And they were quite happy singing while prancing or even squatting. (Now that's gotta be hard!) Great work. Jessica Dana handled wigs and make-up and made all the witches beautifully grotesque. (But where were the beards?)
Verdi did some odd things with the music: the witches sing mostly in a major key, and often quite merrily--almost like a troupe of Gilbert and Sullivan maidens. And somewhere in the middle of all the murder and mayhem the music turns to a lovely waltz! Go figger!
Edward Benyas conducted the fine orchestra and his musicians gave of their best. Lovely work. However a time or two the orchestra was, for a bar or two, noticeably ahead of the singers.
In deep tragedy we yearn for a little comic relief. Shakespeare provided the Drunken Porter, but Verdi cut that scene. Sunday's matinee performance delighted us with a touch of impromptu comedy when, at the start of the witches' scene in Act 3, the curtain rose before a stage-hand had finished loading the cauldron with dry ice. In her alarm she spilled chunks of ice on the floor, then tried vainly to hide behind the cauldron. When she was at last able to slink off stage she was given a round of friendly applause. Ah, that's one of the benefits of live theater.
All in all it was a wonderful production, but I do have some quibbles with the staging by Director John Stephens:
1) When Banquo's ghost seated himself at the banquet table Macbeth stood behind him--close enough to embrace the ectoplasm. Surely Macbeth's horror at this spirit's appearance is best expressed at a distance.
2) In the "Out damned spot" aria there was little sense of dream; Lady Macbeth walked at an almost normal pace.
3) Most importantly, the chorus scenes (aside from the witches) were far too static. In Act 4, as the chorus enters to sing about their "Oppressed Homeland, they simply drift on and stand waiting for their musical cue. And when Macbeth is finally killed there was no visible rejoicing at all. A chorus is not a choir. Its members must be individuals with individual motives and movements.
But these are, as I say, quibbles. Overall Winter Opera's production of Verdi's Macbeth was another star in the crown of this small, succulent company.
(Photos by Rebecca Haas)