BWW Reviews: It's MILLER Time at the Met, with Yoncheva, Domingo and Beczala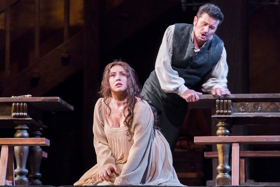 LUISA MILLER isn't one of Verdi's greatest hits, written not long before RIGOLETTO but dramatically (and craft-wise) a quite a way off. Despite plenty of "love and intrigue," Salvatore Cammarano'a libretto (based on the play of that name by Friedrich Schiller) never really takes flight, with too much exposition needed to justify the action. Still, when it's performed by a cast this good--and with the Met orchestra in fine form under Bertrand de Billy--it can be surprisingly potent. And this performance was.
The title character was the third big assignment this season going to Bulgarian soprano Sonya Yoncheva, who proved here that Verdi is home territory for her: As Desdemona in the Met's OTELLO, a few seasons ago, I thought the opera should have been renamed for her character, because she outshone everyone else on stage.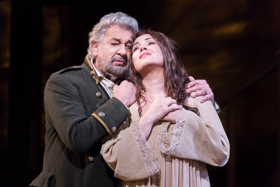 In this instance, she was more evenly matched and it helped bring out the best in her musicianship and characterization. Whether as the love of Rodolfo (tenor Piotr Beczala), the daughter of Miller (the ever-amazing Placido Domingo), or the pawn of the aptly named Wurm (bass Dmitry Belosselskiiy) and Count Walter (bass Alexander Vinogradov), she used the slightly metallic tinge in her gorgeous, flexible sound to make her dramatic voice ever more appealing. She was fearless in the role's high tessitura as well, particularly appealing in "Tu puniscimi, O Signore," filled with its pianissimo high Cs. She's a thoughtful musician and actor, and when she's in the right role, the Met is lucky to have her.
After an unsettling scene when the tenor needed to warm up, Beczala was a fine musical foil for Yoncheva. His appealing, lyric sound blended perfectly with her and was big enough for all the drama that surrounds him. He was rewarded by the opera's only "hit" aria, ''Quando le sere la placido,'' and performed it beautifully. In the opera's ROMEO AND JULIET-type ending (with a murder thrown in for good measure), he and Yoncheva provided just the right blend of excitement and sadness.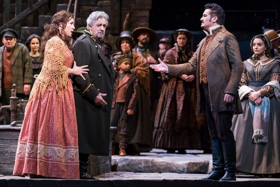 As for Domingo, in the baritone role of Luisa's father (though he's still billed in the program as a tenor), he again proved that it's not time for him to retire. He sang well and, from his own experience as Rodolofo earlier in his career, knows how to wring every emotion out of the opera. In his past as a tenor, he sometimes sounded very baritonal; as a baritone, it's the opposite. In the end: So what? (Unless, of course, you're a baritone competing with him for a role and could probably sing it better.)
While it may not be as well known as the tenor aria, "Quando le sere...", the Act II duet ("L'alto retaggio non ho bramato") for two basses--Wurm and Count Walter--is perhaps the opera's most thrilling piece of music, and Belosselskiiy and Vinogradov did a marvelous job of plotting, as they put the break-up of Luisa and Rodolfo in motion, their rumbling voices adding gravitas to the drama of the situation, as well as making them seem older than their years.
The last key roles in this low-voice-filled opera are Federica, the Duchess of Ostheim (mezzo Olesya Petrova), the wealthy match that Walter has decided on for Rodolfo, and Laura (mezzo Rihab Chaieb) a friend of Luisa. Federica is no more than a plot device, but Petrova makes it into more than the sum of its parts, while Chaieb's lighter voice has more of a chance to make a good impression, though no aria of her own. (Chaieb was outstanding in the premiere of David Hertzberg's THE WAKE WORLD at Opera Philadelphia last fall and the recent Lindemann Verdi Concert at Juilliard.) The Met chorus did its usual, admirable job under Donald Palumbo.
When the curtain went up on the performance, the set seemed so dated that I thought it was left over from the 19th century, when the company was created. (As it turned out, the scenic design and costumes by Santo Loquasto for Elijah Moshinsky's production, restaged here by Gregory Keller, only dated from 2001.) But sometimes seeming like another time is just fine--like when it means old-fashioned good singing.
###
Additional performances of LUISA MILLER will take place on April 2, 6, 9, 14mat, 18, and 21mat. Curtain times vary: complete schedule here. Running time: 3 hours and 28 minutes, two intermissions.
Tickets begin at $25; for prices, more information, or to place an order, please call (212) 362-6000 or visit www.metopera.org. Special rates for groups of 10 or more are available by calling (212) 341-5410 or visiting www.metopera.org/groups.
Same-day $25 rush tickets for all performances are available on a first-come, first-served basis on the Met's Web site. Tickets will go on sale for performances Monday-Friday at noon, matinees four hours before curtain, and Saturday evenings at 2pm. For more information on rush tickets, click here.
Related Articles
View More Opera

Stories