BWW Review: With Cast Headed by O'Hara and Maltman, Guess Who Gets the Last Laugh on Mozart's COSI at the Met?
To answer the most burning question for many: Yes, Broadway's Kelli O'Hara can sing opera, acquitting herself nobly and well in the company of "real" opera singers and filling the huge Met Opera without a mike. (FYI: She did study opera herself in her early days.) She brought theatrical pizzazz and was a great partner, as the maid, Despina, for the wonderful, resonant British baritone Christopher Maltman (Don Alfonso) as the co-conspirators of the piece, in director Phelim McDermott's manic production.
But to pose a question of my own: Was it worth all the effort to bring it off? That question is a little more difficult to
answer.
If you've ever seen the Academy Award-winning film AMADEUS, you know the film's apocryphal premise that the lesser (but more famous) Antonio Salieri tried thwarting Mozart's career at the Imperial Court in Vienna at every turn. The film made no mention, however, of a true story--that COSI FAN TUTTE, Mozart's third collaboration with the great court librettist Lorenzo da Ponte (after DON GIOVANNI and LE NOZZE DI FIGARO), was originally a project of Salieri's, who abandoned it without explanation after composing the first two trios. Only then did Mozart get his chance with it.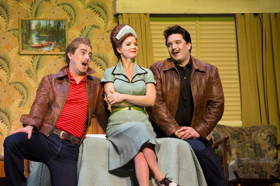 He who laughs last, lasts best, I guess.
It's not that Mozart didn't compose some great music for the piece--there are some marvelous arias and ensembles for first-rate singers, with the lively Met Orchestra conducted by David Robertson--but that even in the 18th century, the story was considered out of tune with contemporary sensibilities. That's according to musicologist Ian Woodfield. It seems a tale that shows women to be easily manipulated into infidelity--and generalizing that "all women are like that" (the opera's name translated)--might have been distasteful, misogynist. Imagine that. It fell out of favor in the 19th and early 20th centuries, regarded as embarrassing to Mozart. It was only re-evaluated in the mid-20th century, with an English translation at the Met opening in 1951.
Reimagining the opera to within an inch of its life--updating the setting to NY's Coney Island in the 1950s, with sets by Tom Pye, costumes by Laura Hopkins and lighting by Paule Constable--hasn't really solved the problem of sensibilities.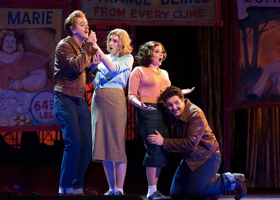 Now, all the lovers, male and female, seem like nitwits who are easily open to manipulation, bad wigs and sideshow tricks. The opera's original subtitle was LA SCUOLA DEGLI AMANTI (THE SCHOOL FOR LOVERS)--but I can't quite imagine what the lovers learned in this "school," except not to trust sleazy outsiders with their love-lives.
When it came to singing, however, the production's cast was first-rate for the most part, melding securely and smoothly into the score's multiple ensembles. Of the young lovers, tenor Ben Bliss did a first-class job as Ferrando, bringing melting tone and firm high notes to the demanding music, while mezzo Serena Malfi used her smoky, earthy voice superbly as Dorabella.
Baritone Adam Plachetka sounded fine and was quite comfortable with the physical comedy demands as Guglielmo. The problem was with the most demanding of the roles, Fiordiligi, which calls for a two-octave range. Soprano Amanda Majeski wasn't up to the task: While her top was mostly secure, the lower part of her range disappeared--a big problem in her big showpiece, "Come scoglio," which leaps high and low and everywhere in between. I found her other major turn, "Per pieta," which is performed in a hot-air balloon, just dull. Still, her ensemble work, with Malfi in particular, was lovely.
As mentioned earlier, O'Hara brought a secure light soprano and hearty comedy to the role (though she's less familiar with singing an entire role in a foreign language than her castmates), with its pair of arias: First, warning the two other women that men can't be relied on for fidelity and, second, that they should be able to lead on any men they want for themselves. Her turns as Dr. Magneto and a kind of Annie Oakley character, two of her disguises, were lively and fun. (Is she planning ANNIE GET YOUR GUN after KISS ME KATE on Broadway next fall?)
O'Hara found her match in Maltman's Alfonso, in what can be the opera's most reprehensible character. He somehow managed to make him smooth enough--like the emcee in CABARET--that you didn't detest every moment he was on stage. At the same time, he's able to make a staunch vocal impression in a role that doesn't really have a show-stopping number (though, here, there are some outrageous costumes); a well-schooled Don Giovanni, Maltman knows how to act and dazzle his way through a role like Alfonso that others might find less than fulfilling.
Filling out the cast of this particular COSI are a dozen in the "skills" ensemble, who are introduced in a delightfully funny performance simultaneous with (and upstaging, alas) the overture. This group includes sword swallowers, a fire-eater, a snake charmer and a pair of little people, among others. I'm not sure that director McDermott quite figured out what to do with them after the introduction, but they were a game addition to the production.
The real problem with COSI is that it's the "Seinfeld" of operas: It's about nothing much, with all kinds of sit-com asides that the TV show was famous for. As a one-acter lasting 90 minutes, it might work, but add two hours onto that and, Mozart notwithstanding, I find it a bit of a slog.
Related Articles View More Opera

Stories