Review: San Diego Opera's Production of AGING MAGICIAN at The Balboa Theatre Shows Off Magical Mystery
Fantasy Mixes With Reality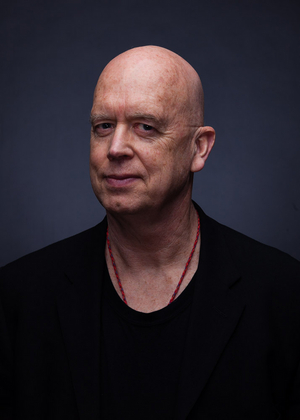 "What the hell was that?" an opera fan asked her friend as we shuffled into a parking-garage elevator. Not an easily answered question after a viewing of Aging Magician. Ambiguity abounds and reality is mixed with fantasy. The reality side is clear, mostly.
Harold is a middle-aged watch repairman who lives alone. Although repairs pay the rent, they've been neglected because he can't stop thinking about the plot of a book he's been writing in which an aging magician worries his marvelous tricks won't outlive him. As he seeks a capable heir for his book of secrets, he collapses and is rushed to a hospital.
Should he live or die? Harold can't decide.
A phone call from his sister makes us realize his procrastination on both repairs and the fate of the magician has gotten out of hand. When she asks if he's eaten his sandwich, he equivocates, but it's clear it's been too long since he's eaten anything at all. As seemingly out-of-place props scattered across the large workshop divert him (reminding me of my own work habits), the audience chuckles.
So far, sounds like a sitcom, right? Why was my fellow elevator passenger confused? Well, probably because Harold's various activities evoke comments from the 29 members of the acclaimed Brooklyn Youth Choir standing on risers at the back of the stage. Directed by Dianne Berkun Menaker, seated inconspicuously stage-front left, the choir sings cryptic phrases in the style of a Greek tragedy from an amorphous, mystical plane far removed from the quotidian world I've sketched. Here they describe lives: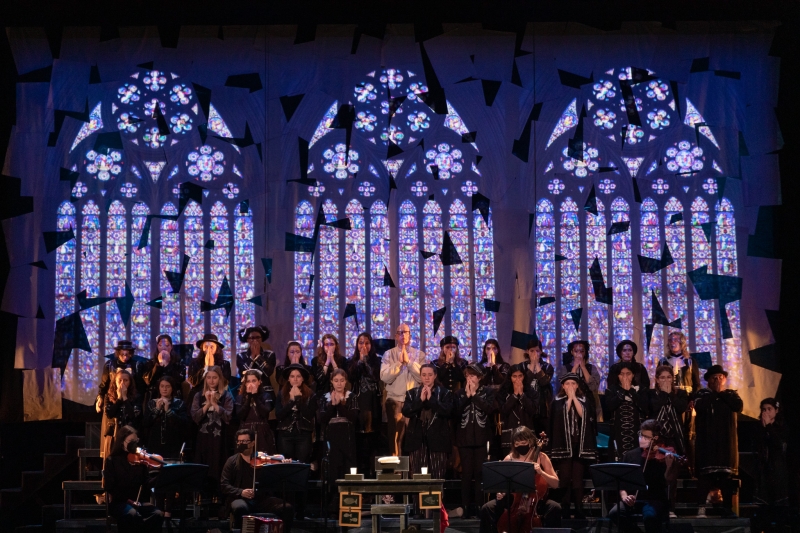 "The parts of a clock/heart
See the world as it turns around them/as a wheel
And death is part of its journey"
But death needn't end Harold's story.
"The aging magician disappears and reappears as a child.
What has he become, this child, this man? What is he now?
A set of wheels and gears? Rhythm?"
My elevator companion asked in a more direct fashion, how are we to interpret this strange mix of everyday life and ineffable mystery? Well, its talented creators ask that we think of it as poetry rather than prose.
Okay, though I'd have said it's more like an abstract painting composed partly of realistic images-an immediate treat for the senses and mind of those susceptible, one they may puzzle over long after, while those more literal minded find the painting unsatisfying and easily forgotten.
But even the latter are likely to be impressed by the spectacular phantasmagorical closing set of designer Julian Crouch as it transports the audience to a strange new realm. Harold, or the magician of his book (perhaps they are the same man) climbs the risers out of the workshop to join the choir as it plays large, wonderfully strange musical instruments designed by Mark Stewart. The set has become a spectacular glittering clockwork-like feast of wheels, gears and sounds that melt away as the production ends with a final awe-inspiring, unfathomable night-time sky projected to the back of the stage.
Perhaps the answer sought in the elevator is that the production is itself asking a question--What is our role in a universe we may never understand?
One non-ambiguous fact is that all involved are unusually talented and creative. As Harold, librettist Rinde Eckert gave a tour de force example of performance art while the choir and the Attacca Quartet skillfully reinforced moods from humorous to mystical exultation. Paola Prestini's score is an effective mix of lyricism and mild modern dissonance.
Costume designer Amy Rubin had eerie black robes decorated with magical symbols for the choir. Video-lighting designer Joshua Higgason's too intensified the 85-minute production's atmosphere of magical mystery with a continuous string of projected video images. And when choir members created origami-sorts of flying birds and a human puppet-figure out of crumpled paper, his lighting enhanced the beautifully playful effect.
Delayed for two years by the pandemic, Aging Magician was the San Diego Opera's final production of the season and the first in a probable series of Detour series collaborations with Beth Morrison Projects, a leading producer of works by rising composers, librettists, directors, designers and performers. It's a valuable relationship. Startlingly fresh creativity is welcome, even if it does sometimes lead to unanswerable questions in an elevator.
The San Diego Opera will soon be announcing it's 2022-23 season. Visit the Opera company's website for details.
Uncredited photos Karli Cadel.