Review: SAN DIEGO OPERA'S PRODUCTION OF AS ONE at Joan B Kroc Theatre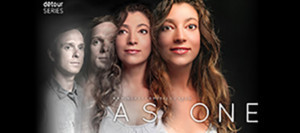 If a spouse transitions from one sex to another in a state where gay marriage is illegal, is the marriage still valid? There are many possible reactions to that question, including heated discussion, juvenile giggling, or reactionary distaste. Composer Laura Kaminsky chose empathy for those most directly affected. The result was her first opera, a striking statement at a time when empathy for anyone different is in short supply. As one, a chamber work for two singers and string quartet, does a compelling job of describing a transgender's struggle with sexual identity. It is the latest offering in the San Diego Opera's detour series, which features smaller-scale works outside the usual operatic repertoire.
Kaminsky's choice of artistic partners was as fortunate as her timing. Kimberly Reed, a transgender woman, and Mark Campbell, one of today's most successful librettists, collaborated to produce a story that feels real and has emotional impact.
Hannah grows up wanting to be the best boy there is--the fastest, smartest, and strongest--but can't hide from herself the guilty thrill of wearing a blouse under her jacket or letting a feminine side appear in flamboyant penmanship. When she accidently comes across the word "transgender," she begins to realize she is not the only person who is troubled by the difference between her physical and psychological characteristics. Thus begins the arduous process of accepting herself for who she is. An inspired decision places the singers, a baritone and a mezzo soprano, on stage at the same time to represent the warring aspects of a transgender's psychological makeup.
The intimacy of the San Diego production was aided by the relatively small size of the Joan B Kroc Theatre. Director Kyle Lang and scenic designer Jonathan Gilmer incorporated optional background films, shot by co-librettist Reed, and minimal sets featuring simple geometric shapes. The Hausmann string quartet, conducted by Bruce Stasyna, was on a riser toward the back of the stage. No props or extras were used. The opera's 80 minutes riveted attention with singers in near perpetual motion and an unbroken stream of music.
Baritone Kelly Markgraf has a romantically warm, auditorium-filling voice and an assured stage presence, no doubt in this case enhanced by his familiarity with the opera. He sang the role of "Hannah before" at its 2014 premiere, and has done it several times since. Mezzo-soprano Blythe Gaissert was part of the workshop team before the premiere, and has sung the role of "Hannah after" in multiple subsequent productions. Her voice, strong and rich, blended perfectly with Markgraf's, especially in the closing duet when they become "as one."
In a recent interview composer Kaminsky told me she had memorized and internalized the libretto before beginning to work on the score. She wanted to be sure an audience could readily understand the words, and the visceral energy behind them. Though not long, the roles are difficult and exhausting. The singers are seldom out of the spotlight, and vocal lines are rhythmically challenging. She told me she had been influenced by working with eastern European and African musicians, and tended to "push against" the more often regular meters of Western music, and the "tyranny of the downbeat."
The Hausmann quartet was also challenged. They played without a break for almost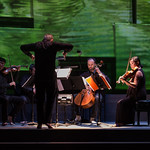 the entire 80 minutes, entwining beautifully with an equally near-continuous flow of vocal lines.
Kaminsky said she was never an opera buff and had not, at least consciously, been influenced by the famous grand operas. Her style is clearly contemporary with an individualistic mix of influences. As One has no arias to rival Puccini. She seems to believe the music has to reinforce rather than overwhelm the words for the opera to be the effective statement she envisioned.
As one hit a sweet spot for receptiveness, and its success is accelerating. Having been produced by nearly a dozen opera companies since its premiere three years ago, it has already been scheduled by about as many more in 2018 alone. It humanizes one of the world's least understood and most often mistreated minorities at a time when the substantial progress made by minority groups is under attack. It has low production costs in an era of budget retrenchment. And, like it or not, modern audiences raised on "in-depth" 40-second news clips, reality TV, and social media trivia are more likely to be attracted by single-act productions that take a deep-dive into the life of a contemporary real person than four-act operas with implausible plots about misbehaving royals.
There is much more ahead in the San Diego Opera's 2017-18 season. Visit here for details.
Laura Kaminsky provided her photograph, others compliments of San Diego Opera.