BWW Review: No Babying the Audience at BAMBINO, the Opera for Toddlers, at the Met
No one in the audience was on Facebook or Twitter during Lliam Paterson's opera BAMBINO at the Met's List Hall--a rare occurrence for the company these days--on Friday May 4. In fact, no one looked at a cell phone at all during the performance. And nobody fell asleep--even though the opera was written for 6-18 month-olds and the children might have been forgiven for napping on the comfy pillows that filled the stage. (Their parents were on good behavior, too.)
Everybody in the opera world worries about where future audiences will come from. Judging from the group of, well, let's just call them what they are--babies--who sat quietly in their parents' laps, scrambled around on all fours, teetered like inebriated seamen and, yes, sometimes screamed their lungs out, things just look fine.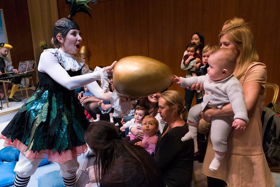 This two-character, two-musician opera, directed by Phelim McDermott of the Met's new COSI FAN TUTTE, is an expertly constructed charmer filled with lovely arias and references to composers from Monteverdi to Mozart (ah, Papageno-Papagena!) to Puccini that would surely amuse any sophisticated audience.
Here, the goal was different: Engage and draw parents into the action, which involved a mother and baby bird, letting go, and taking steps on one's own, while being lively enough to keep the smallest of toddlers amused. As dreamily designed and costumed by Giuseppe Belli and Emma Belli, the delightful soprano Charlotte Hoather and funny baritone Timothy Connor--with smashing work by Laura Sergeant on cello and Stuart Semble on percussion--had the audience eating [birdseed?] out of the palm of their hands.
After the performance I attended, I sat down with Paterson to talk about the development of the piece.
Yes, he told me, there is an actual libretto, not just a string of words and sounds, though there was some fine morphing of Italian into baby talk and vice versa. Paterson and McDermott looked for a story that would "pop the scope for all the operatic passions but would still be simple. The narrative is really for the parents--because we understood the connection between parents and babies, drawing the parents through to hold their children's focus."
The project grew out of Paterson's experience as Emerging Artist/Composer-in-Residence at Scottish Opera in Glasgow, where he composed THE EIGHTH DOOR, a one-act opera that was performed on a bill with Bartok's BLUEBEARD'S CASTLE. BAMBINO was commissioned by Jane Davidson, head of the Opera's education department, which was no stranger to creating music theatre works for very young children, including one for babies in the 12-18 month range. (Paterson notes that there isn't very much written exclusively for younger listeners; usually there is a reinterpretation of some mainstream opera.)
But this was to be a real opera. It was developed with Improbable Theatre Company, the professional home of director McDermott (whom Scottish Opera suggested might be a good match for Paterson on the project), with its premiere at last summer's Manchester International Festival. "We started with a brainstorming session in Glasgow, just trying to figure out what the world of a baby opera might look like, e.g., the sights, sounds, textures and music and went on from there."
It has been performed in several parts of England, in different economic environments, and was recently performed in Paris. The composer found that the reactions of the very young opera aficionados varied considerably. (Indeed, at the show I attended, one child was totally fearless about toddling around and getting into things, not thinking about his parents at all.) But the audiences had one thing in common: As Puccini wrote in TURANDOT, "Nessun dorma (No one sleeps)."
While on the surface BAMBINO--which runs about 40 minutes, divided into two acts with an informal intermission--seems simple, the composer spent several months on research, including academic reading on child development, before sitting down to write. He even looked into Dunstan Baby Language theory (thanks to a tip from McDermott), which posits that there are five sounds, each with a meaning, that all infants use before they actually develop language skills. In addition, he had research into short-term attention span, to see how long a musical segment could last before the babies became too antsy.
Paterson incorporated some of this research into writing his libretto and music, with excellent results. (He told me his research and development phase took much more time than the actual composition.)
"There's been a very positive response to the way that language is used in the piece along with the music," he notes. "It was performed in Paris just before we came to the Met and it's nice to know that, in the same way that mainstream opera appeals to so many people, language isn't a barrier when the music's there. It's the power of the voice not so much about the text."
"It's lovely to see the full range of reactions the show has received," says Paterson, "and that every little toddler is just a person--and you're already seeing all of the characteristics that are eventually going to come out."