BWW Review: Little Ms. ECHO How Do You Do? Very Well, at Prototype 2018
By the time you read this, another year's edition of PROTOTYPE--New York's two-week festival of new opera-theatre/music-theatre works different from most anything you've ever seen before--will be gone and it was another to be grateful for. The last event on my list (after the bold ACQUANETTA and lyric FELLOW TRAVELERS) was a totally original and stunning, immersive piece called THE ECHO DRIFT, with a scintillating score composed by Mikael Karlsson, and a brilliant environmental production by Elle Kunnos de Voss in their first collaboration.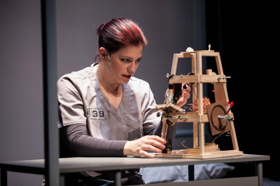 If "Hell is other people"--as Sartre reminded us--what then is a moth? That's one question asked by THE ECHO DRIFT, in its story of convicted murderer Walker Loats (mezzo Blythe Gaissert) who is trapped in solitary confinement, where the real and imagined merge in her mind.
The storytellers--in addition to Karlsson and de Voss, there's co-librettist Kathryn Walat, with direction by Mallory Catlett and projection design by Simon Harding and lighting design by Christopher Kuhl--incorporate animated visuals (thousands of them by Kunnos de Voss) and surround-sound to relate the story of how Loats bides her time until the release that she is convinced is on its way.
Suddenly, after being alone for what seems like forever, it's "Warden, there's a moth in my soup" (actually, it's a chrysalis) for Walker. It attaches itself to her bed and soon emerges from the pupa as a companion, in the form of the endlessly inventive performance artist John Kelly, who not only keeps up the conversation with the prisoner but also rotates her cell as the animation takes hold. He gives her some hope that there can be some end to her predicament, only to whip the rug out from under her.
It's easy for Loats to be obsessed by the concept of time passing, where the lights in her cell stay on day and night and there is no window. She passes the hours working on a clock-like invention. (Costume and prop designer was Andreea Mincic.) The moth becomes yet another reminder of how slow it is for her--certainly compared to the lifespan of a moth, which may last only for a few days. By the time the piece is over, reality intrudes unhappily.
Gaissert is wonderful as Loats, giving herself over totally to the fantasy world that the creators have presented to her, more than holding her own vocally in the powerful and audacious orchestral setting--by turns jazzy, acoustic, electronic, melodic, atonal, soothing, blasting--that the composer has devised. Conductor Nicholas DeMaison did a remarkable job in bringing out the exciting individual voices of the International Contemporary Ensemble (ICE) instrumentalists; I was particularly taken with the work of the saxophones and cello.
See you next year, at PROTOTYPE 2019.
THE ECHO DRIFT was commissioned, developed and produced by Beth Morrison Projects and HERE (the two producers of PROTOTYPE), and American Opera Projects. It was originally developed by Karlsson and Kunnos de Voss in a full-length workshop presented in 2014 by the Embassy of Sweden in Washington, DC.