BWW Review: LA GIOCONDA at LA MONNAIE in Belgium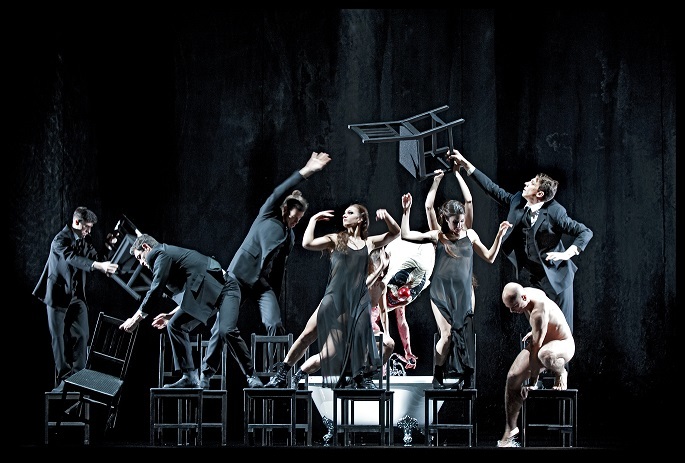 Opera is a very difficult genre to stage nowadays. It is either staged in its classical version, which doesn't necessarily appeal to young audiences in search of flashy, special effects theatrical tendencies, or it goes through a painful process of forced modernisation that frequently fails at reinventing the story. If, in the case of musicals, revivals are many and most of them are refreshing and dynamic, as far as opera is concerned there is a deep shift between the musical ambiance, the period the human interactions and the modern times they're projected in. Anyone can modernise an opera. Not everybody can succeed in reviving an opera.
That being said I am extremely happy to say that Olivier Py's vision of Amilcare Ponchielli's opera La Gioconda is in the purest sense of the term a wonderfully vibrant and dynamic revival. The visual universe is extremely rich and even if it has nothing to do with XVIIth century Venice, one still feels transported in a different Venice, a space where time has frozen between the water on stage and the ever-changing grey and heavy ceilings. A place where the reflection of the water whirls makes the walls breathe and the rain of sparks at the end of the second act remind one of Dante's Inferno rain of ice and fire. The lack of sunlight is essential for creating this feeling of underworld Venice and the artificial lighting solutions are so imaginative that one seems submerged in a strange yet somehow familiar structure continuously changing texture and form.
Choosing to dramatize the overture was an excellent option. The music works perfectly with the striking image of a naked man, with an oversized grotesque clown head, bathing himself while a group of dancers cross the stage using chairs as a self-constructing bridge above the black water. Also the huge grotesque head appearing at the end of the play has a strong symbolic meaning and gives Barnaba a unique apparition through one of the head's eyes, like a warm emerging from a carcass.
The ensemble, in spite of its powerful and coloured sound, suffers unfortunately but not surprisingly from what I call the "opera stillness syndrome" where a large number of singers appear on stage and sing without any trace of body language or character characterisation only to half act ideas of emotions instead of feeling and living them as characters. What helps in this production is the appearance of extremely expressive dancers during the ensemble scenes, who give life to the otherwise still nature of the singing group.
The male characters are without doubt the highlight of the show. Franco Vassalo portrays a very dynamic, incisive and obscure Barnaba, Stefano La Colla is a touching, complex Enzo and Jean Teitgen a strong, tortured and intimidating Alvise. If these three wonderful singers manage to push the boundaries of acting through song beyond what is usually done in opera, which is usually not much, one can't say the same thing about Silvia Tro Santafé, who, in spite of a fairly rich voice, is unfortunately much more into fabricating false emotions rather than transforming herself into the needed character of Laura. Her movements are unnatural, over the top, and thus stand in complete contradiction with the convincing acting and corporality of her fellow performers. Beatrice Uria- Monzon as La Gioconda is also unconvincing, not necessarily because of any fault in her singing or acting skills, but because La Gioconda should be a character marked by the sensuality and innocence of an adolescent rather than the force and maturity of a woman. A poor casting decision that favoured performer experience over character age.
All in all, La Gioconda is an incredibly powerful production that puts once more La Monnaie in the top of European operas. It is a show that needs to be seen, understood in all its complexity and praised for the way in which it manages to transpose and unify Ponchielli's music with a vibrant world that one can relate to.
| | | |
| --- | --- | --- |
| | Donations | Arts Orgs |
Related Articles View More Opera

Stories