BWW Review: Don't Cry for MARIA, Argentina... She's Here in the Big Apple Now!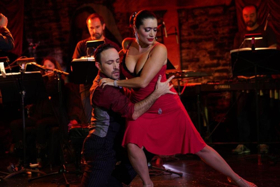 Site-specific performances are the latest thing for opera companies wanting to venture into works that wouldn't comfortably fit in a 500-, 1000- (or more) seat theatre. New York City Opera has tried this in the past, but never in a venue quite as intimate or louche as Le Poisson Rouge on Bleecker Street, where Astor Piazzolla's MARIA DE BUENOS AIRES, an operita (little opera or, perhaps, operetta) with Horacio Ferrer's libretto, is earthily tango-ing its way into audience hearts.
Story-wise, it's not exactly a fun evening, with this tale of the Buenos Aires slums and the short and hardly-sweet life (and after-life, in Part II) of a prostitute who was born on a day "when God was drunk." The tale is told in a surreal way that was not always easy to follow. It's the music and dancing, however, that provide the continuity--and zest--to the piece, with a stylish 11-piece orchestra under Jorge Parodi bringing Piazzolla's nuevo tangos (and tango-inspired work) vividly to life. By any standard, this MARIA stood out.
Soprano Catalina Cuervo--who has the distinction of being the most experienced Maria (she has also portrayed Frida Kahlo in the Rodriguez opera)--was a striking figure in the production, whether she was singing or dancing. She knew how to communicate the piece to the audience and didn't let them go.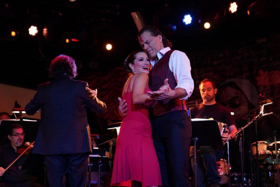 The only other singer in the piece is baritone Marcelo Guzzo as El Payador, Maria's lover, and his robust voice lent an earthy presence to the proceedings that matched his vibrant chemistry with Cuervo's Maria. (The third principal was Milton Loayza, as El Duende, the goblin, who mostly functions as a slightly oily narrator.)
The tango duet of Analia Centurion and Jeremias Fors, also the production's choreographers, were a striking presence, linking the parts of the story together and making the audience feel like they were in a tango bar in Buenos Aires (birthplace of the tango). They were seductive and vibrant, wandering in and out of the action.
I don't know what the venue was like in Atlanta, where director Tomer Zvulun, General and Artistic Director of The Atlanta Opera, originally staged the work as part of its Discovery Series. Here, recreated by Stephanie Harvey, with associate Brian August, I felt like I needed to be Linda Blair in "The Exorcist" movie--in the scene where her head twirls 360--to catch everything that was going on here. My only complaint was the insertion of an unneeded intermission, which I suspect had more to do with the bar than the action.
No matter. As part of City Opera's Opera en Espanol initiative, the piece is a natural--but you don't have to speak Spanish to have a good time.
There are two more performances of MARIA DE BUENOS AIRES at Le Poisson Rouge, on Oct. 26 and Nov. 2, with doors opening at 6pm for the performances that start sometime after 7. General admission seating is $55, with a two-drink (or -plate) minimum, and standing is $10, but at this time they are sold out. For more information, see the website for Le Poisson Rouge.
Related Articles
View More Opera

Stories