BWW Interview: From BOHEME to OTELLO and Back, Met Tenor Russell Thomas Finds Variety the Spice of Singing Opera
"Bread-and-butter operas usually bore me," tenor Russell Thomas told me frankly, as he prepared for his first performance of Rodolfo, at the Met, in Puccini's LA BOHEME--one of opera's most popular tenor roles--in nearly 15 years. But it wasn't any disdain for the role that kept him away from it: It was James Levine, the Metropolitan Opera's Music Director for 40 years (and still sometimes conductor) who led to his decision.
Levine is also artistic director of the Met's Lindemann Young Artist Development Program, which has played a significant role in many artists' careers--and was Thomas's entree into the Met. "When I joined the Lindemann in 2003, Levine asked me to stop singing Puccini and focus on Mozart. And that's what I did... Then people would ask me to sing BOHEME and I'd tell them that I wasn't singing it and soon they stopped asking. When it comes to casting, many opera houses aren't particularly creative--so when they see you're singing Mozart, it's the only thing they think for you because 'we have this Mozart hole to fill.' So artists become pigeon-holed and don't get to sing other things."
The Miami-born singer, whose family was puzzled when he announced, at 18, that he was going to become an opera singer, certainly isn't pigeon-holed these days. Just before he arrived in New York for his current string of Rodolfos, he sang his first OTELLOs--known as 'the crown jewel' for tenors but also 'the tenor killer' for its difficulty--in concert with the Atlanta Symphony. He's looking forward to role debuts as Verdi's Radames (AIDA) and Don Alvaro (LA FORZA DEL DESTINO), as well as a return to Verdi's Don Carlo (DON CARLO), among many other roles, and includes contemporary works such as John Adams' A FLOWERING TREE (for which he created the role of the Prince) in his portfolio. (The two roles ahead that really set him salivating are Britten's PETER GRIMES and Wagner's TANNHAUSER.)
But right now, his mind is on the Puccini opera. Why is he suddenly back to Rodolfo, parachuting in to the Met's iconic Zeffirelli production, where he's scheduled for five of 15 performances of the work this season? Easy: He'd had a meeting with Peter Gelb, the Met's General Manager, who said they had to move some things around this season--for instance, I know a cancelled production caused some changes--and asked him about taking on all the BOHEMEs in the run, but Russell had the commitment to Otello, which was a priority for him, and asked for a later start to his engagement.
The last time he did a full BOHEME was 2003: How does it feel, I ask him, to come back to it after moving into heavier repertoire like Otello or Loge in Wagner's DAS RHEINGOLD, which he did with great success at the NY Philharmonic last season? "It's not that it's lighter than Otello or some of the other roles I've been singing most recently, but that it's higher. The trick for me is to get my voice to sit higher again, in just one week--that's been my challenge." While he was working on Otello, he couldn't work vocally on the Puccini role (a sure road to ruin), but he did study the score and felt comfortable enough with the character.
Dramatically, there are a number of challenges to bringing off a successful performance of BOHEME, even if the production is one like this classic Zeffirelli version, where the audience frequently applauds the scenery before anyone has even sung a note.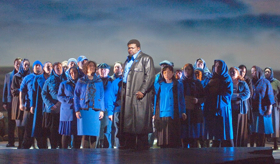 First and foremost, there's Rodolfo's relationship to Mimi, the star soprano role, with whom he's supposed to have instant chemistry and be able to show it. It was a few days before his first performance--with the much-appreciated newcomer, Angel Blue (to be followed later by Anita Hartig)--and they hadn't yet met. Yet he didn't seem unnerved and gives me a 60-second set-up of his role.
He feels that he understands the character of the struggling artist quite well. "Doing BOHEME reminds me of being a poor student in NY, sleeping on somebody's couch. He's a good guy, falling in love instantly, though I don't think it's the same kind of love for him as it is for her. But in the beginning, at least, he wants to be greater than he is--I think we all want to be greater than we are--so it's easy to relate to," he says.
"Of course, I have a successful career now, but when I was starting out, things were quite different for me," he recalls. "I was a bit envious of my colleagues; I would see people singing things and thinking 'I wish I could do that' or 'why didn't they give me that?' Especially here at the Met--I sort of grew up here professionally and would see things going on and think, 'I could do good job with it. I wonder why they overlooked me for that?' Everybody knows what it feels like to want to be better recognized in their field. And that's what Rodolfo is like--writing for some woman's daily circular when he wants to be a playwright and a poet. Probably that understory is very important for that character.
But, yes, he confirms, acting like he has an intimate relationship to Mimi is job Number One. "I'm a good stage colleague and for success here, it's all about playing off one another," he explains. "I know how to pay attention to the people around me, so I'm not worried about that. Because Angel has already been in the performance for three performances of the run--she's the 'old pro' here--I think, she'll be pulling me around the stage a lot. That's what we do for one another in this kind of situation."
He has a similar approach to forming a bond with the other Bohemians--his best friend, Marcello, along with Shaunard and Colline: How do you make it feel like the other guys are pals? He knows some of the singers doing Marcello and Colline, though they've never worked together in this opera before. Again, he feels his experience as being a good stage colleague will make it seem "just right."
What's most nerve-wracking for him about doing this opera is that it's one everybody knows--one of a handful of the most popular operas in the repertoire. It's challenging to sing because it's so familiar--and Pavarotti, in particular, sang these arias in concerts so often that now many can't hear anything else. 'Nessun dorma' from TURANDOT is like that, too. "It's the gold standard," he continues, "and even for many very experienced tenors, it's sort of trying to reach the unattainable level. But it also gives you something to work towards, because you have to figure out how you can get as close to that level as you possibly can. That's a hard thing. Another is being in this iconic production that people know so well, making sure I don't mess up, that I don't forget to light a candle.
"To me, vocally, the music feels fine, it feels great," he explains. I asked him whether, when he went back to the role after all this time, it felt familiar to him. Absolutely; it came right back, he says, while admitting that singing Puccini is different from what most of what he does these days--Verdi and Mozart--and he had to remind himself how to sing in this style. That's where recordings come in: "I listened to the von Karajan recording with Pavarotti and Freni, the Scotto Mimi, the Moffo Mimi, I listened to quite a few things for the style of the music, just to let it sink in. Yes, I wish I had more rehearsal time and could relax between rehearsals...but I don't," he says, shrugging.
I ask him where his career is going. Is this BOHEME a kind of anomaly as he goes toward heavier roles? "I hope not. I found Otello was a good fit for me except for the lowest part, because my voice sits rather high naturally and much is low, like the monologue in Act III, which is why it can be a voice wrecker. "Honestly," he adds, "I don't think I'm necessarily a classic Otello, which is a very special kind of voice that I don't think exists anymore--that Mario del Monaco kind of singer." (Del Monaco was a famed interpreter of the role from 1950 into the '60s, with at least 200 performances of Otello under his belt--and maybe as many as 400, according to some sources. He was buried in his costume.)
"If it were up to me, I wouldn't do a lot of heavy things back to back to back. Ideally, I'd sing maybe one production of Otello a year. That's why singing Rodolfo now is a welcome break. I did Tito [Mozart's LA CLEMENZA DI TITO] this summer, then Beethoven's 9th, then Tosca Act II [with the Boston Symphony under Nelsons with Opolais at Tanglewood], when I was ill, then Otello, which all put extra demands on the voice.
"As I move along"--he's just 40 now--"I would like to keep as very a varied a repertoire as possible." For him this means DON CARLO mentioned earlier, at the Washington Opera, a couple of TROVATOREs, a Florestan in Beethoven's FIDELIO, and some Bel Canto: He's singing the title role in ROBERTO DEVEREUX next season. Devereux is a role he considers "meaty"--but tricky because some of the hardest music is at the end of the opera, when a singer can be tired.
Still, he feels, his technique will carry him through everything that lies ahead, along with taking care of himself, which means eating and sleeping well ("both very difficult for me") and staying hydrated. He usually tries not to talk a lot around a performance but it's more difficult these days with a toddler part of his household.
When it comes down to it, however, it's the music and his voice that are key to his future. "I try never to sing outside of myself," he concludes, "to never sing outside of what the composer demands and what my voice tells me to do."
###
Russell Thomas has three more performances of LA BOHEME this season: on Friday, October 27, at 8pm, with Angel Blue as Mimi; November 1, at 7:30pm and November 4 at 8pm, with Anita Hartig as Mimi. For tickets, see the Met's website.
Related Articles View More Opera

Stories