BWW Interview: Barnes-Storming in THE WAKE WORLD of Composer David Hertzberg
The last of the new operas at the center of Opera Philadelphia's O17 opera fest is THE WAKE WORLD, a chamber piece written by composer/librettist David Hertzberg and directed by RB Schlather. It opens on Monday September 18 at the Barnes collection in central Philadelphia and promises a one-of-a-kind experience for those savvy enough to snare a ticket. (Its five performances are sold out.)
"One of our goals for the opera is that people never look at the Barnes collection in the same way again," says the composer, who was instantly taken by it while studying at Philadelphia's Curtis School of Music after graduating from Juilliard. That's a tall order for the opera--the Barnes is one of the world's great art collections--yet I wouldn't underestimate the abilities of the 27-year-old Hertzberg and his director, who have more than a few tricks up their collective sleeve.
THE WAKE WORLD was inspired by a pair of one-of-a-kind iconoclasts of the 20th century, though neither of them actually appear in it: First, there's Dr. Albert C. Barnes, an eccentric billionaire and creator of the Barnes Foundation and the collection filled with Matisses and Renoirs, among many other masterworks, who had very clear ideas about teaching people how to look at art. Then there's Aleister Crowley, a British master of the bizarre who was an occultist, painter, novelist and founder/prophet of the religion of Thelema and wrote "The Wake World," a fairytale that is the source of the opera.
I sat down with Hertzberg, who's an Opera Philadelphia (OP) composer-in-residence, to talk about his work. Though he was loath to give away too many secrets about the opera, he did give some indication of what audiences could expect at the Barnes.
How did THE WAKE WORLD come together?
"I was in France at the Aix-en-Provence Festival, taking in all kinds of opera as part of my OP residency, when I received a call from David Devan, Opera Philadelphia's General Director & President, asking if I wanted to write something for the new O17 festival.
"This was in the summer of 2016 and, I admit, I was really kind of nervous because there was no time. But I thought, 'I love the Barnes and writing opera is all I want to do,' and said yes and that I wanted to work with RB." (The director had worked with him on the first project of his residency.) "Then David told me that they wanted something that responded to the Barnes collection, the museum's space and that it would be great if it featured the Opera's chorus in some very prominent way.
"This kind of influence doesn't always sit comfortably in the eye of a creator--but it didn't bother me because of my feelings for the Barnes and the acoustics of its Light Court. Of course, I still didn't have a clue about what the opera would look like.
"After my trip to Europe, they brought me for a site visit to the Barnes, with a docent, to remind me of the collection and learn more about Barnes. (I later did another tour with a docent and RB.) Barnes was this total anti-establishment guy. He hated the Philadelphia art establishment and knew all these artists--Matisse, Picasso, the American William Glackens who helped him start the collection, among them--personally.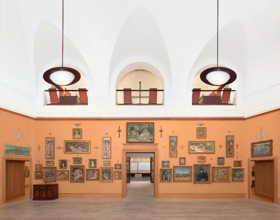 "The docent talked to me about what Barnes called 'the ensembles'--objects from different cultures, time periods, and media, alongside the magnificent collection of paintings that Barnes felt fit together--and how certain techniques transcended time. For instance, how there was a through-line about color that connected works that were created centuries apart--how, by juxtaposing a piece of metal work that looked like some ancient astrological sign with a Renoir and a Seurat, that you could see that they all used the vanishing point in the same way."
Hertzberg felt the docent's descriptions resonated with his own impressions of the Barnes--yes, there was a richness of work but a place with "insanely beautiful chaos that seems right in some inexplicable way," he recalls. He began thinking about what he could do so that when people experience the work, "it will kind of explode, illuminate the quality of the space." A quality, he says, that makes it feel like an otherworldly temple that exists in this world.
Why did you choose a fairytale setting for the piece?
"I think that fairytales are so right for the kind of musical expression I was looking for; I'm very much into complete synthesis of music and words," says Hertzberg, who wrote his own libretto. His first and only other opera thus far ('that I ever showed to anyone,' he quipped), THE ROSE ELF, was also written during his time at the residency program (and directed by Schather), based on a Hans Christian Andersen tale 'The Elf of the Rose' that, says Hertzberg, was cribbed from the medieval Italian writer, Boccaccio.
"Before I wrote that opera, I was already very much interested in the morphology of fairy tales, e.g., archetypes, how they work out over and over again in different sets of stories, whether English or Grimm and so on, how they play out across different storylines and cultures. I think the grammar of that type of pre-literary story is how a good deal of music happens in my brain."
"Eventually, I decided on a version of Crowley's fairytale-ish story 'The Wake World,' which a friend had introduced to me several years before. It tells the tale of a wide-eyed seeker and her guardian angel on a dreamlike voyage, though I pared away some of the more extreme aspects of the story, without going too far in the other direction.
"I think it works perfectly in the Barnes: Works of art jump off the gallery walls and into the action," he says, and the voices of the Opera Philadelphia Chorus draw the audience through "a mystical world of hallucinatory vividness" (according to the Opera Philadelphia material). It's an immersive performance that takes place in atrium-like setting of the museum's Annenberg Court.
How did you start working in the opera form?
"I've loved opera my whole life--it was my first love," he admits, "I started studying music not super-early for classical music person--some of them start when they were born--but maybe when I was 7. I started piano, violin, cello, and started composing at the same time; it seemed the most natural way of relating to music.
"I think that opera literature, song and vocal literature have totally shaped my musical idiom--who I am as a musician. I've played so much with singers at the piano and spent so much time thinking about that music--it's all my favorite music. Mozart, Wagner, Verdi, Bellini--I can't overstate what that music means to me. It's what I live and breathe. I think a lot of younger composers around my age tend to have come to opera from pop music--that's the vernacular idiom today I guess. While it's true that, growing up in LA, I played in bands but opera is the core of where I start as a composer," he avers.
How would you describe your music? I read someone hearing influences of Messaien (rhythmically complex; harmonically and melodically abstract) in your work; would you say that?
"Sure, I respect Messaien's music and I'm sure it's woven its way into my consciousness in some way. But the music that really love and come back to--not that it necessarily sounds like my music--is what I already mentioned: Wagner, Bellini, Mozart, Verdi. My music may sound very different from those composers, but that's the place I always come back to. I love color, especially when it comes from harmony, and music that I feel has breadth and line, where you can feel large arcs and shapes.
"I think my music is melodic--maybe caught between styles because I don't tend to use primary colors. Certainly, it doesn't sound like Menotti or Barber, but also doesn't sound like Stockhausen or Boulez either. The way it breathes--there's a melodic impulse.
"I really love music, no matter how complex the sonic world is. I like things that feel like they have semiotic precision: They speak in language, something you can carry with you."
At the end of the performance, what impression would you like to have made on the audience?
"One, I want them to enjoy it and, if it really works, I want them to be carried away: The way I feel at performances of the music I like the most. I hope they never experience the collection--and maybe even opera and art in general--in the same way again.
"Not to be lofty or prosaic sounding, I hope it changes their life. I want to connect with people, because that's part of art for me. Regardless whether it's me making an opera performance for Philadelphia or Jeff Koons making some weird balloon animal or Beyonce making some giant smash thing that billions of people listen to all over the planet, I feel that there's a leap of faith that one takes as an artist: that what is really meaningful to oneself will be meaningful to other people."
David Hertzberg's THE WAKE WORLD, directed by RB Schlather, is scheduled for five performances at the Barnes Foundation, 20th Street and Benjamin Franklin Parkway in Philadelphia, PA, as part of Opera Philadelphia's O17 festival. All performances are sold out.
Related Articles View More Opera

Stories