BWW Insight: Opera and Music as More than Simply a Night Out? BLUE and THE JUST Say Yes
Can opera be a medium for social commentary and change? This has been on my mind lately-or, more accurately, yet again--since attending a preview of the new Jeanine Tesori-Tazewell Thompson opera, BLUE, which was part of the Guggenheim Museum's fascinating Works & Process series.
The performance of excerpts and roundtable with its creators were part of preparations for the work's world premiere this summer at the Glimmerglass Festival.
While still mulling over its major theme--how does a African American family raise a male child in today's America and keep him safe?--I came across another, similarly themed yet totally different piece, THE JUST AND THE BLIND, by composer/musician Daniel Bernard Roumain and poet/librettist Marc Bamuthi Joseph. It was part of the Carnegie 125 commissions for Carnegie Hall's 125 anniversary, performed in the smaller Zankel auditorium.
The two works made a strong case for opera and music being more than entertainment or uplifting beauty--providing insights into the mysteries of being alive at this time in history.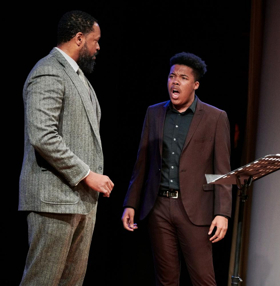 BLUE takes place in contemporary Harlem and involves an African-American family--the father is a policeman, the "blue" of the title--and their concerns about the safety of the son about to be born, to the time of his premature, unfathomable death, in these "Black Lives Matter" times.
It was not the first time Tesori has taken on matters of race: There was her sung-through CAROLINE, OR CHANGE, categorized as a "musical" from its opening at the NY's Public Theatre in 2003, though I wonder whether it would be an opera today.
It was, in turns, funny, angry and uplifting. CAROLINE, written with playwright Tony (ANGELS IN AMERICA) Kushner, called on a variety of musical styles, from R&B to Klezmer to classic Broadway, to look at race relations in the South in the '60s.
Over the last 15 years, Tesori's musical vocabulary has evolved--or at least as shown in the excerpts of BLUE at the Guggenheim--into a sound that is more musically rich and modern. Yet, she has certainly not abandoned melody, whether in the more light-hearted moments earlier in the opera or in the more traumatic endgame.
Her score hit many of those same emotional points from CAROLINE, from humor to tragedy, notably in the mother's wonderful Act I aria, "Go figure," and in the confrontations between father and son that made the hairs on the back of my neck stand up.
Librettist Tazewell's hand in shaping the work--he functions as director as well librettist--cannot be underestimated. As in much of contemporary opera, the words count as much as the music in the piece's success, here taking some of its cues from Ta-Nehisi Coates' Between the World and Me and James Baldwin's The Fire Next Time.
Though it's tricky trying to guess what the impact of the complete work might be from the few excerpts--performed by Kenneth Kellogg, Briana Hunter and Aaron Crouch, among others at the museum--and the discussion among the creators and Glimmerglass general director Francesca Zambello, they certainly made me want to hear more.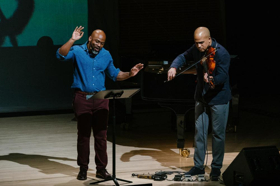 Still mulling over BLUE's themes, I came to the 60-minute Roumain-Joseph work, at Carnegie's Zankel Hall, which took on a similar topic (among other subjects): "the talk" to a young man that encompasses the message that "your mission is to get home to me."
Poet Joseph and composer Roumain take an eclectic, stinging run at the current topic of race in this country. There's a jazzy, moody--sometimes modernist--score, mostly played by Roumarin on piano and violin, but also sung and danced by collaborators.
While the definition of "What is opera?" seems to change more and more by the week, to me THE JUST AND THE BLIND was less opera-like than the last work I heard by the duo, the powerful WE SHALL NOT BE MOVED. That work had a more restless and tense, urgent and excitable score by Roumain, when it debuted at Opera Philadelphia's O17 Festival, before playing a weekend at the Apollo Theatre in Harlem.
I thought of THE JUST AND THE BLIND as almost a song cycle, though it's nothing like any lieder concert you've heard. The creators call it "a concert of voice, body, and musical and visual scores; dispatches from the prime suspect years; and documents of the beauty of forgotten blocks."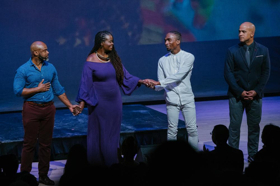 Besides being a fine writer, spoken word artist Joseph is wonderful on stage. He gave a mesmerizing performance with so many nuances that it even descended into an almost stand-up manner antithetic to the seriousness of his words.
The creators performed the work alongside some other interesting artists and effects: dancer Drew Dollaz (a pioneer of flexing, a genre of street dance with Roumarin's score at its most furious), the earthy vocalist Somi and David Szlasa's projections with Xia Gordon's animations, all under the direction of Michael John Garces.
While opera has long been on the fringes of politics--think of Verdi's problems with censors or the use of "Va pensiero!" during Italy's nationalistic efforts in the 19th century--the number of politically/racially/sexual orientation-themed works on view in the 21st century is significant.
Besides the works already discussed here, there are such varied pieces as the Huang Ruo-David Henry Hwang AN AMERICAN SOLDIER (performed last year at Opera Theatre of Saint Louis and also previewed at the Guggenheim) and AS ONE, the transsexual-themed work by Laura Kaminsky, Mark Campbell and Kim Reed, which has become one of the most-performed contemporary works across America. Ahead, and cutting across many lines, is STONEWALL by Iain Bell, also with librettist Campbell; it recently workshopped in New York and will premiere at New York City Opera in June, to mark the 50th anniversary of the eponymous uprising, which was a key event in LGBTQ history.
The big challenge of most contemporary works is getting to see them on stage, particularly (and surprisingly) in New York. Once a new work has its world premiere--for example, look at John Corigliano's THE GHOSTS OF VERSAILLES (1991), which was revived only once at the Met, in 1995--when do we get to hear it again? I guess we could have flown to the acclaimed production in Los Angeles...or, this year, go to Glimmerglass, where it's being done alongside BLUE.
Related Articles
View More Opera

Stories