Voyages Release 'New Year's Day' EP on Vinyl & Digital Download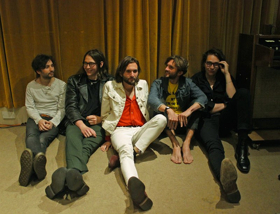 Welcome to the new music of Voyages, a blend of 60's pop with succulent, golden harmonies and much needed warmth as we all head into hibernating months of winter. This family of five, hailing from Bath, UK, are about to release their debut EP with five fledgling tracks under the guise of 'New Year's Day'. Stream/embed: New Year's Day
https://soundcloud.com/voyages-band/sets/new-years-day
Voyages is creation of singer/songwriter, Will Walter whose work began in Spring 2017 in his the home studio in the West Country. Enriched by psychedelic sounds, Walter's journey started to create a modern alternative production and a new sound from everything he loved about his record collection before adding a band of brothers together for the ride. The band, who now perform and record as a 5-piece, are twins, Will and Tim Walter on vocals/keys, their brother Ollie Walter on guitar, alongside another set of twins in James and Lewis Woods who take care of the rhythm section on bass and drums. Their live show has become a huge part of what they do and they plan to be on the festival circuit for summer 2018. "The New Year's Day EP is based around the mistakes made over the last year and the notion that if you didn't make any you probably didn't take enough chances, " explains Will Walter, who wrote lead single, New Year's Day originally as a poem, on New Year's Day. "It was ultimately a stream of consciousness brought on by a goddamn awful year and catastrophic New Year's Eve party which resulted in loss of phone, wallet and mind." The EP has four tracks and includes 'Schmuck', a tale about breakups with a positive angle aided by surf guitar licks and simple, dreamy harmonies. 'Godspeed' sees Walter doff his hat to the wonderful work of
Brian Wilson
of Beach Boys fame following the discovery of a new pedal that makes your guitar sound like an orchestra. With this, Will created a palate of indistinguishable sounds over a faraway preacher vocal. The EP closes on 'Apple,' that will only be available on the vinyl release - a lo-fi, animal-friendly, barfly number for a cold December night.
The EP is available on all digital platforms as well as pre-orders for vinyl copies which include instant digital download. Visit https://voyagesmusic.bandcamp.com/releases for all.
Live shows will be announced for 2018 soon.
Follow Voyages online at:
www.voyagesband.co.uk
www.facebook.com/voyagesmusic
instagram.com/voyages.band
twitter.com/voyages_music
youtube.com/voyagesband
Related Articles View More Music

Stories
More Hot Stories For You