Santigold '10 Years Golder Tour' Announce Naeem (FKA Spank Rock) + Amanda Blank As Support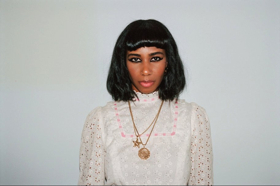 Santigold has announced the 10 Years Golder Tour to commemorate the recent 10th anniversary of her self-titled debut album. She will be performing her debut album in its entirety as well as songs from throughout her career including her latest mixtape-style album I Don't Want: The Gold Fire Sessions(Downtown). Several dates have sold out on the tour which kicks off next Tuesday, April 30 in Denver. Today, Naeem (FKA Spank Rock) who guests on "Shove It" on Santigold's classic debut and Amanda Blank who toured as Santigold's support on the tour for that album have been announced as support for this 10 Years Golder Tour.
This past summer,
Santigold
released I Don't Want: The Gold Fire Sessions (Downtown), a spontaneous mixtape-style project she recorded with Mixpak Records producer Dre Skull. Upon its vinyl release on Record Store Dayearlier this month, the project climbed to #1 on the Billboard Reggae Album charts.
Santigold
and
Dre Skull
bonded over their shared passion for Reggae and Afro-Caribbean music. Dre Skull, known for working across dancehall, hip hop, and electronic music as a DJ, producer and founder of Mixpak Records became an instant creative comrade of Santi's. They decided to explore their ideas for a mixtape, which ultimately grew into a 10 song recording session, which they came to call The Gold Fire Sessions. Over the course of two weeks, they recorded the bulk of the songs, playing with Reggae and Afro-Caribbean influences while pushing and pulling their pillars with Santi's singular point of view. As the writing and recording gained steam, Santi unearthed a few gems (ideas she had started with producers
Ricky Blaze
and Diplo) from her unreleased vaults and she and Dre reworked them, threading together classic
Santigold
ideas with the spirit of this new work. The incisive social commentary, humor, and daredevil sound that have become hallmarks of her work take on exciting new forms on this project. Unlike other
Santigold
albums, which are recorded over long periods and heavily curated and edited by Santi, I Don't Want is a loose and spontaneous project, a snapshot of the infectious energy of the sessions with Dre Skull. In the decade since her classic debut, Santi has revealed herself to be the most eclectic artist of her generation with a broad influence. She has collaborated with Jay Z, Kanye West, The Yeah Yeah Yeah's
Karen O
& Nick Zinner, Beastie Boys, David Byrne, Amadou & Mariam, Q Tip, MIA, Mark Ronson, Pharrell, Julian Casablancas, U-Roy, Lykke Li,
Basement
Jaxx, Matt & Kim, Major Lazer, Asap Rocky, Diplo, Lil Yachty, Devo, and The Lonely Island. Her songs have been sampled by Drake &
Lil Wayne
and Future among others. She's written for Gza of Wu-Tang Clan, Lily Allen, and Christina Aguilera. Santi has been handpicked for tours by Bjork, Kanye West, Jay Z, Coldplay, Red Hot Chili Peppers, and the Beastie Boys. She's a singular artist beloved by her peers across genres.
Photo credit: Craig Wetherby
Related Articles View More Music

Stories
More Hot Stories For You