Oginalii's Debut LP CAUSE & AFFECTION Out Today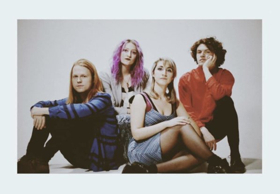 Cause & Affection, the debut full-length melodic shredfest from Nashville's Oginalii (pronounced "oh-gan-ALL-ee" and which translates to "my friend" in Cherokee) produced by All Them Witches' Ben McLeod, is available everywhere today. From shining a spotlight of frustration on the treatment of women in the music industry to championing freedom of choice and issuing a widespread call for empathy, this band has something to say, and they aren't afraid to say it. Their sound cuts through the noise of today's musical landscape and their message is of the moment. "The record is about growing up, losing yourself, finding yourself again, and wishing you were elsewhere--all while learning to love who you're looking at in the mirror and understanding that the greatest gift we have as humans is empathy," explains frontwoman Emma Hoeflinger.
STREAM CAUSE & AFFECTION
Singer/guitarist Hoeflinger has been creating music as Oginalii since 2013, and in the years that have passed her sound has evolved; the project's first form was acoustic music--Hoeflinger and her guitar against the world--but a night of noodling around on an electric guitar changed it all. Fascinated with the new color palette, so to speak, she shelled out $100 for a knock-off Les Paul.
"Sludge-rock shape-shifters Oginalii create music that slips through your fingers and leaves you wanting more," EARMILK noted of the band, led by Hoeflinger and backed by Ryan Quarrels on guitar, Simon Knudtson on drums, and Emma Lambiase on bass. "What began as an acoustic project five years ago has quickly evolved into one of the most promising rock acts of the Nashville scene."
Oginalii oscillates between kick-your-teeth-in sludge rock and hazy psychedelia, anchored by Hoeflinger's smooth yet fierce vocals. Set in Led Zeppelin roots, Hoeflinger channels strong contemporary females like Karen O, PJ Harvey, and St. Vincent's Annie Clark. Rock n' roll is more than music-it's a vibe, a culture, a community-and Oginalii is ready to continue to evolve along with it.
Cause & Affection is available at iTunes, Bandcamp, and Amazon Music.
CAUSE & AFFECTION TRACK LIST:
No Littering
Further In/Out
Eat Your Tail
Light As A Feather
Forgotten Kindness
vs vs
Cause & Affection
Moon River
Photo Credit: Matt Blum
Featured at the Theatre Shop
T-Shirts, Mugs, Phone Cases & More
Related Articles
View More Music

Stories
More Hot Stories For You