Jerry Joseph Releases Full Metal Burqa on Vinyl, Exclusively for Record Store Day, April 21, 2018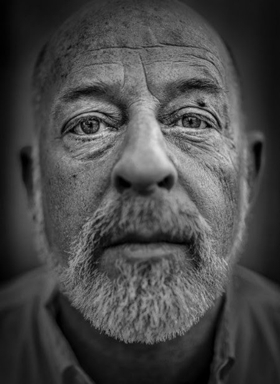 Jerry Joseph will release Full Metal Burqa (Cavity Search Records) on vinyl as a Record Store Day exclusive on April 21. In addition to Joseph, the 5-song album features his band, the Jackmormons, Steve Drizoson drums and Steven James Wright on bass.
In 2014,
Jerry Joseph
traveled to Kabul, Afghanistan to teach music in an underground, co-ed, rock school. On the streets and in the markets of the capital city, the iconic blue burqa and its diamond-shaped mesh veil, synonymous with Taliban-era Afghanistan, is still a commonplace sight. It had a lasting impression on Joseph, and inspired the title and artwork of his forthcoming new album, Full Metal Burqa. Joseph describes, Full Metal Burqa as a record of outtakes, but not in the usual use of the word. "I hate that it conjures up 'less than' and these are not that. With the exception of 'Peace Lights,' these were recorded at TRI Studios with the Jackmormons and friends with
Dave Schools
producing. We loved them, they just didn't fing fit. We are very pleased they are coming out now." The album was inspired by experiences of traveling the world, with songs written and inspired by different countries and cultures. Two were written in Kabul. "When I was in Afghanistan, writing many of the songs that ended up on By the Time Your Rocket Gets to Mars, I was trying to stay away from 'war songs' as God knows that's the last thing anyone in that city needs. The one 'war song' that made it in the record, 'Brother Number 1,' was about war zones I'd recently been in, other than Afghanistan. A couple of these songs were left off the record because of the subject matter or because Jackmormons' songs tend to run a million minutes long." "Peacocks and Blackhawks" were one of those songs. As Joseph explains, "You wake up in Kabul to three sounds, first the call to prayer at 4:00am. I happened to be staying right next to a mosque and though it's one of my favorite sounds on earth, it was really fing loud, so it wakes up the peacocks. Peacocks have a loud, and in my opinion, less than beautiful cry. About 5 min after the peacocks, it's the American Blackhawks and Chinook, which are also very loud, very invasive and frankly a reminder that your country is indeed at war and the Americans own the skies. Before that it was the Russians, someday it will be the Chinese.
Good Morning
Kabul indeed." "Chicken Street" was the other song inspired by Kabul. "Chicken Street is the shakedown street of Kabul. The streets are named after stuff you could buy there, so there is, I'm sure, a Burqa street. We used to walk down Tank Street (we couldn't buy a tank) to get to Chicken Street, it's Kabul mojo madness center, including the boys with the swinging cans of hot coals asking for money. Plus all the horrific war wounded asking for alms, and carpets and snow leopard furs and old Russian military surplus and amazing food and of course AFC, Afghan Fried Chicken. And somewhat randomly, a few women asking for money in their - sorry - full metal burqas. Amazing beautiful place." The first track, "Power Out" was written several years ago in the Dominican
Republic
after Joseph and his wife had an emergency landing at JFK. Joseph recounts, "The northwest corner of the DR is a place that means a lot to me, I wrote a lot of songs there. This recording got the Larry Crane
Jackpot
Studios dub treatment. After all my early years of being in a reggae band, I kept pushing for the 15 min version and the extended Scotty Van Schoick trombone solo. This could have been its own release with a dub B side as far as I'm concerned." "Craters of the Moon" is an homage to Joseph's mentor, Jim Blumenthal. "I was with the band in Drumlish, Ireland when I heard my spiritual mentor and friend, Jim Blumenthal, had passed. As a doctoral Tibetan Buddhist, he had recently been sending me photos of the passing of his teacher, a 94 year old lama, who quit breathing on day 1 and 7 days later rigamortis had set in. Deep meditation to be sure. I got the call about Jim and wrote the song in my head on a run through the October County Longford countryside, came back to the studio and my band whipped it into shape in minutes. Sad Irish songs write themselves apparently. Jim was one of the most purely beautiful humans I have known." Lastly, "Peace Lights" was supposed to be commission for a Lebanese woman Joseph knows in NYC who was doing a peace gathering in Union Square. He wrote the song with Steve Drizos in Steve's studio. Steve recorded it with some Decemberists and Kris Delane and they all thought it was awesome. The woman's son said it didn't sound enough like the Black Eyed Peas. So here it is.
Catch Jerry Joseph and the Jackmormons on tour:
4/4 Couer D/Alene, ID - Moon Time
4/5 Whitefish, MT -
Great Northern
Bar
4/6 Butte, MT - Covellite Theatre
4/7 Bozeman, MT - Rialto Bozeman
4/8 Mill Valley, CA -
Sweetwater Music Hall
- Jerry Solo
4/12 Girdwood, AK - The Sitzmark at Alyeska
4/13 Girdwood, AK - The Sitzmark at Alyeska
4/14 Girdwood, AK - The Sitzmark at Alyeska
4/25 St. Petersburg, FL - Ringside Cafe
4/26 Boca Raton, FL - The Funky Biscuit
4/27 Lake Worth, FL - Propaganda
4/28 South Miami, FL - Bougainvillea's
4/29 West Palm Beach, FL - Private Party
5/2 Key West, FL - Green Parrot
5/3 Key West, FL - Green Parrot
5/5 Charleston, SC - Pour House
5/6 Charleston, SC - Pour House
5/10 Portland, OR - Mississippi Studios
5/11 Eugene, OR - Wildcraft Cider Works
5/12 Eugene, OR - Wildcraft Cider Works
5/19 Salt Lake City, UT - Garage on Beck
5/20 Salt Lake City, UT - Garage on Beck

Related Articles View More Music

Stories