Jason Erie To Release Debut Album This October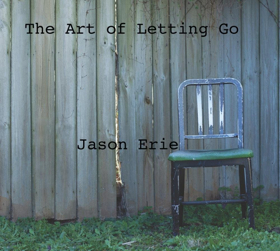 Jason Erie's debut album shines a redemptive light on addiction, love, loss, & the trials of getting older.
Recorded at Plethoratone Studios in Nashville TN, with production credits to
Chris Brush & John Dennis.
"Hyper-sensory storytelling with raw, hard-hitting images and a white-knuckle worldview that seems best cultivated in the Garden State, Jason's stories and his songs are ultimately and triumphantly his own. He is not afraid to expose the tragic grit or the chrome-facade fragility of his own life or life in general. Beneath the richness of his storytelling, it is his unabashed dedication to truth, in its many forms, that makes Jason special."
Producer, John Dennis.
Americana artist Jason Erie was born and raised in New Jersey. Music was essential for the family, singing folk songs as his father played guitar in their basement. After his parents' divorce, while watching his mother struggle with addiction and his father cope with depression, he began writing songs.
His teen years were molded by the two-bedroom apartment that he shared with his mother. After getting sober, she turned their home into a halfway house, helping others in recovery. The tragic nature of addiction and sobriety was inescapable. Jason started using music as a daily coping mechanism, writing about the people he grew to love but lost.
He spent five years fronting New-York-based rock band "Waking Up East," giving him the chance to tour the country and open for some of his childhood heroes. After two records and multiple stints on the road, he decided to take a break from music altogether.
Nashville has now become a home for Jason, quickly reigniting his love for songwriting and performing. Northern Americana at its core, Jason Erie's sound paints a beautifully dark picture of suburbanite America in decay.
With songs composed in a marriage of structure and chaos, he mixes Americana storytelling with a punk-rock attitude. In October 2018, Jason Erie is releasing his debut record, The Art of Letting Go.
"Talking to Chairs," "This is about when you first walk into the rooms. I think, when you start the process of recovery after hitting rock bottom, you are still fixated on who you used to be. All you see are the broken people and the dingy basements that you are sitting in and think, 'this isn't for me."
"Conversations with a Bottle," "is a reflection on what a teenager growing up in a blue-collar NJ town did on a normal Saturday night. It was chaos. Every night was the best night you ever had, but in the morning you had to face yourself again. Some people never grow out of that life; I'm lucky that I did."
"I wrote "Lorelai" for a woman that helped me through a lot as a kid. My mother ran a halfway house after she got sober, about when I was 15. This woman was a wonderful human being when she was sober, but she was addicted to dope, and that's all she cared about when she started using again. It broke me in half seeing her walk out the door."
"The Art of Letting Go," "I was watching TV one morning, and every news show that I flipped through was spewing negative, vicious, and tragic story after tragic story. That's when I realized the only way for me to get an ounce of happiness back into my brain was to let it all go. I genuinely believe we are all in this weird, ever-changing, and beautiful world together. I found peace in speaking about it. The Art of Letting Go is about the fragile state America is in and the world that we live in today."
OCT 6 -The Tennessee Motorcycles and Music Revival, Hurricane Mills, TN
OCT 9 - Tin Roof on Demonbreun, Nashville, TN
OCT 12 - Jason Erie Live at the Bowery vault with John Dennis and the American Buffalo
Nashville, TN
OCT 13 SAT - Music on Main at Sheyegirl Coffee Co., Ashland City, TN
OCT 20 SAT -Americana Rising with Jason Erie, & more - Nashville, TN
OCT 25 THU - Scenes Live Session (live facebook session), Nashville, TN
NOV 23 - Eddie Owen presents - The Red Clay Foundry, Duluth, GA
Related Articles View More Music

Stories
More Hot Stories For You