Huckabee, CMA Controversy Leads To National TV Debut For Country Singer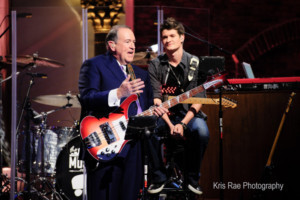 A country singer from Kentucky, who was targeted by cyberbullies, is now in the spotlight, thanks to former presidential candidate, Arkansas Governor and current TV host Mike Huckabee.
Jason Owens, 22, was invited to tape an episode of "Huckabee" on the Trinity Broadcasting Network (TBN) in Nashville, after the show's star learned that he had been attacked on social media, following Huckabee's resignation from the nonprofit CMA Foundation board, which supports music education.
Nashville music executive Jason Owen reportedly called for Huckabee's removal from the board, to protest his religious opposition to gay marriage and his support for the NRA. Huckabee resigned, saying that he did not want to be a distraction from the CMA Foundation's mission. However, many people confused Jason Owens, the singer, with Jason Owen, the music executive, and began posting insulting and threatening comments on social media.
"People were using my Twitter handle and hashtag, JasonOwensMusic," Owens said. "I was called all kinds of names, including 'trash' and 'un-American.' Some people even threatened to ruin my music career."
When Huckabee learned what was happening, he tweeted a message to his fans, explaining that the singer had nothing to do with the CMA issue. The next day, his producers contacted Owens and invited him to appear on the TV show.
"It was Governor Huckabee's idea to have Jason on the show," said producer Jim Rink. "He really felt like Jason was an amazing talent and got pulled into an awkward controversy. We just didn't want it to be about politics or the controversy. We wanted to showcase his talent and skill and his ability to play music."
"It was an amazing experience," said Owens, who happens to be a CMA member. "Governor Huckabee and his crew made me feel right at home. It was an honor to sit in with his house band and with the Oak Ridge Boys."
Coincidentally, Owens is preparing to release a song titled "Firecracker," the title track from an upcoming EP. On the "Huckabee" show, he played part of the song going into a commercial break.
"Huckabee" will air on Saturday, March 10, at 8/7C on TBN, and will repeat at the same time on Sunday.
Information about Jason Owens is available at www.JasonOwensMusic.com and @JasonOwensMusic.
Information about "Huckabee" is available at www.tbn.org/huckabee and @HuckabeeOnTBN.