Guitarist Jonathon Long Heads On Tour With Samantha Fish, Comes To The Pour House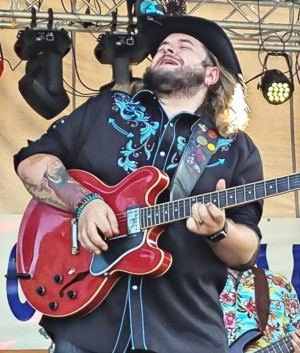 ---------- Forwarded message ---------
From: Doug Deutsch <dougdeutschpr1956@gmail.com>
Date: Wed, Nov 28, 2018 at 8:08 PM
Subject: Guitarist Jonathon Long on Tour with Samantha Fish, Comes to The Pour House
To: <newsdesk@broadwayworld.com>
FOR IMMEDIATE RELEASE Contact: Doug Deutsch Publicity Services (213) 924-4901
dougdeutschpr1956@gmail.com
GUITARIST JONATHON LONG ON TOUR W/ SAMANTHA FISH; SUPPORTING NEW CD ON FISH'S WILD HEART RECORDS LABEL
Performing Locally: POUR HOUSE - Monday, December 3
(Charleston, SC) - Guitarist Jonathon Long, who has just released a self-titled critically-acclaimed album on Samantha Fish's Wild Heart Records label, takes to the road in support of the album, opening for Fish's current tour, with a show locally at the Pour House, 1977 Maybank Highway, Monday, December 3. Showtime: 8:30pm. Tickets: $18. (advance), $20. (day of show). Info: (843) 571-4343 or visit http://charlestonpourhouse.com/.
What would the music world be like if we lost the innovators, the musical risk seekers, musicians that change the game and lift the bar higher & higher? Jonathon Long is just that. There is nothing stagnate about the Baton Rouge, LA-based musician's art. The guitar pours just as effortlessly as the soul of his voice and the depth of his lyrics throughout his new recording. On this self-titled release Jonathon covers the Soul Blues/Rock spectrum. You get the burning guitar and pristine vocals - eleven songs qualifying him as one of the most prolific writers on the scene. "Immediately I felt the songs cut straight to your soul with a fiery command of the guitar that left everyone's jaws on the floor," says producer, Samantha Fish.

The opening song "Bury Me" delivers a message of being remembered for your actions. Long holds nothing back. It is fire and brimstone, thunder and lightning from start to finish, setting the pace for the rest of the album. When it comes to guitar, Jonathon is a brawler but on "The Light" he delivers delicately with layers that evoke serious emotion, bringing out the spiritual guide in Long. Showing his chops aren't only meant for electric guitar; indeed, as a vocalist he can compete with legendary crooners.

Samantha Fish lays guitar down on the album's opening track "Pray For Me" and again hitting a home run sonic-ally on the Al Green-ish "That's When I Knew." While it's Long's soulful style that remains the star in each song, Fish adds an atmosphere and pulsating back drop, taking the songs to their highest level. Jonathon and Samantha trade verses on "The River", the only cover song on the recording. On the haunting Kenny Tudrick (Kid Rock, Detroit Cobras) song "The River," both Samantha and Jonathon's guitars together build an intensity that pushes the desperation of the lyrics to the forefront, while creating the perfect background as this broken love story twists and turns from mellow to turbulent.

On the closing track, Long doesn't allow you forget that he's a guitar player's guitar player, turning it up for the blues-y track, "Pray For Me." He turns up the acrobatics while maintaining steady control like a master of Southern Blues Rock.

Jonathon Long delivers 11 great songs creating a joyful musical journey for any fan of Blues Rock, Classic Rock, or burning guitar. If you've seen him perform live you already know this; if you haven't, get hip and don't miss it. Jonathon will be touring the U.S. throughout 2018 and 2019.

What The Media Is Saying About Jonathon Long
"Jonathon Long's latest is an unembellished, honest expression of individuality that is deeply spiritual, introspective and occasionally mournful, but also tough and resilient." ELMORE MAGAZINE
"The entire recording sets a high bar for Long, and the collaboration with (album's producer Samantha) Fish, is truly magical...he transitions from Boogie to Southern Blues Rock, and it's dripping with raw soulful emotion."
"With a beautiful singing voice and some monster guitar chops, Jonathon Long cruises through the album with engaging storytelling and a voice that goes down easy. The themes of struggle and overcoming challenges are present, conveyed with a sense of hope and inspiration. Stunning guitar riffs and solos, and a couple hint of The Allman Brothers."
"Discovering that the album was produced by Samantha Fish definitely pricked my attention – I have long been a fan of her music and seeing her involved here suggested that the project would be worth a listen. The result is that I am now a fan of Jonathon Long as well – this is a fine example of Southern rock with a strong Blues tinge to it. My favorite is 'The River', dark, slow and with a hint of The Band about it, stunning guitar work and with his voice set way back in the mix, it works on many different levels."
Jonathon Long and Samatha Fish Live on WWOZ-FM
Jonathon Long On Tour with Samantha Fish
November 27 (Tues.) KEY WEST THEATER Key West, FL November 28 (Wed.) FUNKY BISCUIT Boca Raton, FL
November 29 (Thur.) RIVERWALK BY NIGHT Stuart, FL
December 1 (Sat.) VINYL MUSIC HALL Pensacola, FL
December 3 (Mon.) POUR HOUSE Charleston, SC
December 4 (Tues.) NEIGHBORHOOD THEATER Charlotte, NC
December 5 (Wed.) LINCOLN THEATER Raleigh, NC
December 6 (Thur.) THE HARVESTER Rocky Mount, VA
December 11 (Tues.) SHANK HALL Milwaukee, WI
December 12 (Wed.) CEDAR CULTURAL CENTER Minneapolis, MN
December 13 (Thur.) HIGH NOON SALOON Madison, WI
December 14 (Fri.) REDSTONE ROOM Davenport, IA
December 15 (Sat.) Lincoln Hall Chicago, IL
Jonathon Long Interviews/Promotional CD's/Venue Passes On Request.
www.facebook.com/JonBoogieLong
Join us on Facebook
Follow us on Twitter
Send us an Email
Unsubscribe
This message was sent to
newsdesk@broadwayworld.com
from
dougdeutschpr1956@gmail.com
Doug Deutsch
Doug Deutsch Publicity Services
P.O. Box 291444
Phelan, CA 92329
- - - - - - - - - - - - - - - - - - - - - - - - - - - - - - -
Related Articles
View More Music

Stories
More Hot Stories For You