Country Singer Nathan Kalish Releases I WANT TO BELIEVE Out Today 2/16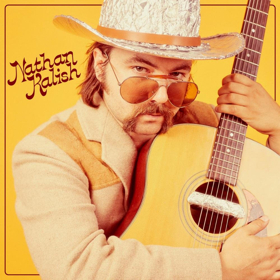 Nathan Kalish is a singer-songwriter and bandleader from the American Midwest, currently calling Nashville home after having spent most of the last decade on the road. His latest album, I Want to Believe ,was produced byDavid Beeman (notably of Pokey LaFarge's most recent) and is an independently released country-Americana record with a tip of the hat to psychedelic, folk and rock 'n roll. The songs vary from wistful introspect to social commentary while managing to keep a cohesive familiarity recognizable to fans and followers.
"It's the real, true-to-life version of forgotten America that songwriter Nathan Kalish and The Lastcallers sing about in their new album Continental Breakfast of Champions; not some fairy tale to help prop up a false sense of escapism for bored suburbanites."
"Nathan Kalish is a songwriter's songwriter. He makes the kind of music that other songwriters aspire towards. And on this latest release, Kalish and the Lastcallers avoid even the threat of a sophomore slump with the tremendous Continental Breakfast of Champions." Blue Collar Songwriting
"I've spent the last year working on a new album with a great bunch of friends from around the country while still somehow managing to play 120+ shows on tour; some with band, some solo. After seven years of sleeping on floors, in vans and motels, the extra time off the road is good for my physical and mental health. The new album, I Want to Believe, was produced at Native Sound in Saint Louis," said Nathan.
"Riding on my strange and conservative upbringing, I had never been exposed to a lot of the classics until then; Neil Young, The Rolling Stones - now the musical bible of my life. I recorded my first album at the studio of Wilco's Jay Bennettin Chicago with my musical compadre at the time," David Vandervelde.
The Songs
"Bar Fight," tells of a singing barfly, and the wedge his gigging drives between he and his day-dwelling lover. He spends his evenings at the bar drinkin' and pickin' 'til the morning hours. He wakes up just barely long enough to watch her dress in the morning with his hazy vision from bloodshot eyes."
"Winter Phase Revisted," is a personification of the winter months of the Northern states into an ex-lover; I have to escape her to find my better self. I find a home somewhere warmer with a more vibrant economy and promising life."
"I wrote 'Frail Shadow' a few years back, following an extended gig at Sturgis Bike Week, playing drums for the Deadstring Brothers. I had lost both the hearing in my left ear, and my longterm girlfriend that day due to the reckless and self-destructive behaviour of touring life."
"Bullies Win Again," came after the 2016 presidential election. I was drinking wine, while watching the results at a friend's in the Hollywood Hills. We could hear people screaming and crying in the neighboring units. It made me realize just how genuinely triggered some folks had been by an abusive television personality. I decided we had elected a schoolyard bully."
"Rosewell," is the title track of the album in every way but its name. It is a country rock, driving West through Texas' roadtrip tune. This particular adventurer is ultimately trying to hitch a ride with an alien ship after deciding the earth has gotten too strange for him. He'd rather take his chances with the Grays or the Greens."
Related Articles View More Music

Stories