Wright State Theatre Presents THE LARAMIE PROJECT
Based on interviews conducted by director Moises Kaufman and The Tectonic Theatre Project in the immediate aftermath of the murder of Matthew Shepard.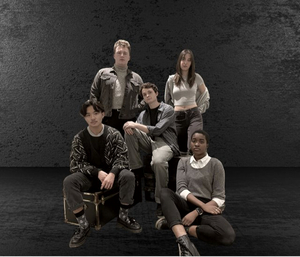 Wright State Theatre presents the true-life drama, THE LARAMIE PROJECT from February 17-26th in the intimate Herbst Theatre.
Based on interviews conducted by director Moises Kaufman and The Tectonic Theatre Project in the immediate aftermath of the murder of Matthew Shepard (a young gay man in Laramie, Wyoming), this play takes the actual words of members of that community and weaves a searing portrait of a small Western town coming to grips with these horrifying events. Director Josh Aaron McCabe guides a company of eight student actors as they portray dozens of roles, moving fluidly from one identity to the next in simple and dramatically transformative ways.
Wright State Theatre is presenting this on the 25th anniversary of Mr. Shepard's hate-fueled murder, an event that galvanized America and prompted an urgent reckoning with attitudes about members of the LGBTQ community. The production is supported by several University and Dayton area organizations: Wright State University's LGBTQA Center, The Rubi Girls and The Muse Machine have all offered production support. Muse Machine teachers will attend a special performance that is followed by a discussion with a current member of The Tectonic Theatre Project, and Wright State's LGBTQA Center is supporting that event, as well as an upcoming symposium later this term. As part of the School of Fine and Performing Arts examination of artist responses to this hate crime, Wright State's Choral Music Program is presenting, "Considering Matthew Shepard", by Craig Hella Johnson on March 26th in Wright State's Schuster Hall. Emily Yantis-Houser, Associate Director of the WSU LGBTQA Center says," "Matthew Shepard's murder is an incredible tragedy that is pivotal to the modern-day LGBTQ+ movement. Not soon after the insurmountable loss felt by the AIDS epidemic, it marked a new surge of political activism for LGBTQ+ rights and humanity. It is especially pivotal for young people and college students as Matthew was a 22-year-old gay college student who was just out for a night of fun with his friends. It is imperative for the Wright State community, particularly our LGBTQ+ community, that we reignite the memory of Matthew Shepard by sparking dialogue and activism, which is why the LGBTQA Center is proud to sponsor this production of THE LARAMIE PROJECT on our campus."
THE LARAMIE PROJECT director, Josh Aaron McCabe talks about his experience working with students, "We did a read through of the play, and just to hear the voices of cast members as I just saw them shaking, reading it in tears; not just because it's a powerful piece, but because this is their fears realized. The thing about great theater is that you do see yourself on some level in some of the characters. And it's not always fun. It isn't always right. The play has a new kind of urgency because people are realizing this is happening in their own backyard. There does seem to be more of a desire for people, especially young people, to be honest. So, as a result, it makes those who are uncomfortable with it more vocal. As one of the characters in play says, there's different kinds of violence. There's the violence that happened to Matthew Shepard; the most brutal violent act. And then there's the violence of language. And his point is that that's violence too, when people drop words that are offensive to people that that's also a kind of violence."
THE LARAMIE PROJECT creative team includes: Natalie Jobe (Scenic Design), Emma Green (Costume Design), Alex Markley (Lighting Design), James Dunlap (Sound Design), Dylan Serrano (Stage Manager), and John Lavarnway (Properties Design).
Tickets and information are available at Click Here or (937) 775-2500.