Peridance to Present The Legacy Festival 40th Anniversary Celebration in April
The event will feature works by choreographers Ohad Naharin, Robert Battle, Jessica Lang, and Igal Perry, plus more.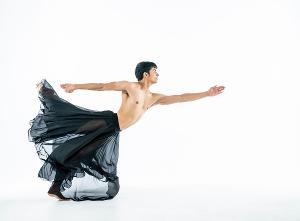 Peridance Center and Peridance Contemporary Dance Company will present the Legacy Festival, a celebration of all things Peridance, on April 17-24, 2023. The Legacy Festival honors forty years of the Center and Company, founded by Igal Perry in 1983. Join Peridance for one week of special collab workshops, spotlight classes, events, and performances as they honor the history of the institution and the many individuals who have shaped it over the years.
For more information and to purchase tickets, visit peridance.com/40.cfm.
Performance Times:
KnJ Theater at Peridance Center:
Wednesday, April 19 at 7:30pm
Thursday, April 20 at 7:30pm
Friday, April 21 at 7:30pm
Saturday, April 22 at 4:30pm & 7:30pm
Sunday, April 23 at 3pm
NYU Skirball//Legacy Ball:
Monday, April 24 6:30pm
These performances will feature revival works by world-renowned choreographers Ohad Naharin, Robert Battle, Jessica Lang, and Igal Perry; premiere new works by acclaimed choreographers Nicholas Palmquist and Johannes Wieland; and feature guest performances by Baila Society, Bo Park, The Next Stage Project, Tushrik Fredericks, Djoniba Dance Centre, Kenichi Kasamatsu, Mike Esperanza and more.
"After 40 years as an established member of the dance community, we need more than just one night of festivities to fête Peridance - which is why we're hosting a week-long festival filled with performances, panels, workshops, and more," said Igal Perry. "It's only fitting to have such a sensational lineup of events to celebrate this momentous anniversary. We couldn't be more excited to welcome audiences old and new to celebrate with us."
CLASSES
To celebrate 40 years of dancing, the Legacy Festival will bring one week of special class programming to the community that makes Peridance a place to call home. From absolute beginner to the professional level, there's something for everyone to experience and enjoy. Class packages are available for dancers to build their own experience and celebrate in a way that caters to their goals.
EVENTS
The Legacy Festival culminates in the Legacy Ball, a performance and party to commemorate 40 years of Peridance. Honoring two of Peridance's Legacy Award recipients Maxine Glorsky and Eva Evdokimova, the performance celebrates Peridance as a space dedicated to artistic collaboration, education, and innovation. This performance will include excerpts from PCDC repertory, a world premiere by Gregory Dolbashian, performances by students from the School at Peridance Youth Ensemble and Peridance's Certificate Program, and feature guest artists John Lam, Jeffrey Cirio, MOPTOP Universal, and Sun Kim Dance Theater.
A post-performance afterparty back at Peridance Center will include dancing and celebrating while fundraising to pave the future of artistic innovation at Peridance.
Other events include open rehearsals, discussion panels on wellness and career building, community performance opportunities, audition prep, and more.
Class/Event Highlights
Community Class with MOPTOP Universal
Open Rehearsal Collaboration with Sun Kim Dance Theater and PCDC
Peridance Open Studios - a forum for emerging artists to showcase their choreography in front of a panel of renowned dance artists
Community Class and Social with Baila Society
Street and Club Styles Class with Cebo and Tomoe "Beasty" Carr
Audition Prep and Mock Audition Class with Fatima Wilson of United Talent Agency
Business of Dance Class with Fran Kirmser
Classes with Peridance Faculty // Sun Kim, Graciela Kozak, Max Stone, Jana Hicks, Marijke Eliasberg, Brice Mousset, Sekou Heru, Preston Mui, Kenichi Kasamatsu, Eric Delgado, Bo Park, Dava Huesca, and more
ABOUT PERIDANCE
Peridance Center offers adult dance classes in many styles, including Ballet, Contemporary, Hip Hop, Jazz, Tap, Body Conditioning, House, Salsa and African Based, in all levels from absolute beginner to Advanced. Rooted in the Union Square area, in the heart of New York City, Peridance Center is housed in a beautiful landmark building on 126 East 13th Street, featuring spacious, sprung and column-free studios and the KnJ Theater, available for rentals, showcases and performances. The Center's robust amenities also include a coffee shop. The Center is home to the acclaimed Peridance Contemporary Dance Company and its affiliated Peridance Youth Ensemble. The School at Peridance offers children dance classes in a nurturing, professional environment. Peridance and its world-renowned faculty prepares dancers for the continually evolving dance arena through an International F-1 Student Visa Program, 2-year Certificate Program. For more information, visit peridance.com/40.cfm.