NEW ADAGIO: Maureen Fleming
In October 2013, a journalist from one of my publications had a conflict, and the editor began searching for the performance to be reassigned. I, eager to make a good first impression on the editor, volunteered. I knew nothing about this work at La MaMa beyond its poster image and title "B. Madonna." I was certainly unaware of its choreographer/performer, Maureen Fleming. This performance was, and remains, the only theatrical experience I could describe as perfect from first light cue to final bow. Her poetic cascade of imagery engulfed my imagination. After stumbling from the east village theatre in a meditative stupor, I decided that I must meet with Maureen Fleming. She responded with an invitation to a Manhattan workshop. Since that day, and in the mentorship that followed, a history of an artist's journey to maturity and the creative foundation on which an evening such as "B. Madonna" is possible, was unraveled.
Maureen Fleming would tell you her movement studies began with an incident in her childhood in Japan. While driving, her mother swerved to avoid an oncoming biker. The young Maureen Fleming was tossed through the car windshield. This early injury was survived with its consequences not revealing themselves until later in life. It caused an ever-present irritation, which inspired ceaseless and intuitive movement in her spine. Later, it was discovered that this movement was initiated by a slipped disc and spinal deformity that her body was trying to navigate.
Ms. Fleming began Cecchetti training under the mentorship of ballet master, Margaret Craske, in New York. Through La MaMa she first came across butoh when she was cast in a performance tour with Min Tanaka. Inspired, Ms. Fleming returned to Japan, where her dance form shifted from the consistency of ballet training to butoh's iconoclastic action. In Japan, Maureen took part in Min Tanaka's famed farm and began an artistic friendship with Kazuo Ohno that lasted until his passing. She returned to the United States in the 1980s and became an artist in residence at La MaMa for over 30 years. Other notable collaborators of Ms. Fleming's include Philip Glass, David Henry Hwang, Christopher Odo, Lois Greenfield and Yoso Ohno, the son of butoh co-founder Kazuo Ohno.
Fleming Technique is founded on archetypal form and restorative movement. The physical development is aimed towards lengthening the spine from sacrum to skull as a natural unit. Admittedly, the terminology Ms. Fleming employs can be esoteric ("the pearl," "flower," "moon," etc.,), though each of these particular images initiates a grounded anatomical response. Ms. Fleming's unique process is often misconstrued as a simple manipulation of butoh. In reality, her technique is too molded for that heritage to be its unique ancestor. Her body, while giving the illusion of abandon, is in highly articulate control. Her technique harmonizes intentional form and internal action, which revolutionizes avant-garde movement through constructive process.
Her experiments in movement continue with the introduction of elastics into the studio. These elastics are rigorously used to create a sustainable musculature as well as assist in development of flexibility and root musculature. Elastics also serve as a balancing assistant, allowing for barre-like stability.
Now at the age of 60, she performs with tireless grace on an international stage. Collaborations in Japan, Ireland, and Korea fuel an aesthetic that reaches beyond social structure. She continues to document her choreography, which can take a decade to create, in photography. These photographs are to be exhibited in tandem the performance. Maureen is still creating, still performing, and still learning--attempting to discover what connects the divided cultures of the world.
Upcoming presentations include the Midwest premiere of "B. Madonna," appearing as part of The Women of Substance Series at The O' Shaughnessy at St. Catherine University on November 7, 2015. In tandem with The O'Shaughnessy presentation, Wisdom Ways will present O Black Madonna Installation October 26 - November 8. There will be a reception on November 4, with a gallery talk at 7 p.m. at the Sisters of St. Joseph's Carondelet Center.
Fleming will appear in the upcoming documentary DEARGDHÚIL - Anatomy of Passion, directed by Paula Kehoe, a creative portrait of the revolutionary Irish language poet Máire Mhac an tSaoi featuring performance artist Maureen Fleming that will broadcast on Irish Public Television TG4 and premiere in the Cork Film Festival in November, 2015. The Galway International Arts Festival will present the Ireland premiere of "B. Madonna'" July 20 - 23, 2016
Photo Credit: The Sphere © Maureen Fleming 2015
Wesley Doucette is a PhD student in French Literature at the CUNY Grad Center. His research focuses include French cultural institutions such as the Festival d'Avignon and the innovations of ad... (read more about this author)
Review: The Festival d'Avignon Presents THE LINE IS A CURVE By Kae Tempest

July 28, 2022

The 76th Festival d'Avignon officially concluded last night with Kae Tempest's The Line is a Curve at the Cour d'Honneur. This is the fifth album by Tempest. Previous works include Brand New Ancients, which I had the benefit of seeing some years back at New York's St. Ann's Warehouse. Their work in that instance was a transporting piece of storytelling. It was a very sober affair. The Line is a Curve started that way, but quickly became the cathartic rock concert to end the annual Festival.
---
Review: The Festival d'Avignon Presents SILENT LEGACY By Maud Le Pladec and Jr Maddripp

July 28, 2022

Silent Legacy, now in performance at the Festival d'Avignon's Cloître des Cèlestins, asks questions about points of exchange. The relationship between the dancer and choreographer is complex. Literarily focused theatre's collaborative quality sometimes benefits from the boundaries made by script writing. In this way, the playwright has a product outside the performance. In most instances with dance, the work can only exist within the body of the performer. Silent Legacy presents its audience with two such points of exchange.
---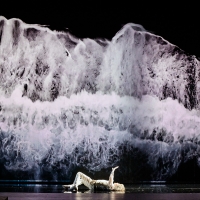 Review: The Festival d'Avignon Presents RICHARD II By Christophe Rauck

July 25, 2022

According to a poll taken in 2016, a little more than half of all British people have seen or read Shakespeare's Romeo and Juliet. That number dips just below half for Macbeth and Midsummer. The Tempest rounds out the Top 10 at 22% engagement. Deep down in this list at 7%, tucked between Merry Wives of Windsor and Love's Labour's Lost, is Richard II. This obscurity was seen as a feature not a bug for Jean Vilar when he opened the first Festival d'Avignon with Richard II in 1947. Since this performance, the play has become something of a hallmark of French theatre. This year, Christophe Rauck adds his own directorial vision at the Festival's Gymnase du Lycée Aubanel with Micha Lescot in the title role.
---
Review: The Festival d'Avignon Presents DU TEMPS OÙ MA MÈRE RACONTAIT By Ali Chahrour

July 25, 2022

One of the most famous images of 20th century theatre is that of Brecht's Mother Courage who, when told she needs to remain incognito when her son is shot, offers a silent scream. In Ali Chahrour's Du Temps Où Ma Mère Racontait, now in performance at Avignon Université's Cour Minérale, Laïla Chahrour similarly unhinges her jaw into a scream, though it's anything but silent. Undergirded by musicians playing behind her, she cries into the audience, her voice rising into the starry sky. In the face of all the tragedy she has explored with her family, it is a resonating moment of catharsis.
---
Review: The Festival d'Avignon Presents LE SACRIFICE By Dada Masilo

July 25, 2022

Choreographer Dada Masilo, a South African native, studied dance at Anne Teresa De Keersmaeker's school in Brussels. While there she developed an appreciation for the grand patrimonial dance-works. Her company, Dance Factory Johannesburg, has made a name for itself through oftentimes-comedic deconstructions of European classics like Swan Lake, and Giselle. In Le Sacrifice Masilo has decided to address a different dance classic, Le Sacre du Printemps. It was a long road to the Festival for Le Sacrifice, now performing in Avignon's Cour du Lycée Saint-Joseph. The piece has been twice canceled due to Covid. While her movement vocabulary lacks in imagination, the performances themselves were thrilling.
---