Dallas Black Dance Theatre's Cultural Awareness Highlights World Premieres and Timeless Classics by Master Choreographers
Performances include world premieres by Gregory Dolbashian and Sean J. Smith and two modern dance classics by master choreographers Donald McKayle and Matthew Rushing.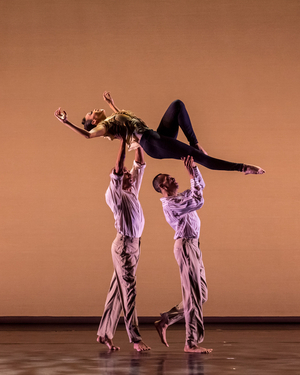 Dallas Black Dance Theatre (DBDT) celebrates Black History Month by performing works that share slices of life, culture, and history in its Cultural Awareness Performance Series. The performances feature two world premieres by Gregory Dolbashian and Sean J. Smith and two modern dance classics by master choreographers Donald McKayle and Matthew Rushing.
Santander Consumer USA Foundation is the Black History Month Sponsor for all of DBDT's events during the month of February. DBDT's Cultural Awareness Performance Series is scheduled for Friday and Saturday, February 17-18, 2023, at the Dee and Charles Wyly Theatre, 2400 Flora, Dallas, Texas in the Dallas Arts District.
The nostalgia of childhood is played out in Games by master choreographer Donald McKayle. You will flashback with your own childhood memories as the plot unfolds amid the serious business of child's play for the audience to experience pure joy and the terror that wipes away innocence. The dance is set to the a cappella voices of two DBDT dancers who sing throughout the work as dancers add layers of rhythm with their footwork and movements. The 68-year-old work is timeless. Dance Heritage Coalition named the award-winning choreographer Donald McKayle as "one of America's irreplaceable Dance Treasures." Games is supported in part by a grant from the National Endowment for the Arts.
Matthew Rushing, Associate Artistic Director for the Alvin Ailey American Dance Theater, choreographed Tribute for DBDT in 2016. Set to an original music score, the work is a collective testimonial that pays homage to the decades of generosity and inspiration by these extraordinary dance mentors who shouldered the foundation of modern dance. Tribute takes you back through 100 years of African American dance masters like Donald McKayle, Talley Beatty, Pearl Prius, Katherine Dunham, and Alvin Ailey.
Described by The New York Times as a "fluid and inventive" choreographer, Gregory Dolbashian creates a unique movement language that strives to uncover the body's inherent wisdom and its affinity for expression in the world premiere of Shatter. Dolbashian's work will explore human behavior and connection in audacious and vibrant ways.
The world premiere of Swipe Left by DBDT veteran dancer Sean J. Smith looks at the complicated mindset of a woman desperately trying to find love in all the wrong places. The solo dramatizes a series of regrettable romantic misfortunes that force her to look inward to figure out why she can't find "the one." Swipe Left takes a hard look at the veneer of online dating and social media combined with the unachievable relationship standards set by society. Let the swiping begin!
DBDT | CULTURAL AWARENESS SERIES
February 17-18, 2023 - 7:30 pm Wyly Theatre Dee & Charles Wyly Theatre 2400 Flora St. Dallas, TX
In-person + Live streaming + On-demand
NO DISCOUNTS FOR THE 46TH SEASON
Dallas Black Dance Theatre limits seating capacity to allow for social distancing in all performance venues. Because of the limited in-person ticket availability, DBDT will not offer discounts to groups.
DBDT encourages the use of masks at its performances.
In-person tickets, $45 - $65.
Live streaming tickets, $25 per household.
VIRTUAL OPTIONS
Watch a live stream of the performance at 7:30 PM CST on Saturday, February 18, 2023, or on-demand from 10:30 PM CST Saturday - Monday, February 20, 2023, at 11:59 PM CST. 
For more performance details, visit www.DBDT.com.