BWW Tribute: Willy Burmann, Ballet's Sage Has Ascended to The Stars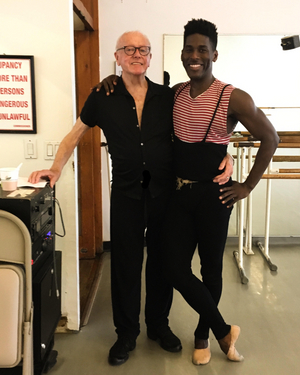 Wilhelm "Willy" Burmann died yesterday at 80 from complications linked to the current pandemic.
Born in Germany, Willy began his ballet studies at 16, after performing with friends as supers in an opera. Despite that late start, he went on to dance with New York City Ballet, Stuttgart Ballet, Pennsylvania Ballet, Joffrey Ballet, New Jersey Ballet, and as principal dancer at Frankfurt Ballet and Grand Theatre de Geneve. He was also Ballet Master at Genève, Washington Ballet, and Ballet du Nord. This stellar career aside, for many, Willy's legacy belongs to his time as a master teacher, at STEPS on Broadway in particular, where he nurtured thousands of dancers for over 34 years.
"Good morning. We face the barre". It was a comforting greeting for generations of dancers who came and went into the brutal trenches of an unforgiving career, but returned without fail to build themselves back up under the exacting eye of this singularly brilliant, research scientist. There are endless stories of famed dancers who Willy took back to the basics at a microscopic level, only to send them on to greater heights. Lloyd Knight is one such dancer.
When Mr. Knight was promoted to Principal Dancer at The Martha Graham Dance Company, Willy was one of the loudest to cheer him on. It might come as a shock to those who saw him as a "bun-head", but Willy was devoted to incredible dancers across the board, so long as they committed themselves to the hard work. In honor of his passing, Mr. Knight shared these words:
Besides the obvious truth that Willy was fabulous and an amazing teacher, to me he was a beautiful soul who really cared about each individual he taught. I remember during my first year taking his class--which was always filled with stars from every company--he gave me tons of attention and constant corrections. It was a blessing, but I felt like I wasn't on my game. Despite my post-class frustrations, Willy would sit down with me and reassure me that I was on the right path; to trust myself and continue to work. He would tell me "All these 'stars' are in here having their own dance battles within themselves, so don't feel like you're alone." Willy reminded me that this was class and not a show. He taught me about the seriousness of working on our craft but to always remember why we love it at the same time, the joy!
Some, misguidedly referred to him as a drill-sergeant. Willy Burmann, a drill-sergeant? Hardly. He was much too calm, thoughtful, and chic for that. Far from a task-master, Willy was specific, commanding, and all about the business. But he was also a lot of fun, with an easy wit for tossing off shade that only registered if you were truly paying attention.
If you asked him what jump-started his career, without blinking, Willy would deadpan, "I was good looking and there was a shortage of men in Germany." Frustrated by the one-step-at-a-time, posé-posé style that defined his early training, Willy devoted himself to Balanchine's revolutionary approach to folding transitions in on themselves seamlessly, so that the motion never stopped. It was a method that he mastered while working alongside his long-time partner, Alfonso Catá--another Balanchine adherent--as an assistant and ballet master. Willy's class was more than classical or neoclassical ballet; it epitomized dance in all of its musically felicitous intricacies. It was a class that drew dancers from across the globe to study with him daily, including Julio Bocca, Alessandra Ferri, Wendy Whelan, Herman Cornejo, Ashley Bouder, Desmond Richardson, Maria Kowroski, and Marcelo Gomes.
I lived a few floors down from Willy at Manhattan Plaza for many years and, whether in the elevator or while passing him in the park during his morning cigarette, he would ask without fail, "Why aren't you in my class?" After I told him that I had retired from performing, he immediately retorted, "So? You still write about dance, don't you? There is a former ballerina who became a doctor. SHE still takes my class." The point was solid. It didn't matter whether you were dancing as étoile or writing for a blog; if you danced, class was not to be missed.
Just ask anyone from Dance Theatre of Harlem. After the company went on hiatus in 2004, Willy declared that DTH's dancers were his guests. For MONTHS. Many dancers have stories of his generosity; the free coachings, round of drinks at that random dive bar on 9th Avenue, or no-nonsense advice that he offered freely, all because he appreciated dancers and their love for the art form.
What I will remember most about Willy is his devotion to joy, his understanding that ballet was a combination of technique and stage craft, his willingness to stop, listen, and consider what you weren't saying, his tireless exhortation that class was essential, the belief that two pirouettes were really only one revolution, and his constant reminder that "Every swan began as an ugly duckling." As the tributes pour in, let's remember the sincerity that marked every aspect of this brilliant man and honor him by moving with that same deliberate efficiency.
| | | |
| --- | --- | --- |
| | Donations | Arts Orgs |
Related Articles View More Dance

Stories