BWW Dance Review: The New BOB FOSSE'S DANCIN' Dazzles and Delivers in A Glistening Homage at The Old Globe Theatre
World Premiere of BOB FOSSE'S DANCIN' at the Old Globe Theatre in San Diego, CA now through May 29, 2022
Forty-four years ago, in 1978, the original Bob Fosse's "Dancin'" opened on Broadway. It was the quintessential culmination of the collection of Bob Fosse's choreography up to that point in time. He won a Tony award that year for Best Choreography for "Dancin'."
It was, at that time, a new concept for a Broadway show, a musical with songs and dances and short vignettes, dramatic and comedic, but no plot. An evening of pure entertainment, and a terpsichorean delight. The dancers were hand-picked by Bob, some having been in several of his former productions, i.e. "Chicago," "Cabaret," "Pippin," something which he practiced throughout his career, re-hiring dancers and production people he had worked with before, as well as brand new-to-him talent.
In this new, "reimagined, reinvented" version, Wayne Cilento, The Director, Musical Stager and original cast member of the original production has succeeded in succinctly replicating Mr. Fosse's distinctive stylized choreography, but besides that he has also imbued the essence and inspiration that came from the creator himself onto this young, multi-talented cast of performers; sort of channeling Bob's spirit, based on his own experiences working and learning directly from him.
The best of the best dancers are adept at learning many styles of dance and absorbing them into their bodies like a tight-fitting body glove. Such is this new, young, but extremely experienced triple-threat cast. They are: Ioana Alfonso, Yeman Brown, Peter John Chursin, Dylis Croman, Tony d'Alelio, Jōvan Dansberry, Karli Dinardo, Jacob Guzman, Manuel Herrera, Gabriel Hyman, Kolton Krouse, Mattie Love, Yani Marin, Nando Morland, Khori Michelle Petinaud, Ida Saki and Ron Todorowski.
The list of Broadway credits and top-notch dance companies in their bios is jaw-dropping. And, as Bob did with the original casting, everyone hired was unique and different in their own way. There are no chorus dancers. Each dancer is hired as a Principal Dancer. It was the first time a Broadway musical had structured their show that way, setting a new precedent.
What Wayne Cilento has also accomplished, was to embellish some of the original numbers, keeping the choreography intact, except for the numbers that were cut altogether, being either too dated or now politically incorrect, and "update" them by enhancing and modernizing the orchestrations, the costuming, the sets, some of the dialogue and adding visual and audio effects that were not even feasible four decades ago, to bring the presentation up to the present time. The choreography stands the test of time; the decades have gone by and our whole planet has changed radically; so these specific things were modified to fit within the now, making the outer changes quite interesting, surprising and inevitably sometimes quirky. (That was the vaudeville in Bob). And he liked to push the envelope; keep things evolving, which are but some of the things Fosse choreography evokes. It's apparent in his stage productions, Broadway musicals, in his films, TV specials, et al.
His work is also very sensual, one reason being that Bob would really connect with you when working one on one on a section or dialogue, drawing on your inner emotions, your own personal feelings, and the result would have you feeling you were able to let your heart pour out into the movements, striving to feel the most organic you can be and of course to please and inspire him, in return!
I, myself, am in a unique position, now, having been one of the dancers in the original company in 1978. I was an understudy for the first year on Broadway, leaving the show to rehearse and help assemble the 1st National Tour of Dancin', working with Bob and Gwen Verdon, which I performed in for the next two-and-a-half years. Unique in that not many theatre reviewers end up writing a review of a Broadway show they performed in, four decades back. So I know, first hand, what it takes, to be able to do a show like "Dancin'." The kind of stamina, versatility and technique needed, to be what Bob called the dancers when he accepted one of his total of eight Tony Awards for Best Choreography at the 1978 Tony Awards; his "Thoroughbreds."
There's no argument that I love this show that I was in, but have been so looking forward to seeing what Wayne Cilento would envision, and what the new cast was like; what would be different now? What would stay the same? Would I like it? Would I approve of the Dancers that were hired? I'm basing my review on what I am seeing that's been newly assembled.
Being there for the opening night of this new, revised version, the World Premiere, in fact, after more than 40 years ago, was almost otherworldly. From the very first downbeat of music, I remembered every lyric, every movement to each beat of music.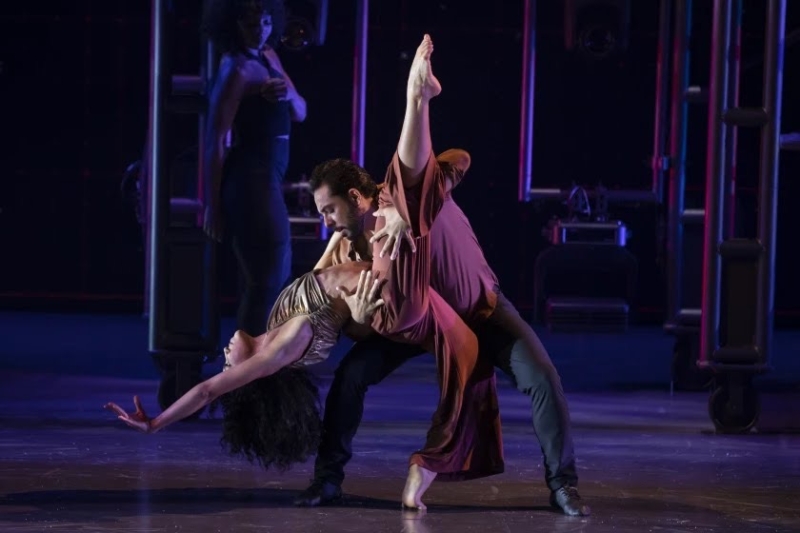 We are sternly "warned," in the opening Prologue, that there is no plot, no through line of action; just "dancin', dancin' and more dancin'." For those who do not heed that information, well, you were informed. Manuel Herrera warmly imparts this message of "it is what it is" with much aplomb.
The set that is then exposed, is made up of large steel industrial-type moveable scaffolds, that are used in many different ways throughout the show to good effect. The sets are minimal but exactly what's needed, including a 30-foot video screen in place of the upstage scrim.
Right into the rousing opening number, "Crunchy Granola Suite," which is a perfect opening piece to give you within a wide range of tempos, the Fosse style in all its' glory. The orchestrations have been kicked up a notch, and made this rendition feel a lot more loose, more "in the pocket," with some kick-ass singing of Neil Diamond's tune by Tony d'Alelio and Jacob Guzman, rocking out, hanging from the scaffolding.
Beautiful to watch, "Recollections of an Old Dancer" is the poignant portrayal of William Jefferson Williams, or "Mr. Bojangles" performed delicately with subtle emotion by Jacob Guzman and Yeman Brown as his Poet/Spirit, whose movements were so fluid and expressive; sung caringly by Manuel Herrera, and spoken (in a voiceover) by Bob Fosse.
What follows next is a series of dance pieces set to music and rhythms utilizing only percussion instruments. Iona Alfonso handles the saucy intro with a ton of pizzazz, explaining the dancers will become instruments in these next four pieces. Each section is a different style of dance, using different exotic sounding musical instruments. From a fluid trio of ladies hitting beautiful balletic lines to the single sound ("ding") of a triangle and Claves, a trio of bouncing, jabbing, leaping men to waah-waah sounding reverberating guitar rhythms, with disco bells, tambourine, cymbals, a snare drum, an electric piano, and tom-toms; a group Calypso number accompanied by conga drums, bongo drums, timbale drums, the Cabasa, a Vibra slap, finger cymbals and a whole lotta Cuica goin' on, and lastly, a virtuoso solo turn by Ron Todorowski to an unusual composition by Edgar Varese, "Ionisation," featuring thirteen percussionists, including the sounds of sirens, tam-tams, a bass drum, gongs, Chinese blocks, slap sticks, a triangle, crash symbols, castanets, a snare drum, tambourine, anvil, chimes, piano, a police siren, sleigh bells and bongos, allowing many difficult leaps, spins and syncopated combinations to pair up with all those sounds.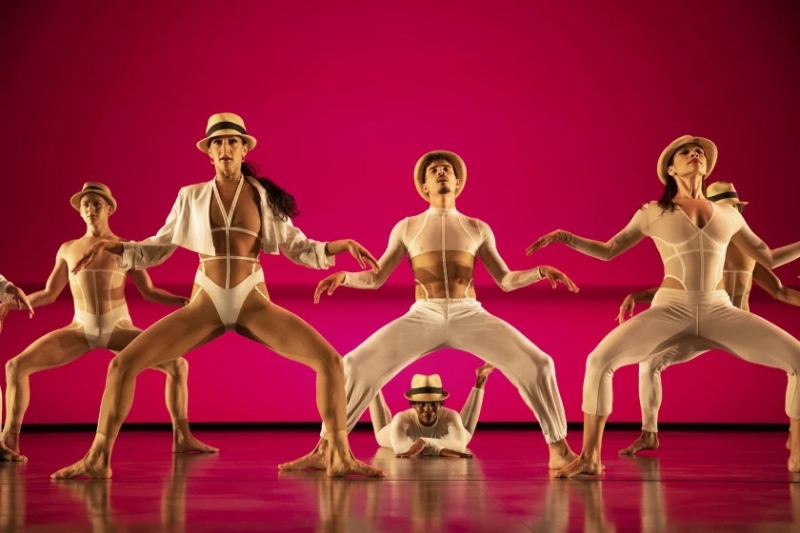 Big Noise from Winnetka is a catchy upbeat, trio of dancers, tightly stuck together, moving as one, to bass-walking licks, sometimes resembling a slinky, doing eccentric movements as they rush back and forth from stage left to stage right, as if blown there by a big puff of wind. Mattie Love stood out in this number, accentuating her moves sharply, although I would have liked to have seen it performed tighter and cleaner as a whole.
Up until this point, all the numbers are from the original Dancin' "repertoire. The next section, Big City Mime, was in the original show, but cut before the opening on Broadway. Resurrecting it here, Wayne has fleshed out the premise of a guy hitting the scene in the Big Apple to include some of Mr. Fosse's most famous production numbers. "Big Spender," from "Sweet Charity," performed lusciously by Ioana Alfonso, Dylis Croman, Mattie Love, Khori Michelle Petinaud and Ida Saki; "Rich Man's Frug," or "Pompeii Club," also from "Sweet Charity," always a Fosse favorite; a steamy hot dance section to "I Gotcha," from the TV Special Bob won an Emmy for, "Liza with a Z," performed by Yani Marin, Karli Dinardo and Kolton Krouse in fabulous green sequined attire, and a series of other vignettes in different locations around New York occurring, giving the dancers the chance to be in character and interact accordingly, while feeding in other Fosse faves like the "Snake Dance," from the Stanley Donen-directed movie "The Little Prince," which Yeman Brown superbly emulates, evoking Bob Fosse's slithery performance as "the snake in the grass." Others such as "Let Me Entertain You," another group number that is high energy and filled with Fosse style and gyrations, and "Spring Chicken," performed all out by Kolton Krouse, adding that bawdy, risque burlesque flavor to both the lyrics and the stripper-like moves, adorned in a black leather corset and garter belt and thigh high boots, workin' that booty to the max, Fosse-Style.
One of the two production numbers from the original Dancin' that are the most beloved, "Dancin' Man," closes the 1st Act. A stylized tribute Bob choreographed to honor Fred Astaire, it's a timeless masterpiece of intricate syncopated isolations in innovative formations, that mesmerizes the audience, and delights the performers to sing and dance it. It's that cool, clean, feel-good number where the reverence for Bob's choreography shines through to the last wrist flick.
And, BAM! Act II hits you with the other standout production number, "Benny's Number," entitled "Sing, Sing, Sing," written by Louis Prima. An unforgettable gem of a production number where each section keeps building upon the last, with insanely flashy '40s-style boogieing and jitterbugging to that big-band Benny Goodman sound, created by onstage musicians who take turns soloing, accompanied by stunning dance solos, duets and trios, the musicians enhancing the brilliant choreography and the dancers in sync with the amazing solo musicians. The trombone solo is performed by a satiny, sexy Khori Michelle Pettinaud being carried seductively by her two men, Yemen Brown and Ron Todorowski. The trumpet solo has a definite unexpected twist to it, with Kolton Krouse demanding and owning the stage in a tour de force display of audaciously high battements mixed with enticing, strong movements and major diva attitude. A tap duet done by Jacob Guzman and Manuel Herrera to the piano solo is the only moment when this brassy, swinging arrangement gets quiet. It is a very subtle, muted but intense tap number, very precisely done which creates a powerfully still mood and aura. There were a few missed taps and glitches in the performance, and the piano itself seemed a bit too loud in comparison to the tap sounds, but these are picayune notes that no doubt will disappear as the show progresses. These are the type of dancers that will keep honing and perfecting their performances each time they perform the show.
The outdated lyrics of the Female Star Spot song, "Here You Come Again," gets a fresh new take, turning it from a splathering display of four single women hopelessly hung up on the same guy, to more of a condescending roast of the lyrics by three tipsy divas and one tipsy queen. Iona Alfonso once again animatedly narrates the situation, very gregariously wanting to prove women don't need a man to thrive.
As the number ends and their stools are carried off, a short but oh, so lovely duet takes place behind a see-thru scrim, with Jacob Guzman and Mattie Love in soft pink attire, performing a "Romantic Fantasy" containing choice Fosse movements.
Joint Endeavors consists of three very sensual pas de deux, one blending into the next, performed first by two women: Dylis Croman, a striking, vivacious redhead, and Ida Saki, who has the cleanest technique, placement and line, and is such a pleasure to watch move. Next by two men, Jovan Dansberry and Kolton Krouse, who both have quite unique strong presences when on stage, followed by Ioana Alfonso and Manuel Herrera; all interweaving bodies to the song "If It Feels Good Let It Ride."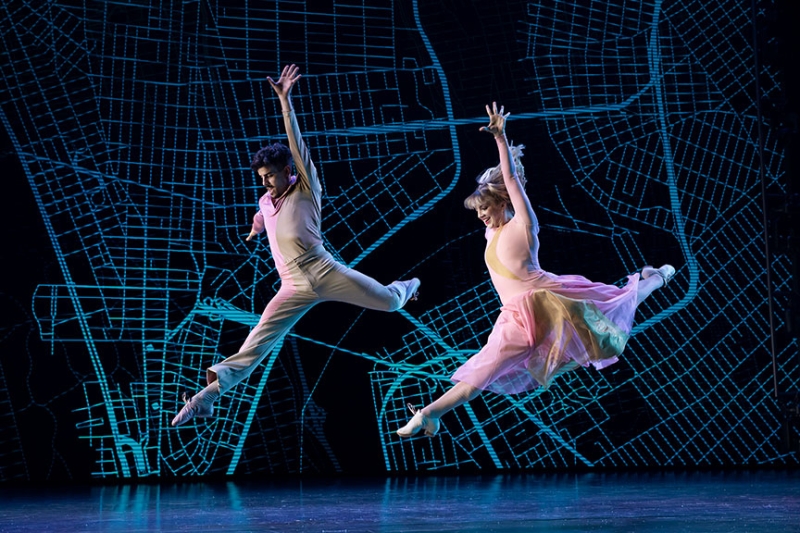 The next segment was given new dialogue, staging, with many original numbers gone and perspective and viewpoints having changed, it is now called "America?" The question mark is the new part of the title. The beginning and ending are dialogues, quoting from leaders and Presidents, presented toward the audience by the cast, all speaking of values, unity and peace, or the lack thereof. Video clips from eras in history flash on the huge screen behind them, Jimi Hendrix' "Star Spangled Banner' wailing loudly, reverberating... In between are patriotic songs and marches danced either as a solo or in a small group. The solos of note are "When Johnny Comes Marching Home," done beautifully and fervently by Dylis Croman, "Rally "Round the Flag," a superb balletic turn by the impressive Ida Saki, and an absolutely outstanding interpretation of "The Stars and Stripes Forever," done by Peter John Chursin; all executed super cleanly and sharp.
The closing segment of this reinvisioned production, and to purposely showcase more of Bob's work post-"Dancin','' is taken from his last Broadway Musical, "The Big Deal," beginning with an "interview" being filmed onstage with our main character, Charlie Lightning Waters (Yeman Brown), a very Bob Fosse kinda character, as you can gather by the answers he's giving to the interviewer, the exotic and lavish Lilly (Khori Michelle Pettinaud). Her strong delivery of the powerhouse song "Life is Just a Bowl of Cherries," is soulful and captivating. Manuel Herrera, as Kokomo has established himself by now as either the Narrator, ringleader, or the guy in charge who knows the score-type character in every other production number in the show and he only gets more endearing each time. "Ain't We Got Fun" is exactly that, a joyful exclamation of dance expression. And finally, one of the most invigorating, high energy numbers, which, in vaudeville there's a saying, "Save the best for Last," closes out the segment, and a spirited Tony d'Alelio as Moses, who seems to gain even more enthusiasm and energy toward the end of the show, really kills it in "Beat Me Daddy, Eight to the Bar" as the whole Company finishes out the number on some pretty high energy.
Yani Marin comes out and addresses the audience for the Epilogue, wrapping things up and reminding us of just who was honored and emulated for the last few hours. We see dancers' silhouettes behind a scrim... "A Dancin' Man... Rhythm and Rhyme..."
Yep. We were Razzle-Dazzled.
Original Broadway production created, directed, and choreographed by Bob Fosse
Choreography by Bob Fosse
Direction and musical staging by Wayne Cilento
Produced in cooperation with Nicole Fosse
Jim Abbott (Orchestrations, Music Supervision, Vocal and Incidental Music Arrangements)
Darryl Archibald (
Music Director)
Reid Bartelme and Harriet Jung (Costume Design)
Robert Brill
(Scenic Design)
David Grill (Lighting Design)
Christine Colby Jacques
(Reproduction of Mr. Fosse's Choreography)
Corinne McFadden Herrera (Associate Director/Musical Stager and Additional Choreographic Reconstruction)
Kirsten Childs
(Text Consultant and Additional Material)
Photos by Julieta Cervantes
For more info: theoldglobe.org