Review: Memories and Dementia Are Explored Through Multimedia in MAGDALENA
BWW Review: Memories and Dementia Are Explored Through Multimedia in Magdalena
In the center of the whiteness of the performance space sits a suitcase with a porcelain black baby doll sitting patiently and expectantly. From her seat within the audience, Gabri Christa -- a tawny-skinned woman with a wild crop of flowing dark curls -- begins to speak with a distinct yet hard-to-place accent, colloquially addressing the audience as if they were friends at a dinner party, explaining how her blond-haired, blue-eyed Dutch mother came to possess such an item. It was a gift from an aunt who has dated a similar-skinned man and the artist queries that its existence might have been the first subconscious spark which led her mother to fall for Christa's dashing, dark-skinned father from Curacao. She then enters the sacred playing space, outlined in lights that glow brightly or fade dimly depending on the scene and desired effect, as she recounts her mother's story and history through film and photos, dance and drama, all as if unpacking a box of objects in the attic of one's mind and memory.
Memories and remembering are the central themes of Magdalena, a tribute to Christa's mother who is struggling with dementia, the devastating illness affecting an increasing percentage of the world's population and their loved ones who have to deal with its harrowing consequences. Christa is tasked with carrying the weight of, and preserving, the memories that Magdalena can no longer hold onto herself. Magdalena's remarkable story is marked by a war-torn youth in Rotterdam (where she was the sole survivor in an air raid) an interracial marriage and an unconventional motherhood. Magdalena is an exploration of identity, race, journeys both outward and internal, and the unravelling of one's grasp on their own history. Its subject matter is harrowing and, at times, heartbreaking, but true to her Dutch nature, a good dose of humor is peppered throughout.
The show, which is very European in style and execution, was performed in the heart of midtown Manhattan at an equally European-feeling intimate, non-profit performance space -- Theaterlab -- as the opener for their Fall 2018 season entitled Homecoming where artists with particularly innovative approaches are allowed to "unpack their bags and feel inspired to test out their most daring and dangerous work." The mission of Theaterlab and the Homecoming series in particular is to present works which "ask the audience to explore how we come together as humans," explains the Italian-born Artistic Director Orietta Crispino who speaks with passion and sincerity and has created a space that encourages the work of international artists and those who "use their bodies to tell stories on unconventional ways."
Theaterlab's "white box" space teamed with their vision makes it an ideal setting for a piece such as Magdalena. The purity of the floor-to-ceiling whiteness evokes more of an art gallery than a theatre, which is fitting for the multimedia solo work that has elements of Marina Abramovic's performance art as much as it does dance and experimental theater. But what makes it work so well is not only the supreme talent of the woman on stage and the two men behind the scenes (Director Erwin Maas and Dramaturg/Designer Guy de Lancey) but the truth and tenderness with which such a deeply personal story is told.
Christa certainly has a vast assortment to play with in her toolkit: She is an award-winning filmmaker, dancer, choreographer and teacher who has worked with companies such as Danza Contemporanea de Cuba and Bill T. Jones Dance Company, and teaches at Barnard College and Columbia University. Her movement is simple, authentic and restricted to an extremely limited space. This creates a feeling of heightened tension and being caged or "boxed in," particularly at key moments when she is interpreting physically the anguish that she imagines is felt within her mother's deteriorating cognition. These powerful moments are akin to Pina Bausch's magnificent, heart-wrenching Cafe Muller, but unlike the women in that iconic piece, Christa is alone in her movement, as if one is alone with their mind and memories. As a filmmaker, Chrisa utilizes scrapbooks full of actual photos and film of her family from the 1940s through today to stitch together the pieces of the quilt that comprise her mother's life. The most recent video that is shown is the one that is the most touching and tear-jerking: Christa and her father's visit to her mother in an assisted-living facility where the petite and precious Dutch woman sits eagerly and patiently, smiling as her husband kisses her.
The sincerity of Christa's vulnerable performance is guided by the superb direction of New York-based Dutch theater maker Erwin Maas and further enhanced by the excellent design and dramaturgy of Guy de Lancey. All three are international multi-disciplinary artists with impressive pedigrees. Maas' direction reminds one of the best use of a stark simplicity that's visually captivating and loaded with power, depth and dimension that Ivo van Hove does so brilliantly. He confirmed the accuracy of this comparison, for Maas has studied with van Hove, only he has never benefited from the Broadway financing and has had to resort to creativity and innovation to create work with such a high artistic value on a shoestring budget.
Initially conceived as a film or radio play, upon the urging of Maas, Magdalena was developed into a solo performance piece with site-specific, intimate spaces in mind for future productions. It is Gabri Christa's goal for the piece to be performed in living rooms, smaller community centers and other alternative places in collaboration with caregiving communities to shed light on the darkness, confusion and trauma felt from dealing with this debilitating disease.
Of its creation, Christa remarked, "It's been a great journey and has definitely helped me understand what happened and also when and see the process. Mostly it gave me great empathy and understanding. Artmaking is amazing that way. In that sense, it's healing." When asked what she hopes audiences will take away from such a personal exploration, she reflected, "I hope they will explore their own lives and look at those suffering with more understanding and kindness. I hope they will talk about what is happening in their lives, reach out and more."

A black baby doll, Magdalena's cherished item from childhood in Holland, sits on top of a suitcase as the show opens. Photo by Kevin Yatarola.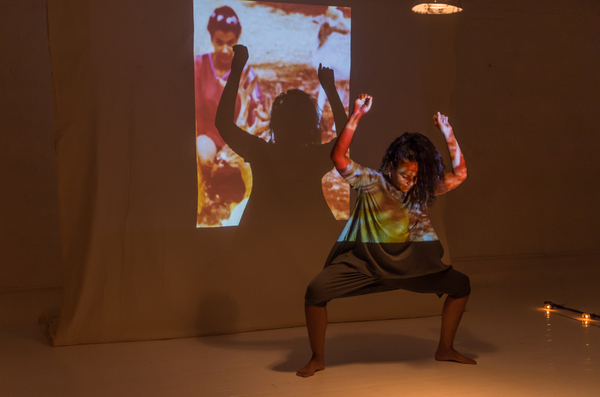 Gabri Christa with a family vacation portrait. Photo by Kevin Yatarola.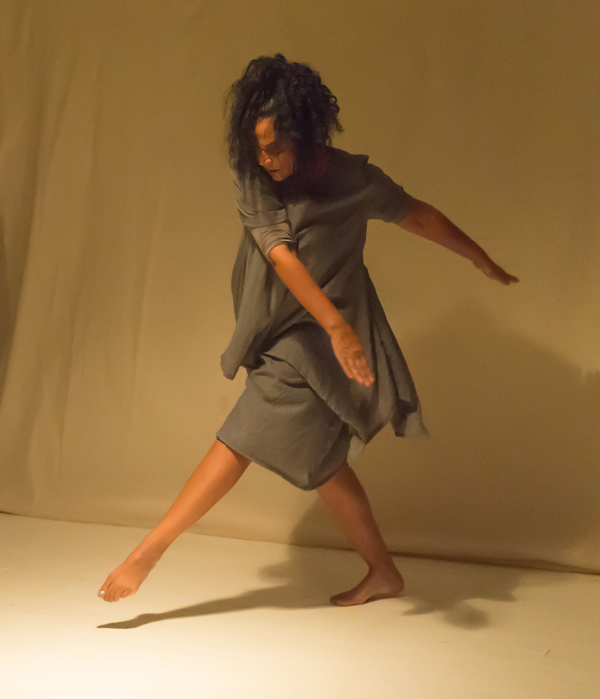 Gabri Christa. Photo by Kevin Yatarola.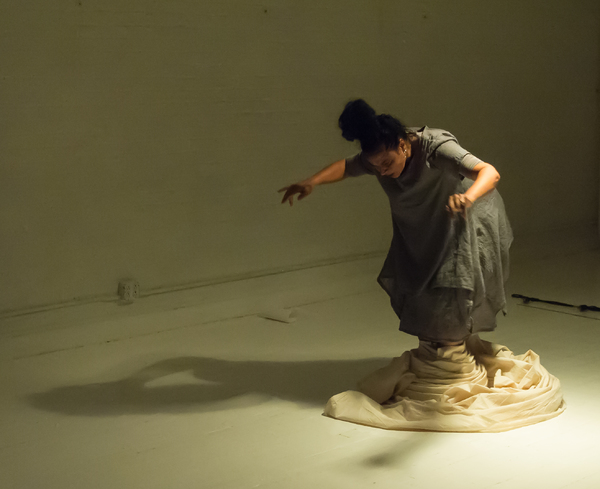 Gabri Christa -- coming undone and feeling trapped by one's own mind. Photo by Kevin Yatarola.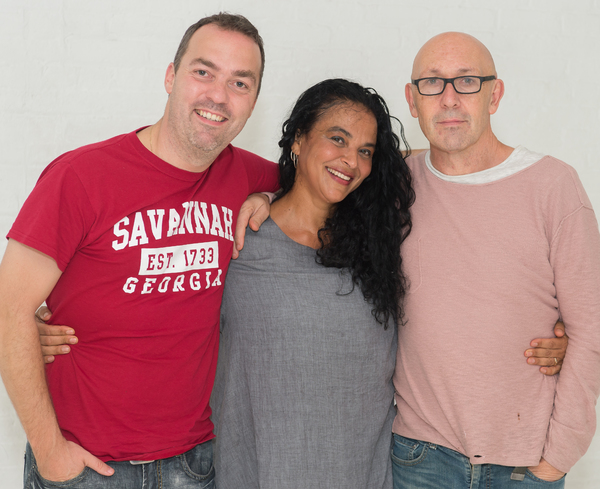 The creative team of Magdalena: Erwin Maas, Gabri Christa and Guy de Lancey. Photo by Kevin Yatarola.