Click Here for More Articles on DANCE - AFRO BRAZILIAN
BWW Review: GRUPO CORPO's BACH & GIRA Brings Inexhaustible Ecstatic Exuberance to BAM
Ushering in February, on one of the most bitterly cold nights of the early new year in Brooklyn, while much of the country is experiencing the violent and tempestuous polar vortex, audiences at BAM's exquisite Howard Gilman Opera House were being whisked away to a hothouse of raw sensuality and vibrant effervescence, compliments of the inexhaustible performers from the Brazilian contemporary dance company, Grupo Corpo. The only alabaster cyclones present that evening were the whirling swirls of twirling white-as-snow skirts worn in the company's spiritually ecstatic, carnally vivacious and gloriously provocative dance honoring their native diaspora -- Gira.
Groupo Corpo was founded in 1975 by two brothers Paulo and Rodrigo Pederneiras (the artistic director and lighting/set designer and choreographer, respectively). The company, which has been performing around the world for more than four decades, is no stranger to BAM. The highly contrasting pairings of two distinctive works: Bach (originally created for the 1996 Lyons Dance Biennial) and Gira (a new work debuted in 2017 featuring their first-time collaboration with the Sao Paulo punk-rock jazz band Meta Meta) marks their fifth return to Brooklyn Academy of Music, all under the programming of Executive Producer Emeritus, Joseph V. Mellilo as part of his last season.
Both pieces are immersive and engaging experiences for the senses creating a multidimensional work, rather than the sum of several parts assembled together. The varied sights and sounds mesh fluidly with the expressive and extraordinary physical prowess of the dancers. Paulo's lush lighting clings to their gorgeous forms like liquid gold or casts them in shadows and silhouettes complimenting the choreography of his brother Rodrigo, whose fusion of dance styles reflects his multicultural upbringing and incorporates the dance idioms of ballet, modern, samba, xaxado, ballroom, capoeira -- with a good dose of influence and homage to Paul Taylor, Merce Cunningham and Stephen Petronio for these particular pieces, all with a distinctive Brazilian twist.
In Bach, the dancers don black, blue and golden unitards, desperately clinging to their flawless figures with giant gilded steel apparatuses (set design by Fernando Velloso and the Paulo Pederneiras, wearing one of his many creative hats) drape from the ceiling like looming, hovering organ pipes in a vast European cathedral. The dancers use this elevated set piece to ascend, descend or grasp on to the tubes for dear life demonstrating the core strength and balance akin to a trained aerialist or pole performer. The music, by Marco Antonio Guimarães inspired by J.S. Bach, has the melancholy characteristics of a fugue, then launches into unexpected exuberance at times with the choreography adjusting accordingly, though not necessarily in time. Some of the movements, while athletically exciting at first, became quite repetitive. It is an ambitious work and there certainly is a relentless quality and buoyancy to it, as if a Brazilian homage to Paul Taylor's famous classic Esplanade, but despite the impressive skill of the performers, there are a few awkward moments and choices -- such as the adagio portion where the women are dragged around like dolls or corpses, thrown over the men's shoulders then left limp on the floor and the constant, flex-footed high kick that bore some resemblance to a country hoedown. The stiff upper body carriage and flailing lower limbs also seemed a tribute to Merce Cunningham's signature stylings but the dancers -- who are utter machines of strength and don't seem to even break a sweat despite their almost inhuman ability -- are best when left to express themselves with every muscle and sinew of their beautifully sculpted bodies. One of the most captivating moments of Bach was when a female dancer was hoisted onto one of the organ pipe poles and hung there, suspended in time and space in perfect stillness, equally a feat of fortitude and skill as the most dramatic, frenetic movement but the silence gave a welcome pause and breath, allowing the viewers to take in the layers more fully.
But if anything, an artist should be allowed to evolve, and to do so -- in a quite remarkable way-- it would appear that choreographer Rodrigo Pederneiras reached deep into his blood -- the roots of his people and their history to create his own expression of the very soul of rapturous Brazilian spirituality in the fervently seductive and deliriously intoxicating Gira.
Some of the work calls to mind the dynamic dances of Stephen Petronio (truly a compliment), but unlike a lot of the repetitiveness or Cunningham-style rigidity/fluidity contrasts, here the dancers let themselves loose and free much more than in the previous piece that was developed over two decades ago. In Gira they fully embraced their Brazilian heritage and culture and here the flexed or flat-footed legwork felt appropriate and justified.
The piece was inspired by and representative of the ritualistic rhythms and movements rooted in the rites of Umbanda, a belief system that combines Catholicism, Candomble and Kardecism that remains one of the most widely practiced religions in Brazil. The artistic team had to delve deep into the heart of Afro-Brazilian culture and spirituality in preparation for the potent themes and poetic imagery from the eleven musical elements Meta Meta created especially for Gira -- evoking Exu -- the most human of the Orixas, without whom the rituals cannot occur.
The male and female company wears the aforementioned white raw linen skirts primitively cut and are topless (costumes by Freusa Zechmeister) with a crimson hue adorning their throats. If it sounds overly sensuous, wanton and even animalistic -- it was -- and much to the utter relishment of those who encountered it. To watch the piece felt a bit like being privileged to observe secret, sacred rituals and ancient rites anonymously, as if through a peephole -- though there was a definite exhibitionistic and performative quality that the dancers portrayed in their carnal expressions, equally daring you never to take your eyes off them or look away and blush. The lithe, petite female dancer, Dayanne Amaral, was utterly mesmerizing in particular and her solo piece elicited spontaneous, rapturous applause and unabashed, hysterical shouts of praise. There were also many varied layers to the music by Meta Meta that included both traditional instruments and electronic elements as well as some primal screams that were contrasted with silken and seductive vocals, but the essence and spirit of the soundscape and the dancers' movement still felt mostly like jazz -- irreverent, electrifying, sometimes aggressive, otherworldly and, when done right, something that can transport you (even if only emotionally or sensually) to a place of purity and transcendence beyond the corporal plane to an ecstatic exuberance.

Dayanne Amaral in Grupo Corpo's "Gira". Choreography by Rodrigo Pederneiras. Opening night at BAM Howard Gilman Opera HouseBrooklyn, N.Y.January 31, 2019. Photo Credit: Julieta Cervantes.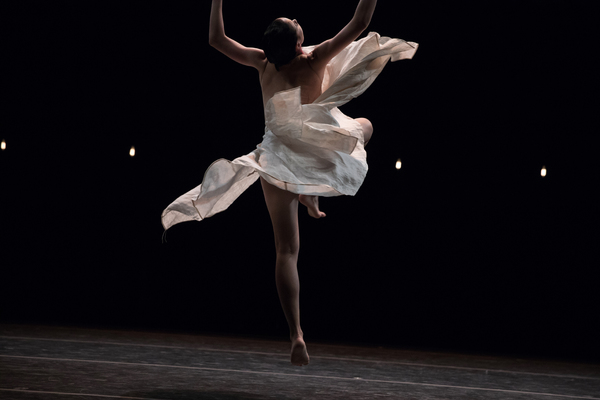 Grupo Corpo's "Gira". Choreography by Rodrigo Pederneiras. Opening night at BAM Howard Gilman Opera HouseBrooklyn, N.Y.January 31, 2019. Photo Credit: Julieta Cervantes

Grupo Corpo's "Gira". Choreography by Rodrigo Pederneiras. Opening night at BAM Howard Gilman Opera HouseBrooklyn, N.Y.January 31, 2019. Photo Credit: Julieta Cervantes.

Grupo Corpo's "Gira". Choreography by Rodrigo Pederneiras. Opening night at BAM Howard Gilman Opera HouseBrooklyn, N.Y.January 31, 2019. Photo Credit: Julieta Cervantes.