BWW Dance Review: Mark Morris Dance Group and Music Ensemble, April 6, 2018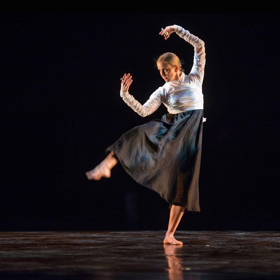 Mark Morris shares one thing in common with George Balanchine: Music. It guides him, setting the stage for anything he creates, and if the music doesn't speak to him, then there's no reason to choreograph to it. If it does do the talking, one can be sure of a work rich in choreographic density that keeps driving the music, commenting on it, as well as pushing the dancing boundaries to include a rich array of steps and patterns that have infrequently appeared in modern dance or even ballet. Morris is very sneaky; he appreciates both. The composers can be classical, modern, whatever. That's not the point. They need their own validity to be included in the dance pantheon.
Morris has created over 150 works, many of them entering the repertoires of ballet and modern dance companies the world over. Then there is his own company, Mark Morris Dance Group (MMDG) and Music Ensemble, which has its home base building in Brooklyn. Dancers love his choreography. It gives them plenty with which to display technique but, like Balanchine, allows room for personal interpretations, without sticking to any preconceived ideas of what is expected of them. While not everyone craves that, it can be a decided asset to the body and mind.
All the works on the program were choreographed to the music of Lou Harrison, someone that Mr. Morris adored. Like Tchaikovsky and Stravinsky to Balanchine, there was something in Harrison's music that struck a chord, paving an avenue to creation for Mr. Morris. I don't know what it is, nor do I want to. That is the domain of the choreographer. Whatever, I hope he continues.
"Pacific," evokes Indian classical dance, setting the stage for what seems to be a community at large. The dance was originally created for the San Francisco Ballet in 1995 and later introduced to MMDG. It is stark, somewhat removed, yet it breaks into joyous color, not avoiding glimpses of love, while delivering a whirlwind finale.
What makes the work so interesting to me is the choreography's geometrics. It moves from different patterns and shapes, now simple now overpowering. It does not stop for a minute. Your eye is constantly alerted to the rush of adrenaline the dancers bring to the movement. When it's over, you almost have the feeling that it went by all too quickly. You might think that you've missed valid points. I've seen the work before, and I always feel this way. That's why I look forward to the next time.
"Numerator" centers on six men. It seems hazy, misty. The men are a tribe, they connect to each other gently, sometimes with the speed of a warrior, yet there is still a sense of a nurturing environment. As in Balanchine, we are not given a scenario. It can be made up, but all we feel are the nuances that the men present to us. The weight of the dance shifts, almost as the steps and bearing of the men change. There is a quiet sense of loss. Yet the men make a connection, even if it might be tenuous.
"Serenade" was a solo that Morris choreographed and used to perform until his retirement in 2003. Different percussion instruments, including a gong, drum, and castanets, accompany the five different movements, accompanied by different props, a fan, handbells, a long shaped cylinder. To add to the enjoyment, Morris played the castanets.
It was beautifully danced by Lesley Garrison, who brought such a wealth of enthusiasm and bubbly high spirits to the performance. The dance kept building and building, while the audience responded with loud applause. I can't wait to see it again.
"Grand Duo" closed the afternoon, a wild, wonderful tour-de-force of dance. Like many of the other dances, it seemed to present a tribe. At least, that's what it seemed like. But as I have always said, who cares? The end of the dance with a whirlwind of dancers stomping, jumping and having the time of their lives roused everyone in the audience to a frenzy.
What's next for Morris?
Photograph: Lesley Garrison in "Serenade."