Valley Of The Moon Music Festival Announces Summer Program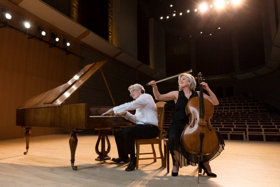 This summer the Valley of the Moon Music Festival returns to the Hanna Center in Sonoma for a musical journey to Vienna, July 15 - 29. The Festival will explore some of the most influential music composed in this central European capital: from a lesser-known Oboe Quartet by Vanhal (1771), through the chamber music of Mozart, Beethoven and Schubert, to Schoenberg's Second String Quartet (1908). To put the music in perspective, this season the Festival presents the inaugural Blattner Lecture Series featuring world-renowned experts in the fields of music and history. In addition, every concert will be followed by tastings from outstanding Sonoma winemakers.
Valley of the Moon Music Festival is the first and only organization in the U.S. devoted exclusively to presenting the chamber music of the Classical and Romantic eras, performed on instruments built when the music was written. This summer's program, however, expands the Festival's historical focus with the addition of Arnold Schoenberg, born in 1874, a composer best known as the leader of the so-called Second Viennese School, and a devotee of experiments in tonality.
"Schoenberg inherited the language of late-Romantics like Brahms and Wagner," said fortepianist and Festival Co-Director Eric Zivian. "We're presenting him in this context, and crucially, we're performing his works on the period instruments which would have been familiar to the composer and his contemporaries."
"This season we are very excited to extend our historically informed performances to the dawn of Modernism in pieces by Schoenberg," added cellist and Festival Co-Director Tanya Tomkins. "The use of gut strings will enhance our expression, putting a new spin on these beloved pieces by one of the 20th century's great masters."
In addition to Tomkins and Zivian, returning Festival artists this season include Liana Bérubé, Elizabeth Blumenstock, Nikki Einfeld, Sadie Glass, Eric Hoeprich, Monica Huggett, Jeffrey LaDeur, Kati Kyme, Carla Moore, Marc Schachman, Kyle Stegall and Kate van Orden. Making their Festival debut are violinists Owen Dalby, Phyllis Kamrin and Anna Presler; double bassist Anthony Manzo; and cellist William Skeen. Finally, participating artists in this year's Apprentice Laureate Program include: Andrew Gonzalez, Toma Iliev and Rachell Wong.
The opening concert takes place Sunday, July 15 at 4 p.m., with music including Beethoven's Moonlight Sonata, Mozart's Viola Quintet in G minor and Johann Baptist Vanhal's Oboe Quartet in F major. Vanhal was a prolific Czech composer, who spent most of his adult years living and working in Vienna. For this concert, oboist Marc Schachman joins Elizabeth Blumenstock and Carla Moore, violins; Kati Kyme and Toma Iliev, violas; William Skeen and Tanya Tomkins, cellos; and Eric Zivian on fortepiano.
A pre-concert lecture, "Echoes of the City: Vienna's Musical Pasts" by Nicholas Mathew, professor of Music History at the University of California, Berkeley, will take place at 3 p.m. on July 15. Mathew studies the relationship between music and politics in the 18th and 19th centuries, and in his recent book Political Beethoven, he re-examines "the politically charged rhetoric of Beethoven's music and its later reception."
This event is the first in the Festival's inaugural Blattner Lecture Series, named for philanthropists Kimberly and Simon Blattner. Other speakers in the series include Thomas W. Laqueur, the Helen Fawcett Distinguished Professor Emeritus at the University of California, Berkeley, and Kate van Orden, Harvard University's Dwight P. Robinson, Jr. Professor of Music.
Laqueur, a scholar of European history, will present a lecture at 3 p.m. on Saturday, July 21, titled "Making Modernity: Vienna 1880-1920," exploring "how and why Vienna became the city where many of the ideas, political movements, art, music and architecture that shaped the 20th century were born in the decades before the Great War: psychoanalysis, atonal music, expressionism, Zionism, anti-Semitic political parties, and more."
Van Orden, a specialist in early modern France and European musical cultures, will lead a talk titled "The Paradox of Progress" on Sunday, July 29 at 2:30 p.m. A bassoonist, as well, Van Orden also performs in concerts on July 28 and 29.
Following the opening concert on the 15th, the Festival resumes on Saturday, July 21 with a program including Mozart's Violin Sonata K. 547 in F major, songs by Brahms and Hugo Wolf, and Schoenberg's String Quartet No. 2. Featured artists on this date include lyric coloratura soprano Nikki Einfeld and tenor Kyle Stegall; Blumenstock, Bérubé and Presler, violins; Kamrin, viola; Tomkins, cello; and Zivian, fortepiano.
Blumenstock, Tomkins and Zivian return on Sunday, July 22, joined by pianist Jeffrey LaDeur. He and Zivian team up to perform Schubert's Lebensstürme, a work for four hands. Additional highlights include a Haydn Trio and Schumann's Piano Quartet.
The final weekend of the Festival presents three concerts, the first on Saturday, July 28, and the remaining two on Sunday the 29th. Saturday'sconcert features a mostly Beethoven program with the Quintet for Piano and Winds and the Spring Sonata featuring Monica Huggett. Another highlight is the Hummel Quartet for Clarinet and Strings featuring clarinetist Eric Hoeprich. In addition to Huggett and Hoeprich, artists on this date include Rachell Wong, violin; Sadie Glass, natural horn; Andrew Gonzalez, viola; as well as returning musicians Schachman and Zivian.
The following morning at 11 a.m. the Festival reconvenes in a program titled "The Viennese Coffee House." The central work will be Schubert's magisterial Octet in F major, to be enjoyed with complimentary coffee from Sonoma's Barking Dog Roasters.
The Festival comes to a close at 4 p.m. that day with a program including Brahms' Piano Quartet in G minor and Sonatensatz, and Schoenberg's Verklärte Nacht (Transfigured Night). Composed in 1899, the sextet is considered Schoenberg's first major work. Joining Tomkins, Zivian, LaDeur, Wong, Bérubé and Gonzalez is violinist Owen Dalby.
In addition to presenting nearly two dozen featured artists, each summer the Festival also welcomes a new cohort of apprentices from around the United States and beyond, pre-professional musicians with an interest in historic instruments. Apprentices are invited to perform in the final four concerts of the Festival. On Saturday, July 28, at 2:30 p.m., the Festival will also present a pre-concert performed by the Apprentice string quartet. This year's apprentices are Sarah Bleile (Canada), violin; Madeleine Bouissou (Connecticut), cello; Christian De Luca (Italy), piano; Susannah Foster (Boston), violin; and Lauren Nelson (Boston), viola.
A complimentary wine tasting follows each concert, and this year's Sonoma wine partners include Kivelstadt Cellars, Idell Family Vineyards, Bar None's Canyon, and Valley of the Moon Winery.
General admission to each concert is $45. Discounts are available for individuals under 35 years old, for early bird reservations and for groups of six or more. Discounts also apply to packages of two or more concerts.
For more information visit valleyofthemoonmusicfestival.org.
Photo credit: Margo Moritz
Related Articles View More Classical Music

Stories
More Hot Stories For You