Listen to the Doctor: 'We Are What We Eat,' So Let's Fix It!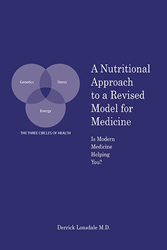 Can a simple change in diet make all the difference, such as cutting down on sugar? Could obesity, diabetes, and other diseases be the result of a bad diet? Is alternative medicine the answer?
Dr. Derrick Lonsdale, M.D.
, provides health care answers to these questions and more in his newly revised book A Nutritional Approach to a Revised Model for Medicine: Is Modern Medicine Helping You?
Battling symptoms instead of looking for possible causes is the core of most modern medicine. But Dr. Lonsdale takes a nutritional approach, looking at how high-calorie malnutrition (lots of calories but too much of the wrong kind), and too much sugar or lack of vitamin B1 could explain diseases like Attention Deficit Disorder (ADD), Premenstrual Syndrome (PMS), stress, autism, beriberi, or ear infections.
Here's what readers say about this illuminating book that takes on chronic diseases as well as serious health problems:
"Dr. Lonsdale shows his brilliance yet once again. A true pioneer in alternative medicine; his wide breadth of knowledge, wisdom, and experience form to make this an excellent read. I highly recommend this latest book by a man who has spent a lifetime studying medicine and caring for his patients as a true humanitarian." – Laura DeVincentis, ND, LAc
"Dr. Derrick Lonsdale is one of the great and brave pioneers of integrative medicine. In this very useful book, using his personal experiences, he describes how the diet consumed by so many Americans are making them ill. Dr. Lonsdale asks the question, could the obesity epidemic, adult onset diabetes, psychiatric diseases, etc., be the result of dietary mayhem? In great detail, Dr. Lonsdale describes nutritional approaches for healing these disorders incited by poor nutrition. I recommend this highly interesting and educative book to doctors and patients alike. And it is very easy to read." – Burton M. Berkson M.D., Ph.D., President of the Integrative Medical Center of New Mexico, Las Cruces
Notes Amazon reviewer Curt Harler: "Obesity, diabetes, autism, irritable bowel syndrome, and a host of other maladies plague 21st-century society. We look to health care professionals for help and guidance. However, Derrick Lonsdale, M.D., questions whether modern medicine actually is helping us live better, healthier lives or whether it is turning a blind eye to a significant part of the problem … Lonsdale's research and practice has confirmed time and again that 'we are what we eat' needs to be paired with 'we behave according to what we eat' as a medical aphorism … Yet every thinking, eating person should devour Lonsdale's work and then reconsider the nutritional program they offer themselves and their family members."
Dr. Lonsdale worked as a pediatrician at the renowned Cleveland Clinic for 20 years. Widely published in scholarly journals, his background is in vitamin therapy and the deep-seated impact that nutrition has on both the physical and emotional illnesses found in adults and children.
He finds that high-calorie malnutrition is at the root of many of today's maladies, and as he writes in his book: "While a body fed on sugars and starches does not feel hungry, the key calorievitamin ratios in the body are knocked askew. Nutritional substitutes and caffeine are not the answer."
About the Author: Derrick Lonsdale, M.D., was born in Lancashire, England, and earned an MB.BS. at London University. He has worked in medical practice for 64 years, retiring at age 88. Dr. Lonsdale is a Fellow of the American College for Advancement in Medicine (ACAM), an international professional organization that represents the alternative medicine field. He has written two previous books on alternative medicine and published over 100 medical papers.
"Dr. Lonsdale's expertise in how dietary deficiencies affect health come after spending a lifetime in medicine, and have led to glowing recommendations from his patients and readers alike. This revised edition of his book will further add to the mark he has made in disease prevention. We are proud to be his publisher," said Robert Fletcher, CEO of Strategic Book Publishing and Rights Agency.
A NUTRITIONAL APPROACH TO A REVISED MODEL FOR MEDICINE: IS MODERN MEDICINE HELPING YOU? (eBook ISBN: 978-1-62516-911-2; Kindle ISBN: 978-1-62516-912-9) is available for $9.99 at http://epubco.com/shop/products/a-nutritional-approach-to-a-revised-model-for-medicine/, and at Amazon.com or BarnesandNoble.com.
The soft cover version (ISBN: 978-1-61897-092-3, $13.50) and hard cover version (ISBN: 978-1-63135-336-9, $24.95) can also be ordered through the publisher's website: http://www.sbpra.com/DerrickLonsdale or at Amazon.com or Barnesandnoble.com.
WHOLESALERS: This book is distributed by Ingram Books and other wholesale distributors. Contact your representative with the ISBN for purchase. Wholesale purchase for retailers, universities, libraries, and other organizations is also available through the publisher; please email bookorder(at)sbpra.net.
Related Articles View More Books

Stories
More Hot Stories For You