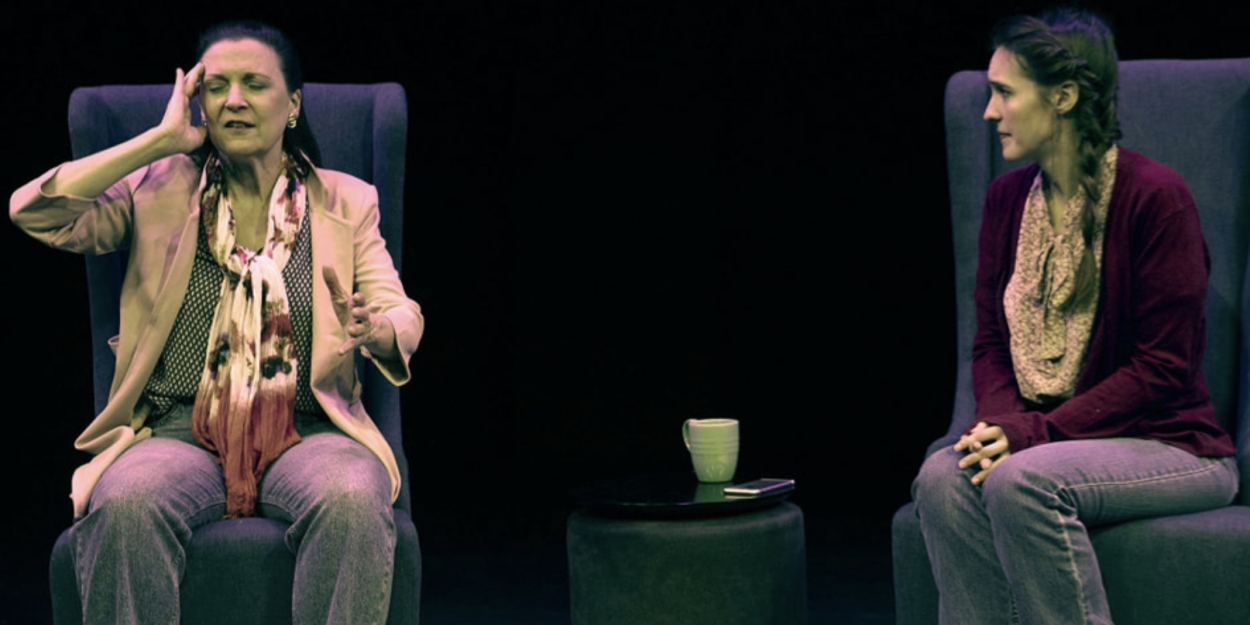 Review: THE THIN PLACE at Road Less Traveled Productions
A Bewitching Psychic Journey
The stage can bring you to places never dreamed of before, but what about places that are even beyond your dreams...or nightmares. Lucas Hnath's THE THIN PLACE, now playing at Road Less Traveled Theatre, brings the audience along for a fascinating ride in this interactive play. The result is nothing short of brilliant as it's four players delve into a world that can only be experienced with the help of psychics or mediums.
The theatre program tells us that in Irish Celtic Lore, "thin places" are those locales where the veil between this world and the otherworld is porous. There is plenty of room for interpretation, but communicating with the dead has been a fascination of all cultures for centuries. Television's LONG ISLAND MEDIUM has made a multi million dollar career with her many sold out appearances and private readings.
Hnath's most recent Broadway success was the award winning A DOLLS HOUSE: Part 2. In THE THIN PLACE, Hnath's tries to illustrate how other worldly connections by a psychic can often be made up of coincidences and inferences, all with the goal of letting the client hear what they NEED to hear. And while a medium may have certain gifts, they may or may not actually be masters of trickery.
On a bare stage with two chairs and a table, a young woman (Hilda) sips tea as the audience enters, telling everyone to talk among themselves. With the house lights up, she tells us about how an audience member looks just like her dead grandmother. From there, the raconteur in her draws you in, the lights slowly dim and her personal story comes to life as the three other characters join the action. The audience is now an observer for the next 90 minutes of this spellbinding play, without intermission.
The death of Hilda's grandmother is the catalyst for her to pursue contacting her on the other side. She meets a medium (Linda) and a friendship burgeons. Linda's friend, or keeper of sorts, is Sylvia who joins the action with Linda's cousin Jerry.
Renee Landrigan gives a finely nuanced performance as the young woman who is coping with the death of her grandmother, and then her mother. From a young age, her grandmother influenced her with ways to communicate by thinking, using that special space behind and above her eyes. So after her death, she hopes to be able to continue to communicate with her in the same way. Landrigan has such an affable nature that it was hard to believe we weren't hearing her own personal story. She instantly put the audience at ease, all the while sucking you into her personal family tragedies.
Margaret Massman is the no nonsense medium, cast aside from her native England, happy to be made an American citizen at the little party being thrown for her. Ms. Massman never panders to campiness, but balances between pragmatism and voodoo. Her trances are eerie and dramatic., but is she just good at putting on a show or are we to believe she has deeper powers?
Kristen Tripp Kelley is the well to do world traveler who leans on Linda to help her through a rough divorce, but is plagued with self doubt. Tripp Kelley embodies her wealth and poshness convincingly, while grappling with the concept of being more generous and living a simpler lifestyle. This theme leads to some brilliant writing by Hnath, as the English born Linda extols her love for America, but also has trouble understanding American's preoccupation with guilt for achieving wealth, even if it is deserved.
David Mitchell as Jerry grounds the proceedings with more than a hint of doubt regarding his cousin's psychic ability. BUT, he does see how her guidance can be beneficial, as he convinces her to help along a major political candidate who needs some coaching.
The action ebbs and flows from the commonplace to Hilda's dark family history. While appearing shy at first glance, she slowly takes in the dramatic relationships of the other three. And when she gets a glimmer of how she is thought of as an infatuated ,silly girl, she lets the personal story of her mother's downfall and presumed death come center stage. Ms. Landrigan's delivery now casts it's own spell over the group and audience alike. A better ghost story you are unlikely to here. Dramatic lighting, slamming doors, and action played out in shadow are enough to bewitch anyone. And the ending, again with the house lights up, is sure to have everyone question what they just witnessed.
Director Scott Behrend, and Assistant Director Hasheen Deberry have worked their own magic guiding the exceptional cast. They focus the art of story telling while interweaving the drama created by the character's own person journeys. Hnath's subject entrances with an undertow of quandary, casting doubts upon that fine line between reality and what may be truly unbelievable on the other side.
The Thin Place plays at the Road Less Traveled Theatre through March 26,2023. Contact roadlesstraveledproductions.org for more information.