The Listies Bring R.O.F.L. to QPAC in March
Performances run from Tuesday 28 March to Wednesday 5 April 2023 in the Cremorne Theatre.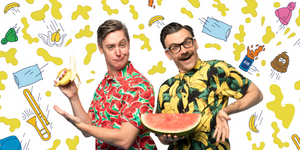 Queensland Performing Arts Centre (QPAC) has announced the side-splittingly funny R.O.F.L (Rolling On The Floor Laughing) by comedic duo The Listies from Tuesday 28 March to Wednesday 5 April 2023 in the Cremorne Theatre.
A bonkers sketch comedy extravaganza perfect for kids and adults alike, R.O.F.L sees The Listies tackle the most tortuous family situation of all: BEDTIME. Rich, the exhausted parental proxy, is trying to get an early night while his hapless, hopeless housemate Matt deploys every trick in the book to stay up late.
Gratuitous, ridiculous, hilarious, joyous, and possibly hazardous, Rich and Matt are The Listies - Australia's maestros of 'kidult' comedy.
Matthew Kelly and Richard Higgins formed the award-winning duo in 2008 and began performing absurdist comedy for adults before switching to full-time kids' comedy in 2011. To date, they have written and produced nine critically-acclaimed live shows, three albums, and several books published by Penguin as well as starring in ABC TV's The Listies Work for Peanuts.
R.O.F.L is presented by QPAC and produced by Australia's national touring theatre company Critical Stages Touring.
Critical Stages Touring Chief Executive Officer Chris Bendall said the team was excited to be sharing the excitement and playfulness of R.O.F.L with live audiences once more.
"After a huge year getting back to communities across Australia, New Zealand, and the UK, it's a delight to finally bring the hilarity of The Listies to QPAC, where we know families of all ages will be in stitches with this powerhouse kids' entertainment duo," he said.
The Listies have received a Sydney Theatre Award, 'The HarperCollins Best Designed Children's Fiction Book', and the Best Independent show at Melbourne Comedy Festival. They also hold the prestigious honour of being the only kids' act to have been nominated for the Comedy Festival's 'Best Show' award.
The comical and hilarious R.O.F.L will hit QPAC's Cremorne Theatre from Tuesday 28 March to Wednesday 5 April 2023. Tickets are on sale now via Click Here or 136 246.