STORM BOY at Queensland Theatre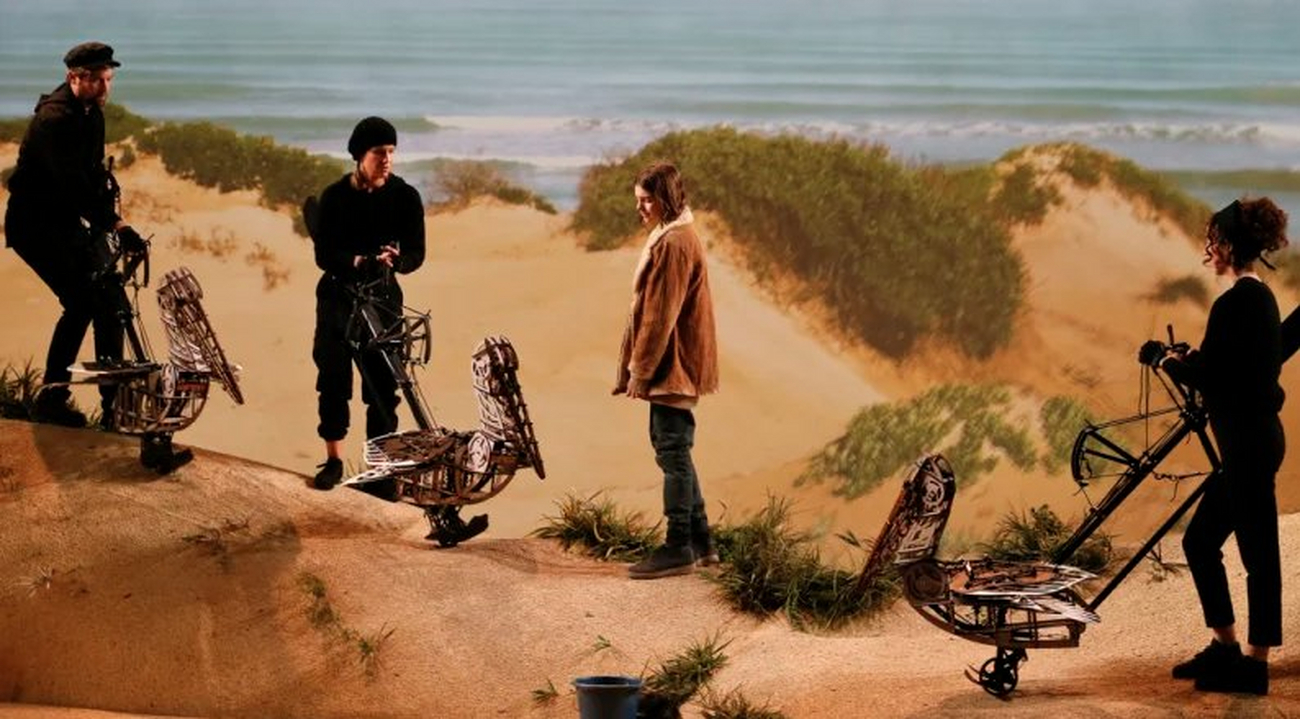 Queensland Theatre's production of Storm Boy is a coming of age story that has a powerful voice in all of its mediums, but none more so that in Tom Holloway's stage adaptation, using the genius puppet-craft (another new word of mine) of David Morton and the Dead Puppet Society.
Directed by QT's Artistic Director Sam Strong, the show started with a powerful opening, with the rumbling of thunder and the strike of lightning in a storm. Lights up and we watch Storm Boy (Conor Lowe) and his Dad Bill (John Batchelor) cleaning up after a storm in silence, climbing in and out of the sand dunes of Coorongs coastline, designed in exquisite detail by Anna Cordingley. And not long after that you are introduced to the seamlessly detailed, life-like technical beings of the Pelicans, who appear as majestic on stage as they do in real life. From first glance, most patrons may think that the Pelicans are the only form of puppetry in this show but boy, when in fact, most animals of the Coorong are manifested in puppet form on stage, each in as refined detail as the Pelicans.
As an audience member, my eyes were always drawn to the movements of the puppeteers (Ellen Bailey, Emily Burton and Drew Wilson) who voiced the playful, affectionate and cheeky 'clucks' of their Pelicans, manoeuvred the puppets effortlessly, and embodied their physicality through their own bodies so that it often felt like they two were flying overhead.
One of the most exquisite moments that I've ever seen on stage was that of Mr Percival's death, in which the puppeteer gently caresses the boy's face before exiting the stage. It was deeply poetic and you could audibly hear audience members sobbing along with the Boy. It is a snapshot that will stay with me forever.
John Batchelor and Tony Brigg's were fantastically cast in the roles. Batchelor's grief and humility and Brigg's dad jokes took the audience on a journey of light and dark and of laughter and tears. Unfortunately, Lowe's lack of experience in theatre shows as he had a lot of unnecessary movement on stage and wasn't grounded in his performance. More than once, he was swaying back and forth when interacting with his cast members and fidgeting when he thought he was out of focus for the audience. But the audience is always watching...
Whilst Justin Harrison's projection design worked well, I felt at times the projections were overused to disguise the set changes that happened behind the screen. However, the set transitions were loud and clunky so that projections ended up throwing us out of Storm Boy's narrative for minutes at a time.
One thing that I would have liked to see in this production would have been for it to have a discussion or commentary on the shooters of Mr Percival and the other Pelicans. I felt that that was plot point that was so pivotal to the book that wasn't explored in this adaptation, especially when, in our contemporary society, there is much controversy about the conversation of animals.
A technically seamless production, with innovative direction and excellent puppetry. You will be moved and touched by the connection between one boy and his pet Pelican.
Rating: 4 Stars
Related Articles View More Australia - Brisbane

Stories

Shows