WholeTone Opera's LA ZOMBIATA Reanimates Romance in Davis Square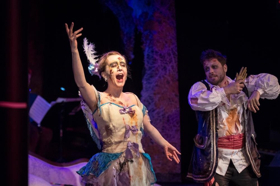 WholeTone Opera's mission to feature and uplift female, femme and non-binary artists continues with an encore of their maiden production, La Zombiata: A Zombie Love Story. Composer Jillian Flexner has written additional music for this fresh rendition, and the WTO crew has added UV reactive elements to bring the baroque apocalyptic wasteland into neon phantasma-gore-ical surreality.
In 2016, this guerilla opera company comprised of independent artists and self-proclaimed rebels banned together to produce this ghoulish and unconventional operatic offering for Valentine's Day. Playing to a sold out house each night, the production took the Boston area by storm! Loving couples with their Valentines, opera officianatos with their curiosity, and zombie enthusiasts in full costume attended in droves, ready for an uproarious production.
A contemporary opera by living composer Jillian Flexner, La Zombiata boasts a cast two thirds female in a direct reversal of its counterpart, Verdi's immensely popular opera, La Traviata. According to research done by Brooke Larimer, professional mezzo-soprano, Business & Operations manager as well as co-host of Indie Opera Podcast, La Traviata is not alone in its lack of femme characters. An imbalance of gender representation pervades the entire operatic genre, and where women are included they almost never written as protagonists with agency.
Flexner's updated work offers a much needed taste of empowered femme perspective. "La Zombiata takes the traditional opera love-triangle trope and twists it around. Where women would have been merely objects of affection, now they are active in moving the plot forward. It is so important to put strong women characters in the spotlight, that make their own decisions and act on their own impulses, because so much of opera makes women passive and non-decision-makers in their own stories." - Composer, Jillian Flexner
But this opera which "hums with frenetic energy" (Agarwala, Boston Musical Intelligencer) is not just beloved to WholeTone Opera and Boston for its onstage gender ratios. "This show is delightful partly because of the securely bisexual (or pansexual) characters that exist in stage director J. Deschene's brilliant interpretation. Xenobia's and Philonia's desires for both male and female zombies are never discussed in depth, mostly because the topic of sexuality is not a source of angst in the zombie horde. I hope that more comfortably queer characters will continue to show up on the operatic stage. Also, this show has an appeal that can draw in diverse audiences, many of whom have never before heard the magic of operatic singing, while still retaining the essence of what great opera has always been: entertainment. There is a clever absurdity to the genre mashing accomplished here. WTO's La Zombiata manages to exist in the center of a venn diagram of multiple realms of geekdom at once while still taking pride in each aspect of its creation." - Artistic Director, Nora Maynard.
The whimsy in this one-act romantic comedy featuring the undead is undeniable; a "dream come true" (Idlebrook, New England Theatre Geek). Sporting a splash zone of blood & gore (with ponchos provided for the hot seats), you will be hard pressed to find an opera more heartwarmingly morbid than La Zombiata. This show is the perfect alternative Valentine's event with dinner or brunch packages available at each performance. The story begins in a Parisian penthouse infested by an undead horde lead by Xenobia, huntress of humans. As the minions mingle at a bloody soiree, romantically inclined Christolpho meets the ravenous-yet-rapturous Philonia. Suddenly, all-too-human emotions come into play, leading to chaos, comedy, and a splash-zone worthy chainsaw massacre.
Performances of La Zombiata will take place at The Rockwell, in Davis Square, Somerville, Massachusetts February 9th-14tht. Patrons are encouraged to join the horde and wear their best undead outfit! La Zombiata is performed in English and accompanied by chamber orchestra. To learn more and reserve tickets, please visit www.wholetoneopera.com.
WholeTone Opera seeks to highlight female, femme, and non-binary composers & artists. The company hopes to join forces with other local opera companies in the process of revitalizing Boston's opera community, offering alternative productions with fresh, gripping performances. Rehearsals and performances take place in Somerville at WholeTone Music Academy and at The Rockwell near Davis Square, Somerville, Massachusetts.
Tickets: https://www.eventbrite.com/e/wholetone-opera-presents-la-zombiata-a-zombie-love-story-tickets-41460188540
More Hot Stories For You