Review Roundup: SWEENEY TODD at Provincetown Theater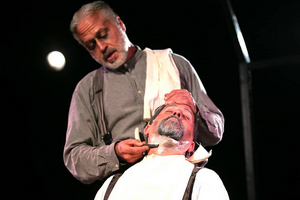 The Massachusetts theater company presents a production of Sweeney Todd, comprised of ten actors.
Directed by David Drake, Sweeney Todd runs July 8-August 29.
The creative team includes musical direction by John Thomas, set design by Ellen Rousseau, lighting design by John Salutz, costume design by Carol Sherry, and sound design by Sam Sewell.
For more information, visit ProvincetownTheater.org.
Let's see what the critics have to say!
Sue Mellen, Cape Cod Times: Tony Award nominee Hewitt presides over the production like a powerful otherworldly presence, and his voice is as strong as his performance. His delivery of songs like "My Friends" and "Pretty Women" is enthralling. And LaRose, who has stepped onto a number of Cape stages, is a bundle of fun and an accomplished vocalist. The pair adeptly navigates through complex numbers like "A Little Priest." (Eighty percent of the show is set to music, so strong voices are a must.) Madison Mayer, who is also familiar to Cape audiences, plays the role of Todd's daughter Johanna with just the right dash of sweetness - a welcome counterpoint to the darkness woven into the fabric of the show. And the remaining cast/ensemble members provide solid support, effortlessly changing personas from masked troubadours to characters and back again.
Howard Karren, Wicked Local: Perfectly paced (never a draggy moment) and damn near flawless in its execution - what kind of rehearsal process produces such a smoothly running machine for the second public performance? - this "Sweeney Todd" is a tribute to the directing talents of David Drake. Theater is now a happening thing in Provincetown, and the Provincetown Theater under his leadership is its throbbing heart. May we never get used to the level of excellence and inspiring creativity he consistently delivers - and may it never end.
Theatre Section, Ptownie: Hewitt and LaRose are perfectly matched and both turn in absolutely brilliant performances. A revelation was Mayer's voice-sweet and substantial; I wished she had more solos to perform. Hewitt's Sweeney is dark and dangerous: he somehow conveys the violent thoughts lurking inside his head even when he's not speaking, singing, or moving, a real tour de force. When he says, "There's a hole in the world like a big black pit," and then looks around, no matter where you're sitting, you feel he's looking directly at you. LaRose takes on the role of Mrs. Lovett with obvious glee: this isn't your ordinary widow just looking to get by, no matter how many times she says she is-LaRose makes you feel this particular widow might easily eat men alive, barber or no barber.
Steve Desroches, Provincetown Magazine: The spectacular set by Ellen Rousseau and the choreography of the Greek chorus portraying the miserable inhabitants of 18th-century London add the thrilling chills of a haunted house communicating the Darwinian desperation of life in the city. All of that engulfs the audience immediately.