Live and In Person: It's Open Calls
What is an actor's job but to sit outside in 34 degree weather for 3+ hours for 30 seconds singing your face off in front of two strangers?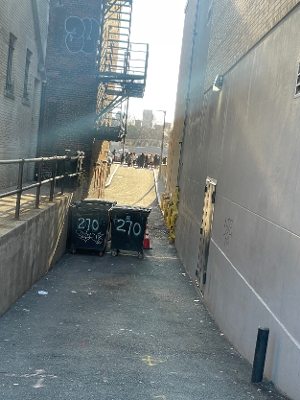 We are just around midterm of the Spring semester at BU and things are going pretty swimmingly for me. I'm only taking 16 credits this semester-compared to my normal 18-20 I've been taking since my Junior year of high school-with my classes meeting only one to two times per week. A lot of my classwork is challenging but done in class with a lot of hands-on experiences and data collection.
Because of all the time I have on my hands, I have more time to continue auditioning outside of school. BU's School of Theatre encourages their students to engage with their career outside of the school while honing their skills within the school. This freedom has allowed many students to work with equity houses around Boston, be part of short and feature films, and audition as much as they are able (providing those outside engagements do not impede on university commitments). Recently, Six the Musical held an open call. It was hosted by The Huntington Theatre with Tara Rubin Casting on a cold wintery Boston Saturday shortly after the holiday break.
Now. I've been to open calls before. Many actors who lived near or around big casting hubs before the pandemic at least knew someone who had been to an in-person open call. My first in-person open call was an appointment-based Dear Evan Hansen call a few months before lock down. But cattle calls and large in-person open calls like this didn't happen during the height of lockdown. They've slowly started coming back primarily via self tapes and only recently have the in person large open calls resumed. In all honesty, I'm surprised they have already started up, what with us still being in a mass-disabling pandemic...
While I have done self-tape national auditions and the appointment-based in-person open calls, I have never experienced the standard show-up-and-sign-up at the wee hours of the morning open call. It's safe to say that I was horribly anxious when preparing for the audition. But this wasn't about the performance part of the audition. Rather, it was the logistics. I fretted about whether I should take the T (Boston't train transit system) or a Lyft, whether to wear my audition shoes to the venue or carry them with me and wear more sensible shoes for travel. I wondered how long the line would be and struggled to determine the right time to leave so that I didn't risk not getting seen. I was curious if I would be waiting in line outside or inside the venue... I could truly go on. All this uncertainty of the logistics of the day made me very reluctant to go, despite how much I missed being in the audition room.
In the end, I was able to successfully talk myself into taking a Lyft to The Huntington at 6:30am on that windy Saturday morning. My arrival was a little over an hour and a half before they would even let performers start signing in and it took an additional 2 hours before I got into the building to get my number. I had packed myself a lunch, a cup of tea (my third that morning), a book, my computer and my iPad... I was pretty set. I was not not fully prepared to sit outside in 34 degree wind for a total of 3 ½ hours (I found some lovely benches in the line), but I was lucky to have another 3 hours once inside to warm up in the theatre before my audition time as number 190 and at just before 2pm.
The joke about auditions is "all that for a mere thirty seconds in the room and no pay." It's true. But just being in the audition room with a national casting agency is such a privilege-one that I have greatly missed. I don't know about anyone else from that day, but I made my thirty seconds fun, exciting, and easy. It was my first time auditioning with a live accompanist in almost three years which was a great muscle to stretch out. I spent that evening with my heated blanket, finishing a book I was buddy reading with a friend, eating mac n cheese and chicken nuggets. All around, a successful audition day. It's good to get back in the game.