Erin Genia and Rachel Allen Awarded Urbano Project Artist Residencies For Fall 2019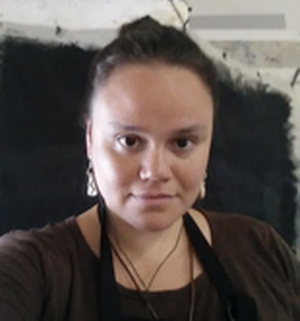 Urbano Project announces two Artists-in-Residence for fall 2019: Erin Genia (Sisseton-Wahpeton Oyate) and Rachel Allen (Nez Perce), Boston-based artists with Native American heritage. As part of the residency, both artists will lead fall 2019 Youth Artists Projects centered around Urbano's FY20 theme Creative Conditions; and have solo exhibitions at Urbano's gallery in Jamaica Plain. Erin Genia's exhibition will open Oct. 24, 2019 and Rachel Allen's on January 23, 2020.
ERIN GENIA: Okoŋwaŋžidaŋ
OCTOBER 24- DECEMBER 20, 2019
Opening Reception: Thursday, October 24, 6:30-8:30PM
Genia's exhibition Okoŋwaŋžidaŋ means oneness, being of one mind in Dakota language. How can we create Okoŋwaŋžidaŋ as we seek to address the issues of climate change, mass ecological destruction and sociopolitical disparities?
In Dakota philosophy, all things exist within a continuum of life, and the concept of mitakuye oyasin - we are all related, extends not only to other people, but to animals, plants, minerals, electricity, air, objects, and everything in existence. As we operate within political and economic systems that divide us, people have forgotten that we are not separate from the earth - we are the earth. With this in mind, how can we respect the agency of the inherent life in everything around us?
By questioning the ways we think, act, and produce work, Genia addresses a historical legacy built upon centuries-old colonial assumptions and systems of violence towards indigenous people. She reorients her process towards the laws of the natural world and the evolutionary potential of human beings. To explore these concepts, Genia will create an installation of sound vessels, paintings, and video projection of her performative character, "Earthling."
As Artist-in-Residence, from October 15 to December 19, 2019, Genia will share with Urbano's youth artists stories from Native American peoples and the history and work of Indigenous peoples of our region, and teach storytelling through a variety of artistic methods: painting, printmaking, sculpture, performance, sound, and public art.
Erin Genia (Sisseton-Wahpeton Oyate) is an award-winning multidisciplinary artist whose practice merges cultural imperatives, pure expression, and exploration of materiality, with a response to past, present, and future matters. She uses her artistic voice as a Dakota person to explore the human implications of oppression and the intersections of beauty and power; invoking an evolution of thought and practice aligned with the cycles of the natural world and the potential of humanity.
Genia has a Master of Science in Art, Culture and Technology from MIT and studied at the Institute of American Indian Arts and The Evergreen State College. Her work has been exhibited nationally and internationally, most recently at the 2019 Venice Art Biennale, the Harvard Museum of Natural History, and the Weisner Gallery at MIT. She received her first public art commission for "Resilience: Anpa O Wicahnpi" from the City of Seattle Office of Arts and Culture. Visit her website & Instagram @emgenia
RACHEL ALLEN: airplay
JANUARY 23 to MARCH 21, 2020
Opening Reception: Thursday, January 23, 6:30-8:30PM
In her site-specific installation, airplay, Allen aims to unsettle the air we breathe and otherwise manipulate. If we think about our experience through the air-the ubiquitous material we are suspended in-then we can contemplate what decolonization requires. If decolonization is not a metaphor or symbolic act, then we must reassess the entire environment we occupy. She invites the audience to intentionally interact with air, understand its agency, and be reminded of our interconnectedness.
In her Youth Artists Project workshop, Oct 11-Dec 21, 2019, Allen will provide tools for students to create place-worlds, or stories upon close examination of the land and their environment. Students will research the recent and ancient history of a location of their choice from a variety of facets-municipal, social, geological, current conditions, personal connections. Story sharing will happen through oral tellings or performances and creation of artist books.
Rachel Allen (Nez Perce) is an artist and curator, exhibiting her artwork and presenting on her scholarship nationally. She is an Assistant Curator at the Peabody Essex Museum, and, most recently, she exhibited at the Eli and Edythe Broad Art Museum at Michigan State University. She has dual citizenship with the United States and with her Native nations, the Nez Perce Tribe of Idaho.
Allen holds an MFA in Printmaking and an MA in Arts & Cultural Management and Museum Studies from Michigan State University. She received her BFA from the Cleveland Institute of Art. Follow @rachel_c_allen on Instagram.
Youth Artist Projects are in-depth long-term artistic explorations of Urbano's annual themes through the lens and mentorship of the Artist-in-Residence, resulting in one or more exhibitions/projects that are presented at Urbano and other public sites.
Urbano is open 1-6PM Tuesday-Friday and by appointment. Visit www.urbanoproject.org for more information.
| | |
| --- | --- |
| Vote Now for the 2022 BroadwayWorld Boston Awards | |
| voting ends in | |