Commonwealth Shakespeare Company and Coolidge Corner Theatre Present Shakespeare Reimagined: SHAKESPEARE IN LOVE
The event is on Monday, February 13 at 7 PM.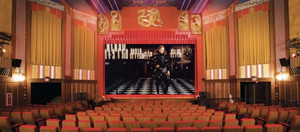 The plays of Shakespeare have been translated into more than one hundred languages, and his timeless stories have inspired great works in many art forms. For the second year in-person after creating the series during the pandemic, Commonwealth Shakespeare Company (CSC) and the Coolidge Corner Theatre are teaming up to take an in-depth look at how some filmmakers have brought Shakespeare's stories to the screen.
The "Shakespeare Reimagined" series in 2022-23 consists of three film screenings followed by Q&A sessions with experts in both theater and film at the Coolidge Corner Theatre, 290 Harvard Street, Brookline, MA.
Shakespeare in Love, the Oscar-winning script co-written by Tom Stoppard, is celebrating its 25th anniversary this year. It follows the adventures of Young Will Shakespeare (Joseph Fiennes), an up-and-coming playwright who has been disastrously struck by the bane of the writer's life - writer's block. His comedy "Romeo and Ethel, the Pirate's Daughter" isn't going anywhere and the playhouse is under threat of closure. What Will needs is a muse, and she appears in the form of the beautiful and betrothed Lady Viola (Oscar winner Gwyneth Paltrow). The course of true love does not run smooth for Will, but the joys and tragedy of his own life find their way onto the page in a moving, witty, and spellbinding tale.
Panelists for the post-screening discussion will include Boston Globe film critic Odie Henderson and beloved local actress Marianna Bassham, and will be moderated by theatre artist Regine Vital.
Admission is $16.25 general admission, $13.25 for Coolidge Corner Theater members. The price includes the film screening (123 minutes) and the panel discussion (which will run approximately 30-40 minutes).
Tickets are available at the door or at coolidge.org. For further information, visit commshakes.org/production/shakespeare-reimagined/ or coolidge.org/csc.
The Coolidge's film and video exhibition areas are accessible by elevators. All are also equipped with a variety of options for patrons that are hard of hearing, deaf, blind, and/or visually impaired. For questions about accessibility or to make any disability-related accommodation requests, please email info@coolidge.org.
Masks are optional but encouraged for all patrons, including in the lobby and theatre spaces. For further information about the Coolidge's safety protocols, visit coolidge.org/safety.