BWW Reviews: THE FARM: Riveting Spy Play at Boston Playwrights' Theatre
Written by Walt McGough, Directed by David R. Gammons; Scenic Designer, Jon Savage; Lighting Designer, Karen Perlow; Costume Designer, Gail Astrid Buckley; Sound Designer, David Remedios; Production Stage Manager, Marsha Smith
CAST: Lindsey McWhorter (Parker), Nael Nacer (The Enemy), Dale Place (Finn)
Performances through October 23 at Boston Playwrights' Theatre, 949 Commonwealth Avenue, Boston, MA; Box Office 866-811-4111 or www.bostonplaywrights.org
Playwright Walt McGough has a thing for genre stories and he has written one doozy of a spy play called The Farm. A graduate of the MFA Playwriting Program at Boston University, this is 27-year old McGough's first production at Boston Playwrights' Theatre, the award-winning professional theatre dedicated to new works. With the nurturing collaboration of Director David R. Gammons and his talented team of actors and designers, McGough's play feels both fresh and broken in, like a pair of comfortable oxford shoes with only a few scuff marks.
Something went terribly wrong in the field and Agent Finn (Dale Place), a white guy in his 50s, has suddenly decided to retire. Analyst Parker (Lindsey McWhorter), an African American in her 30s, is assigned to debrief him, to find out what happened, and to make him ready to go to The Farm, an imaginary respite resort for CIA agents en route to retirement in the real world. In a subterranean room at headquarters in Langley, Virginia, which Scenic Designer Jon Savage has crafted to look like the quintessential government office (metal desk, mismatched filing cabinets, water-stained ceiling panels, fluorescent lights), the two agents square off. Finn paces and rants like a caged animal, while Parker has all of the tools at her disposal and all of the power in the situation. It is no wonder that Finn is uncomfortable, locked in with his interrogator under the watchful eyes of photos of George W. Bush, Dick Cheney, and (former) CIA Director George Tenet.
As if that isn't enough, The Enemy (Nael Nacer) skulks around for the duration of the play. At times, he stands motionless in the audience under a spotlight, a silent spectre; at other times, he drifts onto the stage, sidling up so close to Finn that he can feel The Enemy's breath on his neck. Parker can't see this other presence, but he looms large in Finn's mind as a memory or a hallucination, representing the victims of his decisive actions as a field operative. This apparition  is at once both the first man and the last man killed by Finn, but bears the weight of all the faceless victims in between, like Dickens' Ghost of Marley who wears the chain of sins he forged in life. Suffice to say, Finn is haunted by The Enemy and struggles to keep him at bay long enough to get through his grueling session with Parker and move on to The Farm. 
The Farm is a 90-minute play performed without intermission on a small stage with little action. That being said, it is a riveting drama, replete with chess-like mind games that will keep you guessing about what the real agenda of this debriefing is and who is in control at any given moment. Credit Gammons with widening the scope of the stage by placing Nacer in the aisles where he draws attention just by his existence, and credit Place and McWhorter for their intense, focused performances that hold the audience's interest throughout their conversation. With as little as a raised eyebrow or shift in body language, McWhorter gives the impression that she is a finely tuned instrument, registering every imperceptible cue given off by Finn. Place aptly employs the demeanor of an obstinate adolescent sent to the Principal's office, blatantly showing his mistrust by feeling around for listening devices, and testing Parker's resolve. The deeper they get into the interrogation, the more Finn's emotional stress plays out on Place's face, until his mask of terror brings to mind Edvard Munch's expressionist painting "The Scream."
In some scenes, Nacer is a friendly ghost with a winning smile. At other times, he is an ominous presence. McGough's use of his character enriches what might otherwise be a routine two-hander. Parker and her superiors put Finn in a vise, but The Enemy tightens the screws. Each time he comes into play, his impact is enhanced by changes in lighting and portentous music, thanks to designers Karen Perlow and David Remedios, respectively. Nacer is barefoot and dressed in rumplEd White shirt and pants to ghostly effect by Costume Designer Gail Astrid Buckley. By contrast, Parker and Finn wear dark suits typical of the members of their profession.
McGough has written a taut, realistic play that is based on factual events and is brought to life by three dimensional characters. In light of the Abu Ghraib scandal and questions about the United States' use of enhanced interrogation techniques, The Farm looks at important issues that have been in our consciousness more than at any time since the end of the Cold War. It will make you think, and it may cause you to shrink back in horror at things being done on our behalf, but it will most definitely hold your attention right to the very end.
Photo credit: Boston Playwrights' Theatre (Lindsey McWhorter, Dale Place)
From producing and starring in family holiday pageants as a child, to avid member of Broadway Across America and Show of the Month Club, Nancy has cultivated her love of the art and respect for the... (read more about this author)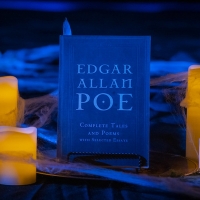 REVIEW: THE EDGAR ALLAN POE DOUBLEHEADER

October 28, 2022

If you have yet to reach your fright limit for the Halloween season, you still have two chances to experience chills of the dramatic variety at THT Rep at the BrickBox Theater in Worcester. Reprising the production she created for small, socially-distanced audiences of 20 in the early days of the pandemic, Artistic Director Livy Scanlon is performing THE EDGAR ALLAN POE DOUBLEHEADER in front of 290 stadium-style seats.
---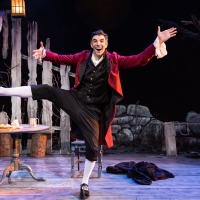 REVIEW: THE LEGEND OF SLEEPY HOLLOW

October 26, 2022

Two hundred years after Washington Irving introduced the little hamlet of Sleepy Hollow and its superstitious denizens to the canon of American literature, the legend remains among the most enduring of stories that capture the imagination of adults and children alike, inspire questions about the supernatural realm, and scare the bejesus out of its audience.
---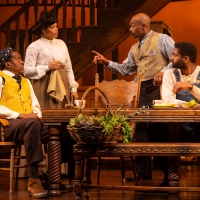 Review: AUGUST WILSON'S JOE TURNER'S COME AND GONE

October 22, 2022

JOE TURNER'S COME AND GONE was the first Wilson play produced at the Huntington in 1986, the beginning of a 19-year relationship that saw all ten of his American Century Cycle plays chronicling the African American experience in the 20th century performed on the local stage.
---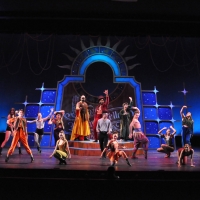 Review: PIPPIN: Growing Up Is Hard To Do

August 8, 2022

The second and final production of Reagle Music Theatre of Greater Boston's 2022 season is Stephen Schwartz's PIPPIN, originally produced on the Broadway stage in 1972 with direction and choreography by Bob Fosse, and revived/reimagined in 2013 by Diane Paulus at the American Repertory Theater before going to Broadway. Undaunted by following in those two very large sets of footsteps, RMT Artistic Director Rachel Bertone forges her own path to stage a version that leads with an enlarged heart and a healthy helping of fun and whimsy.
---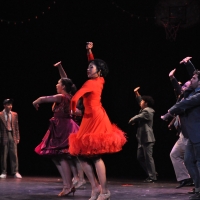 Review: WEST SIDE STORY: You've got to be taught

July 11, 2022

What did our critic think of WEST SIDE STORY at Reagle Music Theatre Of Greater Boston: There's a new spring in the step of Reagle Music Theatre of Greater Boston in Waltham. Award-winning director and choreographer Rachel Bertone takes over as Artistic Director and opens the season with WEST SIDE STORY, with Dan Rodriguez by her side as music director.
---