BWW Review: THE ROOMMATE: Strange Middle-aged Bedfellows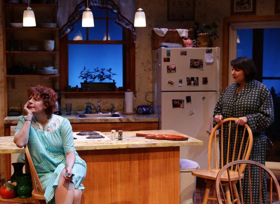 The Roommate
Written by Jen Silverman, Directed by Spiro Veloudos; Scenic Design, Jenna McFarland Lord; Costume Design, Tobi Rinaldi; Lighting Design, Chris Hudacs; Sound Design & Original Music, Dewey Dellay; Props Artisan, Cesara Walters; Production Stage Manager, Diane McLean; Assistant Stage Manager, Geena M. Forristall; Assistant to the Director, Sivan Amir
CAST: Adrianne Krstansky, Paula Plum
Performances through November 18 at The Lyric Stage Company of Boston, 140 Clarendon Street, Boston, MA; Box Office 617-585-5678 or www.lyricstage.com
It is probably an unintended coincidence that the Lyric Stage Company's production of Jen Silverman's two-hander, The Roommate, passes the Bechdel Test with flying colors, even as Fun Home, based on Alison Bechdel's graphic novel/memoir is onstage down the street at the Boston Center for the Arts. For the uninitiated, the test is a measure of the representation of women in fiction and a passing grade requires that a work feature at least two women who talk to each other about something other than a man. Silverman's play is about a middle-aged divorceé and a lesbian on the lam sharing a big old house in Iowa City, both trying to start over, while negotiating a relationship that is difficult to define.
Sharon (Paula Plum) looks like what we New Englanders might imagine a Midwestern housewife to look like, dressed in printed cotton fabrics, including her ubiquitous apron, and sensible shoes. She comes across as naïve and a little at sea since she "retired," as she puts it, from her marriage. The life raft that she lands on, with a total lack of prescience, is to take in a roommate at the ripe old age of 54, expecting to lighten her financial load while gaining companionship. Open and guileless, Sharon's demeanor is a contrast to the wary approach of Robyn (Adrianne Krstansky), a secretive bohemian from the Bronx, who used to be a potter and a slam poet, but isn't exactly sure what her next gig will be. Neither is prepared for what is about to develop between them.
As unlikely as it appears at their first meeting, Sharon and Robyn take to each other, each fulfilling a need in the other. Sharon offers stability and normalization of routine, reigning in Robyn's wanderlust, while Robyn opens Sharon's eyes to urban influences she's never thought about. There's more than a little of the adage "the grass is always greener on the other side" at play in their dynamic, and Silverman mines it for comedic moments that are successfully realized by Plum and Krstansky. Under the direction of Producing Artistic Director Spiro Veloudos, they are a dream team operating in perfect synch with each other. Even when Sharon and Robyn are not entirely sure of how they feel about one another, there is a genuine affection between the two actors which serves as a foundation and informs their work.
Silverman, recently named as one of this season's most produced playwrights, is a force to be reckoned with, judging by her skill in creating these two complex characters and the easy flowing dialogue she gives them that clearly tells us who they are and what they want. She fixes her focus on telling a story of discovery and reinvention, mixing in notes that range from comedic to poignant to dramatic. There are a few plot points where the necessary suspension of disbelief asks us to cross a bridge too far, but I was mostly willing to follow Plum and Krstansky wherever they journeyed. The bottom line for Sharon and Robyn (and the rest of us Baby Boomers) is to explore what it takes to change and grow, and sometimes things work out, and sometimes it's back to the drawing board.
The unit set designed by Jenna McFarland Lord is a spacious, homey kitchen with a sliding door that leads out to a screened-in porch bordered by a picket fence. The attention to little details by props artisan Cesara Walters (such as a fully-stocked pantry and refrigerator decorated with magnets and photos) barely enters your consciousness, but provides a backdrop of authenticity. Layered on top of that are the warm lighting design by Chris Hudacs, the folksy incidental music by sound designer Dewey Dellay, and an array of character-defining costumes by designer Tobi Rinaldi. Production Stage Manager Diane McLean and her assistant Geena M. Forristall keep everything moving seamlessly.
For people of a certain age, facing retirement, the prospect of embarking on a new career, or totally reinventing oneself are common considerations. Many will change or lose partners, or move to a different community. All of these circumstances require some adjustment, and an ability to be flexible and open certainly helps. Watching how Sharon and Robyn navigate the shoals of this phase of their lives might give you some ideas, but they're not all necessarily good ones. However, if there's one important message to take away from The Roommate, it could be to brush up on your foreign languages and carpe diem!
Photo credit: Mark S. Howard (Paula Plum, Adrianne Krstansky)