BWW Review: THE BODYGUARD at North Shore Music Theatre
Last Night the BODYGUARD opened to a very warm audience reception at North Shore Music Theatre. The final offering of the 2019 regular musical season THE BODYGUARD is a new musical based on the smash-hit 1992 film.
Former Secret Service agent turned bodyguard, Frank Farmer, is hired to protect superstar Rachel Marron from an unknown stalker. The problems begin because Rachel and Frank are both very good at their jobs, and both are used to being completely in charge. When Rachel's manager hires Frank, Rachel fights against everything Frank wants to do to keep her and her family safe. The tide turns when Frank tries to keep Rachel from performing in a basement club with only one entrance and one exit. Rachel insists on going ahead with the performance, and when Rachel is accosted by fans and deeply frightened, she begrudgingly allows Frank to take the lead to ensure her safety, and over time, as Frank continues to try to keep Rachel and her family safe, she realizes she needs Frank and soon they fall in love. With "on the edge of your seat action", romance, and spectacular production numbers, THE BODYGUARD celebrates the music of Whitney Houston featuring 15 of her smash hit songs including Queen of the Night, So Emotional, One Moment in Time, Saving All My Love, Run to You, I Have Nothing, I Wanna Dance with Somebody and one of the biggest selling songs of all time - I Will Always Love You.
In this production, Judson Mills, the original Broadway Frank Farmer, reprises his role as the former Secret Service agent turned Bodyguard. Mr. Judson is well cast in this role, and with his strong acting skills, numerous performances of this show under his belt, and a commanding stage presence he is completely convincing in his performance.
Cheaza Figueroa is equally amazing as superstar Rachel Marron. Her Rachel is at once a fiercely strong and successful woman, but she is also capable of showing vulnerability when alone with Frank. Her voice is first-rate and she owns the stage in the numerous production numbers where she is featured. I believe Whitney Houston would be very proud of her interpretation of this character, and the way she presents her songs.
Nicole Henry as Rachel's sister Nicki Marron is simply outstanding as the tireless and loyal sister who constantly finishes second to her superstar sibling. She has a beautiful voice, very strong acting skills, and brings her character to life with a passion and pathos in her performance, which leaves you wanting to see even more of her character.
Eight-year-old, local Beverly, MA resident, Joshua McKenna makes his stage debut in spectacular fashion as Rachel's son Fletcher. His scenes with Frank are particularly endearing.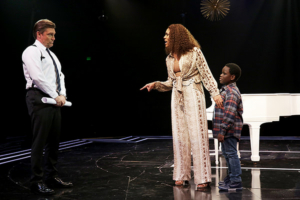 The entire cast delivers strong performances, and the ensemble dancers are sensational in every scene. Standouts in the ensemble are Desiree Murphy and Khalifa White with their amazing voices and dancing abilities, as well as the Dance Captain, Marie Rose Baramo, her dancing is truly superb.
The creative team is first-rate as well. The Direction, and Choreography by Nick Kenkel, creates an enjoyable production, featuring well-constructed musical production numbers, and with excellent pacing and depth that is engaging, gripping, and yet fun. The orchestra under Music Director Wendell Vaughn was tremendous. The scenic design by Kyle Dixon was excellent, and Lighting Design by Jose Santiago worked hand in hand with the scene design and complemented the mood and ambiance of the production.
NSMT Artistic Director Kevin P. Hill stated in his program notes, "It is interesting how critics can dislike a project, but that project can turn out to be one big hit!". When the movie The BODYGUARD premiered it received almost universally negative reviews and yet it went on to earn $411 Million, and the soundtrack sold more than 45 Million copies. Mr. Hill is right, a critic's review is just one opinion, and patrons vote with their attendance and with their money, and as for my one opinion, I say, "Go see this show it is, very enjoyable, and worth every penny".
Photo credit - Paul Lyden
The full cast and creative team includes:
Cheaza Figueroa (Rachel Marron) and Judson Mills (Frank Farmer) will be joined by Jonathan Hadley (Sy Spector), Nicole Henry (Nicki Marron), Jesse Sharp (Tony Scibelli), Brent Thiessen (The Stalker), Charles E. Wallace (Bill Devaney), and 8-year-old Beverly, MA resident Joshua McKenna making his stage debut as Rachel's son Fletcher.
The 19-member cast will also feature Marie Rose Baramo, Raylon Jerome Bivins, Ashley Chasteen, Rob Coglitore, Taylor Jane Green, Dakota Hoar, Valton Jackson, Desiree Murphy, Gabriel Andrew Reyes, Adea Michelle Sessoms, and Khalifa White.
The creative team for THE BODYGUARD includes Nick Kenkel (Director and Choreographer), Wendell Vaughn (Music Director), Kyle Dixon (Scenic Design),
Alexander Cole Gottlieb and James Nguyen (Costume Design), Jose Santiago (Lighting Design), Don Hanna (Sound Design), Rachel Padula-Shufelt (Wig and Hair Design), Natalie A. Lynch (Production Stage Manager), Dakotah Wiley Horan (Assistant Stage Manager), and Austin Davy (Assistant Music Director). THE BODYGUARD is produced for North Shore Music Theatre by Bill Hanney (Owner/Producer), Kevin P. Hill (Producing Artistic Director), and Matthew Chappell (Associate Producer, Casting Director).
Tickets for THE BODYGUARD are priced starting from $61 - $86. Kids 18 and under save 50%. $25 Student Rush tickets are available with a valid student I.D. starting one hour prior to curtain time. Prices are subject to change without notice. Phone, internet, and other fees may be applied at time of sale.
THE BODYGUARD performances are October 29 - November 10, Tue - Thurs at 7:30 pm, Fri & Sat at 8 pm, matinees Wed, Sat and Sun at 2 pm. For tickets and information call (978) 232-7200, visit nsmt.org, or visit the box office at 62 Dunham Rd., Beverly, MA.
ADDITIONAL FREE AUDIENCE ENRICHMENT EVENTS:
· Meet the Theatre: post-show audience discussion with the artists on November 5 after the 7:30 pm performance and November 9 after the 2 pm performance.
· OUT at the North Shore, an evening for the LGBTQ+ Community with a post-show reception on November 7 after the 7:30 pm performance. OUT at the North Shore is sponsored by North Shore Pride.
North Shore Music Theatre will conclude the 2019 Season with the 29th annual production of A Christmas Carol starring David Coffee (December 6 - December 22).
#####
Since opening in 1955, NSMT has become one of the most attended theatres in New England, with approximately 250,000 patrons annually. With a national and regional reputation for artistic achievement, NSMT has received numerous industry awards including Elliot Norton Awards, IRNE Awards, the Rosetta Le Noire Award from Actors' Equity, and the Moss Hart Award. NSMT produced the World Premiere of 'Memphis' in 2003, the show went on to win four 2010 Tony Awards including Best Musical. Under the new ownership of Bill Hanney since 2010, NSMT continues to annually produce a musical subscription series and an annual production of 'A Christmas Carol' along with celebrity concerts, children's programming and year-round education classes for children and adults.