Review: Peregrine Theatre Ensemble's Riveting HAIR Finds The Poignant Heart Of A Raucous, Sweeping Show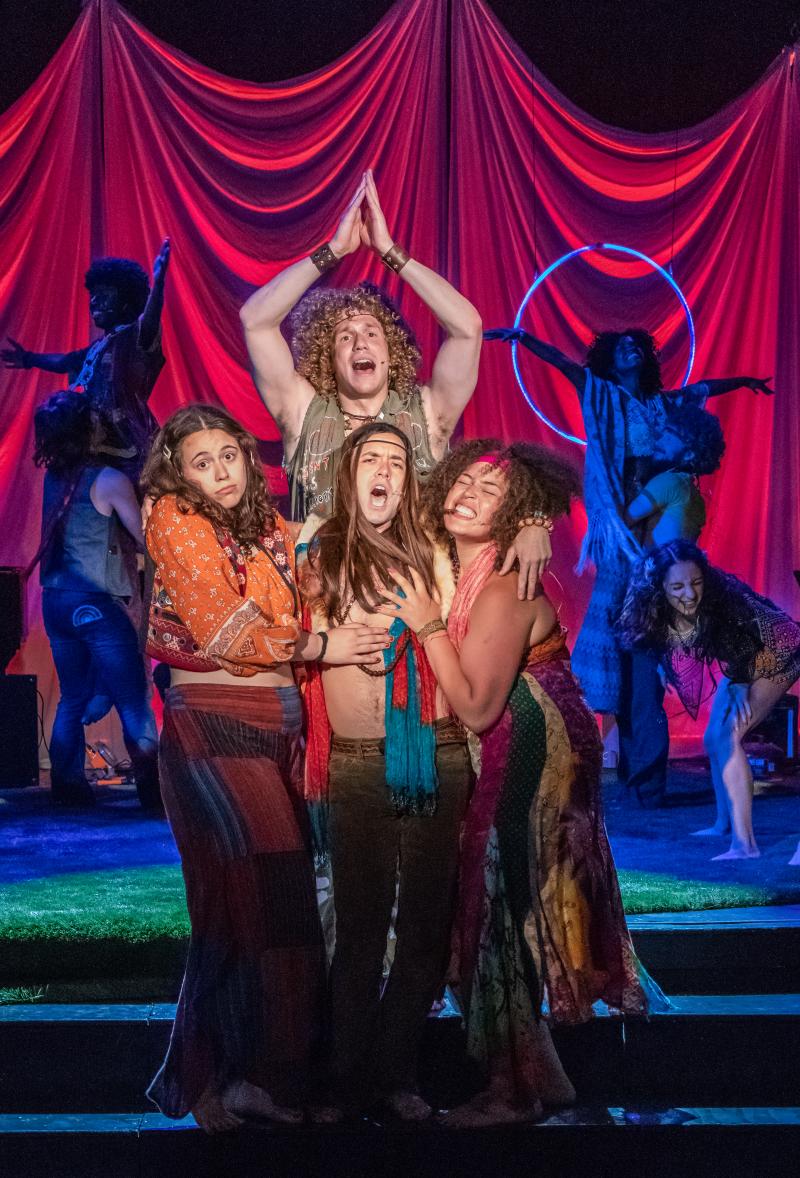 PROVINCETOWN, MA - Before there was Hamilton, there was HAIR. The first Broadway musical to permeate popular culture, HAIR crossed over to top 40 radio, influenced a decade of mainstream fashion, and helped usher in an era of irreverence. Also like Hamilton, it spoke to deeper socio-political debates running just under the surface of the culture, and shattered Broadway's lip-service to racial integration. Hair was also the first production of the now-famed Public Theater, which would later also give us Hamilton.
With HAIR, Peregrine Theatre Ensemble cements its place among a new generation of young regional companies who are fearless in their ambition, limitless in their energy, and highly skilled in drawing audiences into powerful, poignant moments. It's no surprise that this show is breaking house records and playing to standing ovations at Fishermen Hall.
Fearless ambition. While honoring the original, director/choreographer Kyle Pleasant breaks important new ground for the storied musical's 50th anniversary. His inspired presentation and inventive choreography frequently escape the confines of the stage. He adds structure where the book needs it. There are visual moments that will take your breath away. And this may be the most moving staging of the final scene in Act I of any production, including the originals. One hopes Diane Paulus and the other creators of NBC's forthcoming Hair Live! make the trip to Provincetown to see this.
For much of the first act, a tousled and mesmerizing cast hits all the expected notes for audience members familiar with the show. Then Pleasant goes to work. His choices for the end of Act I are both a first for a HAIR production and a shrewd interpretation of the story for 2018 that its creators -- and even 2009 revivers -- could not have anticipated. The moment is smart, daring, and deeply moving. What was previously a metaphor for a generation's anxious appeal for peace transforms into a thorough indictment of the wars that came after and persist. A mid-summer audience remained hushed even after the cast filtered off the stage toward intermission.
"We're not repeating anyone else's commentary," explains Pleasant. "We wanted to see HAIR again in a new light. This is decidedly new territory."
Pleasant similarly directed last season's Chicago for Peregrine to rave reviews.
Limitless energy. Peregrine is known for mounting ambitious shows with enormously talented actors. And all the ensemble's signatures are here: Sophisticated vocals, provocative interpretations, striking visuals, and a high-energy cast.
For HAIR, the demands were especially intense, says Peregrine co-founder and executive director Adam Berry: "It's a demanding show. These actors had to be triple threats. They sing their faces off while continuously moving. We're doing capital-H HAIR. This isn't a park and bark."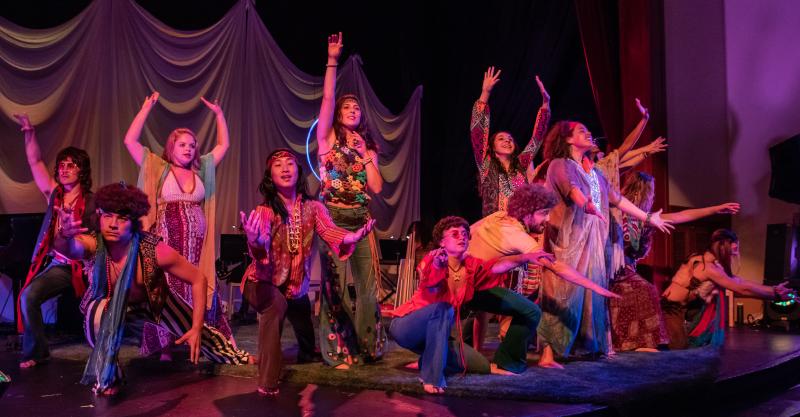 Indeed, the show's more than 40 musical numbers run the gamut from Lindy swing to 60s doo wop to burgeoning psychedelic rock. And each song is paired with a full-throttle dance number in its respective style. While much of the choreography is group movement, occasionally principals are given a dedicated sequence (and each of those moments left us wanting to see more of their individual talents).
"We went through the whole [choreography] canon," Pleasant says. "From social dance to modern. From the beginning of rock and roll to club culture. The idea of old and new coming together gave us the chance to tell many stories."
Vocally, Peregrine's HAIR is a symphony of power, range and control. The harmonies on "Walking in Space" and a gospel revival number are intricate and delightful. Kudos to musical director Matthew Hougland (who also appeared on-stage as the hapless newlywed during our performance).
Beginning with the commanding Rhetta Mykeal's celebration of "Aquarius" in the opening number, the principal actors are all vocal gymnasts that lead a strong, diverse set of voices.
The tribe is then co-led by the captivating Kevin Lagasse as Claude. From the bright "Manchester England" through the soulful "Where Do I Go" to the defiant "Hair", Lagasse's soaring voice is the emotional through-line of the evening. He's equally compelling as the conflicted draftee holding a draft card over a barrel fire (or is it something else?); as the soldier readying his jump out of a helicopter above the jungles of Viet Nam; and especially in the 30 seconds during which his character is shot repeatedly.
Alongside him for much of the show is the mischievous Jeffrey Kelly as Berger. The two have an easy chemistry that allows Kelly to take Berger to his most entertaining and scenery-chewing heights.
Daisy Layman owns Sheila's soulful, signature moments, especially with "Easy to Be Hard". Rebecca Zeller is enchanting performing Chrissy's oft-covered "Frank Mills". Lexi Tobin masters Jeanie's earnest ambivalence. And Nigel Richards' Hud deftly trades scene-stealing duties with Brendan Williamson's Woof.
Powerful, poignant moments. Aiding the actors is a minimalist set design (from Christopher Heilman) that's long on striking visuals. Of particular note is the decision to ground the action in what Pleasant calls a "central playing space" -- a green patch of astroturf at center stage.
"The grass became another boundary to play with (along with the stage's perimeter)," he says. "We thought about who was on or off the grass when choreographing and staging scenes with characters not part of the tribe."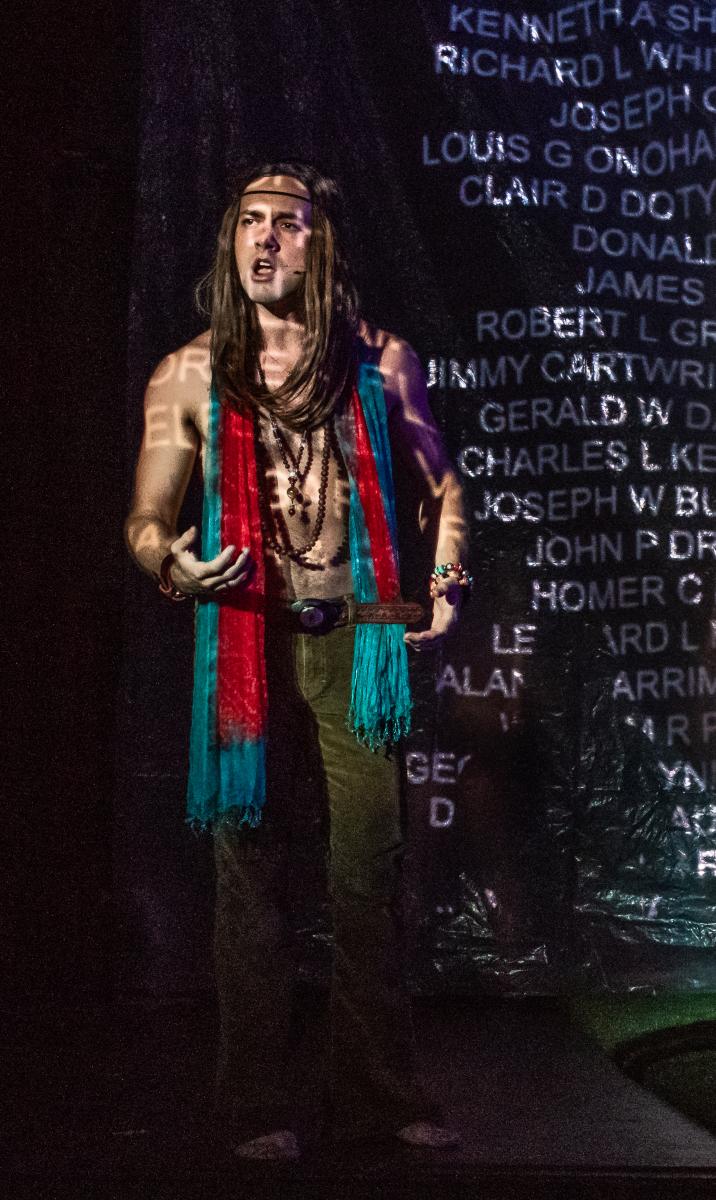 Other arresting moments include the visual effect of flames engulfing the cast during the second act's demonstrations, and the use of a vaguely medical fabric for multiple scenes, including the wall of Claude's acid-trip helicopter and, finally, body bags.
And in a welcome departure from shows where the attempt to recall the era's clothes rings hollow, Seth Bodie's vivid costumes feel unforced and authentic.
Most importantly, this combination of free-flowing scenery and costumes frees Pleasant to flood the aisles with actors, props and important plot points.
Peregrine chose HAIR for its renewed relevance, says Berry: "It became clear in the first few months of this year that our society was becoming distraught about our state of affairs. Every day it seemed something popped up that we couldn't believe was happening. We wanted to find a show that touched on people doing something to create change or fight for something they felt was right."
This summer, HAIR joins the growing line of Peregrine productions that entertain, challenge and invigorate with a downtown energy and subversive sensibility. The show also confirms the young company's place as a cornerstone of Provincetown's theatre renaissance.
HAIR. Through September 7th at Provincetown's Fishermen Hall. Tuesdays through Fridays at 7:30pm. Tickets at www.peregrinetheatre.com.
SaveSave
SaveSave