Review: MAN IN SNOW: World Premiere of Chilling Tale
Man in Snow
Written and Directed by Israel Horovitz; Costume Design, Chelsea Kerl; Music by Julia Kent; Scenic Design, Jenna McFarland Lord; Lighting Design, Mark O'Maley; Sound Design, David Reiffel; Stage Manager, Marsha Smith; Props Design, Jenna Worden
CAST: Will Lyman, Ron Nakahara, Paul O'Brien, Ashley Risteen, Sandra Shipley, Francisco Solorzano
Performances through October 23 at Gloucester Stage Company, 267 East Main Street, Gloucester, MA; Box Office 978-281-4433 or www.gloucesterstage.com
Man in Snow sounds like the title of a painting, like the white-on-white canvas that causes a rift among friends in Yasmina Reza's play Art, or a larger than life sculpture carved from a giant slab of marble. Thinking back to the winter of 2015, it might be the caption under countless family photos of New Englanders digging out the car from blowing snowdrifts or the piles left behind by the plow. In fact, it is the title of Israel Horovitz's newest play receiving its world premiere at Gloucester Stage in a riveting production directed by the playwright. Originally written in 1998 for BBC Radio 4, Man in Snow is a full-length stage adaptation written nearly twenty years after Horovitz's trip to Alaska where the seed of the fictional story was sown from a real-life event.
In 1997, Horowitz was in Fairbanks to see a production of one of his plays. While there, an avalanche occurred on Mt. McKinley (now Denali), trapping a man in a cabin under thirty feet of snow. The last moments of his life were spent on a mobile phone saying goodbye to his wife, an image evocative of so many last moments of victims of the September 11th attack. From this one grain that haunted him, Horovitz was inspired to knead together strands of his own invention to form an entire loaf, devising a back story and additional characters, each with their own motivation to scale one of life's mountains, real or metaphorical.
The protagonist, David Kipling (Will Lyman), is a 65-year old husband and father, loving his wife Franny (Sandra Shipley), awkward with his insecure, 30-something daughter Emily (Ashley Risteen), and unmoored by grief over the death of his beloved son Joey (Francisco Solorzano) in a motorcycle accident six years earlier. The play opens dramatically on a darkened stage with sounds of roaring wind, followed by a revving engine, screeching tires, and a crash. It is not difficult to imagine how this shocking event stays in David's mind and keeps him in its grip, and why his late son reappears to him frequently when he is mired in desolation. Although he remains stuck in the tragedy, David uses his conversations with Joey as a vehicle to try to move forward and find a new purpose.
David's search leads him back to a place with powerful memories of his lost youth and former prowess. He had climbed McKinley at age nineteen, and 46 years later, his cousin and best friend Connie (Paul O'Brien) has invited him to guide a group of Japanese newlyweds who are hoping to conceive babies under the magical, mystical Northern Lights. As he is reintroduced to the beauty and majesty of Alaska's highest mountain and breathes the thin, cold air, Lyman lets us see and feel the exuberance and excitement in his appreciation of all that unfolds before him. It stands in stark contrast to David's darker, introspective moments when, sitting center stage under a solo spotlight, he recites poetry which reflects his existential issues.
While David is on the mountain, he keeps in close contact with Franny by regular phone calls. Despite their geographical distance, they each feel the other's physical presence as they share quotidian details or revisit watershed events that are painful to discuss. He also checks in with Connie, who is leading another group on the mountain, and chats with the zen-like Mr. Takayama (Ron Nakahara), the interpreter for his Japanese charges. Emily is the surprised recipient of a call from her father on her birthday, underlining the distance that separates them as, in spite of David's denial, she knows she can never compete with Joey's place in his affection.
Horovitz chooses compelling themes - family relationships, loss, grief, love, marriage - that could bury an audience under their weight. However, there are a number of scenes with humor, and his writing is poetic and majestic, creating scenarios that lift us as they lift the characters from their depths. For example, when David talks with Mr. Takayama, he absorbs little pearls of wisdom that begin to erode his fear and negativity. Joey acts as a spiritual guide to his father, encouraging him to let go of his pain and fly free. As devastating as the result of the avalanche may seem, when David is wrapped in a cocoon of snow, the effect is like that of swaddling an infant and provides him with unforeseen comfort.
Under Horovitz's direction, the stellar cast fully inhabits their characters. Although Emily is underwritten, Risteen gives an understated, controlled performance in her Gloucester Stage debut. This is her second Horovitz play (6 Hotels with Hub Theatre) and she really ups her game to blend in with the rest of the seasoned ensemble. Solorzano captures the dichotomy of being the dead son who embraces living in a way that his father cannot, and he projects wisdom that comes from knowing what happens next. David also receives life lessons from Mr. Takayama and Connie, and both Nakahara and O'Brien give solid portrayals. Shipley's range is on display as she plays the supportive wife, but holds onto her need to process the family tragedy in her own way. She lets us feel Franny's struggle with wanting to be there for David, but desperately trying to protect herself from falling apart.
At its core, Man in Snow is Lyman's show and he is totally convincing and commanding. He delivers the playwright's words with authenticity, allowing us to feel each facet of David's personality and psyche. His ongoing anguish over Joey's death is palpable, but so is his awe when he stands on the mountain taking in the view. Through his eyes and expressions, we can see it, too. Jenna McFarland Lord's scenic design is minimalist in its approach, but a crinklEd White backdrop mimics snow on the mountain, and the box in which Lyman is encased for the final scene is brilliantly effective. Mark O'Maley's lighting design layered over the upstage wall suggests the colorful waves of the Northern Lights. David Reiffel (Sound Designer) and Julia Kent (music) combine their talents to create a haunting soundscape. Chelsea Kerl costumes the cast in white, gray, and taupe fabrics that blend with the aesthetic. The totality of the concept is powerful and it is well-executed by the designers and the ensemble, and Horovitz the director does justice to Horovitz the playwright.
Photo credit: Gary Ng (Will Lyman)
From producing and starring in family holiday pageants as a child, to avid member of Broadway Across America and Show of the Month Club, Nancy has cultivated her love of the art and respect for the... (read more about this author)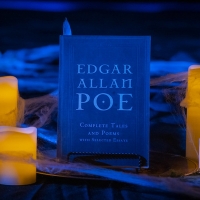 REVIEW: THE EDGAR ALLAN POE DOUBLEHEADER

October 28, 2022

If you have yet to reach your fright limit for the Halloween season, you still have two chances to experience chills of the dramatic variety at THT Rep at the BrickBox Theater in Worcester. Reprising the production she created for small, socially-distanced audiences of 20 in the early days of the pandemic, Artistic Director Livy Scanlon is performing THE EDGAR ALLAN POE DOUBLEHEADER in front of 290 stadium-style seats.
---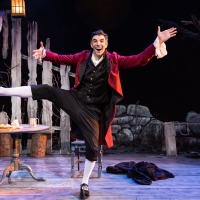 REVIEW: THE LEGEND OF SLEEPY HOLLOW

October 26, 2022

Two hundred years after Washington Irving introduced the little hamlet of Sleepy Hollow and its superstitious denizens to the canon of American literature, the legend remains among the most enduring of stories that capture the imagination of adults and children alike, inspire questions about the supernatural realm, and scare the bejesus out of its audience.
---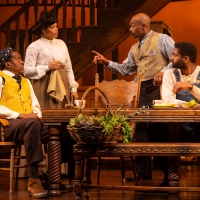 Review: AUGUST WILSON'S JOE TURNER'S COME AND GONE

October 22, 2022

JOE TURNER'S COME AND GONE was the first Wilson play produced at the Huntington in 1986, the beginning of a 19-year relationship that saw all ten of his American Century Cycle plays chronicling the African American experience in the 20th century performed on the local stage.
---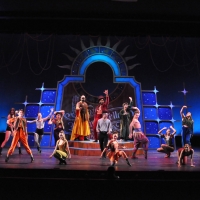 Review: PIPPIN: Growing Up Is Hard To Do

August 8, 2022

The second and final production of Reagle Music Theatre of Greater Boston's 2022 season is Stephen Schwartz's PIPPIN, originally produced on the Broadway stage in 1972 with direction and choreography by Bob Fosse, and revived/reimagined in 2013 by Diane Paulus at the American Repertory Theater before going to Broadway. Undaunted by following in those two very large sets of footsteps, RMT Artistic Director Rachel Bertone forges her own path to stage a version that leads with an enlarged heart and a healthy helping of fun and whimsy.
---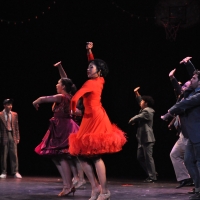 Review: WEST SIDE STORY: You've got to be taught

July 11, 2022

What did our critic think of WEST SIDE STORY at Reagle Music Theatre Of Greater Boston: There's a new spring in the step of Reagle Music Theatre of Greater Boston in Waltham. Award-winning director and choreographer Rachel Bertone takes over as Artistic Director and opens the season with WEST SIDE STORY, with Dan Rodriguez by her side as music director.
---